This month we're celebrating the EXPERIMENT IN TERROR series by Karina Halle. In a large, flaky nut­shell, the Exper­i­ment in Ter­ror Series is an nine-part Romantic Suspense/sci-fi/fantasy/horror series that revolves around a pair of ghost hunters. Well, aspir­ing ghost hunters, any­way. After film­ing a creepy expe­ri­ence in her uncle's dilap­i­dated light­house, 22-year old Perry Palomino becomes a YouTube and inter­net star overnight. She attracts the atten­tion of Dex Foray (yes, why this event is DEXMAS!), a pro­ducer and cam­era­man for a site that spe­cial­izes in var­i­ous webisodes, who con­vinces her to be a host for a low-budget ghost hunt­ing series. The only prob­lem is, nei­ther Perry or Dex are entirely "with it" — I mean, they see ghosts, after all. And when the duo isn't wrestling with their very notion of real­ity, they're grap­pling with a work­ing rela­tion­ship that's deep-cut with sex­ual ten­sion. As the series moves on, lead­ing Perry and Dex to new locales and super­nat­ural sit­u­a­tions, their lives become more and more inter­twined, where they dis­cover that ghosts aren't the only things that can haunt them.
For the month of November, all of the Experiment in Terror books are only 99¢ each!! 
Today I'm pleased to feature the first book in the series, Darkhouse. Darkhouse is FREE on Amazon, to help whet your appetite for Dex, and introduce you to the series!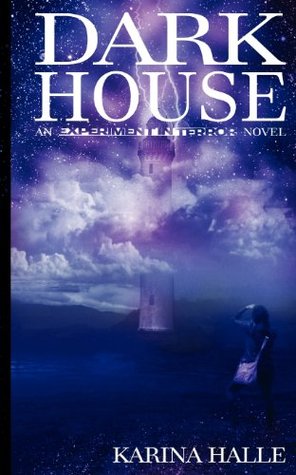 With all the vampire, werewolf and faerie books out there, it's easy to become numb to all things supernatural. The antidote? Darkhouse introduces two real and unforgettable characters, Perry Palomino & Dex Foray, amateur ghost hunters who are "attractive, relatable and oddly heroic," "flawed but loveable," "slightly crazy" and just the most endearing pair to ever tackle the paranormal…just don't call them normal. Darkhouse is a thrilling and sexy new take on concepts like Supernatural and The X-Files, bringing a breath of fresh air to a genre that has been inundated with the dead.
~~~
"There's always been some­thing a bit off about Perry Palomino. Though she's been deal­ing with a quarter-life cri­sis and post-college syn­drome like any other twen­tysome­thing, she's still not what you would call "ordi­nary." For one thing, there's her past which she likes to pre­tend never hap­pened, and then there's the fact that she sees ghosts. Luck­ily for her, that all comes in handy when she stum­bles across Dex Foray, an eccen­tric pro­ducer for an upcom­ing web­cast on ghost hunters. Even though the show's bud­get is non-existent and Dex him­self is a mad­den­ing enigma, Perry is instantly drawn into a world that both threat­ens her life and seduces her with a sense of impor­tance. Her uncle's haunted light­house pro­vides the per­fect cat­a­lyst and back­drop for a hor­rific mys­tery that unrav­els the threads of Perry's frag­ile san­ity and causes her to fall for a man, who, like the most dan­ger­ous of ghosts, may not be all that he seems."
Giveaway!
Karina Halle is the USA Today Best Selling Author of The Artists Trilogy (On Every Street, Sins & Needles, Shooting Scars, and Bold Tricks) published by Hachette, the Experiment in Terror series, and The Devil's series published by Diversion.
The daughter of a Norwegian Viking and a Finnish Moomin, Karina Halle grew up in Vancouver, Canada with trolls and eternal darkness on the brain. This soon turned into a love of all things that go bump in the night and a rather sadistic appreciation for freaking people out. Like many of the flawed characters she writes, Karina never knew where to find herself and has dabbled in acting, make-up artistry, film production, screenwriting, photography, travel writing and music journalism. She eventually found herself in the pages of the very novels she wrote (if only she had looked there to begin with).
Karina holds a screenwriting degree from Vancouver Film School and a Bachelor of Journalism from TRU. Her travel writing, music reviews/interviews and photography have appeared in publications such as Consequence of Sound, Mxdwn and GoNomad Travel Guides. She currently lives on an island on the coast of British Columbia where she's preparing for the zombie apocalypse with her fiance and rescue pup.
Karina is represented by Scott Waxman of the Waxman Leavell Literary Agency
Blog ♦ Facebook ♦ Goodreads ♦ Twitter