Who's ready to celebrate?! LIVE ME is six-months old today! In honor of this milestone, we're debuting a never-before-seen book trailer! Don't miss out on your birthday cupcake from Blake at the end. Enjoy!
Evangelina Ricci is trapped in a world that's a never-ending nightmare, a constant ache in which consumes her every breath. Unable to bear the torture any longer, she does the one thing she can to take back control.
Run.
With her best friend Jace in tow, Evangelina attempts to escape her darkened past by leaving for college and diving head first into an aggressive schedule, determined with everything she is to make a name for herself. There's only one problem—she can't run away from the demons she struggles with. The demons that'll forever be there, locked inside, battering her soul. Hiding behind a flawless façade, Evangelina faces her ghosts until her world is turned upside down, invaded by…him.
Blake Turner. Sweet, witty, flirtatious and drop-dead gorgeous, he finds Evangelina at every turn. Scared he'll uncover the truth she keeps so well guarded, Evangelina tries her best to put on her act, deterring him like she has so many times before—only this guy's different. He's relentless. Utterly, absolutely and completely relentless. He sees her and he wants her and won't stop until she's his.
Will Evangelina succeed in pushing Blake away? Or will he break down her walls and be the person to make her realize life is worth living?
Live Me by Celeste Grande from Becca the Bibliophile on Vimeo.
EXCERPT
"Come. Sit." He patted the vacant area next to him.

I sat and turned to face him, noticing the mischievous glint in his eyes. "What?"

He reached behind him and pulled out the clear shell that housed the most delicious cupcake in the world, and twisted it in front of me.

"Hand it over." I stuck out my hand.

"Uh, uh, uh…not so fast." He backed away from me. "I told you there's only one way to eat these puppies. I'll break you in slowly, but next time you're getting the full effect." With hungry eyes, he popped the lid and the sweet smell immediately flooded my nostrils. I closed my eyes, my mouth instantly watering. I had an insatiable sweet tooth, and I couldn't wait any longer.

"Gimme a bite," I said in a breathy whisper.

Still smirking, he raised his eyebrows. "How bad do you want it?"

Oh, he was going to play games with me? Well, I wasn't giving in. Screw the cupcake. I clamped my lips shut and frowned, crossing my arms over my chest.

He raised his eyebrows, completing his cocky grin. "Tell me, Angel, or you're not getting any. I have no problem eating it all by myself." He swiped his finger through the icing and held it out to me. My lips parted and I inched toward him, waiting to taste the sweet goodness, but then he yanked his finger away and submerged it into his mouth.

"Hey!"

"Come on. Say it." He licked his lips, closing his eyes, and savoring the taste. "How bad do you want it?"

I slumped my shoulders in defeat. "Bad."

"Doesn't sound like it to me." He licked a piece of icing slowly, curling his tongue around the smooth topping and letting it linger there.

My mouth itched to suck it off his tongue. I licked my lips and bit down, inching closer to him, my heart racing from a damn dessert. "Come on, gimme a bite. Pleeeease." I dragged out the word, doing my best puppy dog impression.

He shook his head, being just as obstinate as me. Damn him. "Not until I hear you say how bad you want me … I mean it." The glint in his eyes told me he'd meant for that slip up.

Playing his game, I pushed my face as close to his as I could without physically touching him and steadied my gaze. Something flickered behind his eyes, and he took a sharp intake of breath. "I want it."

The corner of his mouth quirked, delighted I was complying. "How bad?"

"Bad." I settled myself closer, fingering his arm. "More than anything I've ever wanted. My mouth waters for it. My body aches for it. If I don't get it soon, I think I'll die." I let my eyes settle on his mouth and then trapped my lip between my teeth. I could play the double meaning game too.

He began to peel the paper down each side, taking his time. "That bad, huh? Sounds pretty serious. It must mean more to you than you let on." He looked up at me through his long lashes.

"It does. It means … everything to me." Though I wasn't sure how or why, I genuinely meant those words and I needed to get my point across.

He dragged his finger through the icing once more and brought his finger to my lips, tracing the salivating circle. My tongue slithered to one corner and followed the same path he'd just taken. His eyes widened, not expecting my boldness. Hell, I wasn't expecting my boldness but it felt good and I wanted to test the normal waters for a change.

"Sure you can handle this?" I said through shortened breath.

Mouth tipped in a cocky grin, he grabbed my finger, dipped it into the icing and brought it to his parted lips. His eyes seared into mine as he flicked his tongue over the tip, and I gasped. Slowly, he licked the inside of my finger clean. I squirmed, feeling each swipe between my legs. He made a circle around the top before pushing it inside his mouth.

I almost fell off the couch.

Oh. My. God.

His tongue was warm and soft, curling around me. Lost in his ministrations, I wanted to feel it everywhere. A tremor followed my exhale.

His voice was husky. "You taste delicious. I'll bet every inch of you tastes just as sweet." And then he nipped the tip of my finger with his teeth.
GIVEAWAY
Connect with Celeste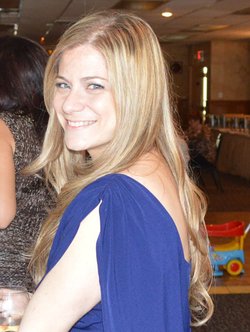 Celeste Grande grew up loving words. From an early age, it was easy for her to open her heart through pen and paper and come away with something poetic. She never thought anything more than releasing her emotions would come of it though. A workaholic that can't keep still, in her 'real' life, she's a Certified Public Accountant who dreams of writing sexy books all day long. When she isn't working, she's reading, writing, mommying and being a wifey to the love of her life. She lives in New York, and is still putting pen to paper. Live Me, a new adult romance, is her debut novel.  You can email her at AuthorCelesteGrande@gmail.com

Facebook / Twitter / Goodreads / Amazon / Instagram / Newsletter / Website