The Addicted Series by Krista and Becca Ritchie is among my top favorite series of all time. The books are so original, so well written, you truly feel like you are a part of this circle of friends. Today I'm bringing you an excerpt from the conclusion of Lily & Lo's AMAZING love story, Addicted After All.
Title: Addicted After All
Authors: Krista & Becca Ritchie
Series: Addicted #3
Pub Date: October 31st, 2014
Two addicts. One epic love story.
Prepare for the worst.
That's what Lily and Lo try to do when Jonathan Hale schedules an "important" meeting. The problem: after being swept into the public eye and battling their addictions, they're not sure what the worst is anymore.
In a sea of many changes—including Ryke & Daisy living with them—Lily realizes that the best part of her fluctuating hormones might just be the worst.
Her sex drive is out of control.
Loren knows that she's insatiable, but he's not giving up on her. She's too much a part of him. And as he carries more and more responsibility, some of the people that he loves doubt his resolve.
In the conclusion to their love story, Lily & Lo stand side-by-side to fight, one last time, for their happily ever after.
**AUTHORS' NOTE**
Due to the 2-year gap between Addicted for Now (Addicted #2) and Addicted After All (Addicted #3), you must read Thrive (Addicted #2.5) or the Calloway Sisters spin-off series before reading Addicted After All.
Excerpt
"Hi," I breathe shallowly, like this is the first time I've ever seen him. My neck heats, no doubt with a vibrant red hue.
His lips rise in a gorgeous smile. "Lily," he says my name again, huskily in a deep, sexual voice.
My body tingles. "Don't do that," I whisper-hiss, flushing more.
"Lily," he repeats, subtly licking his bottom lip. Oh my God. I spring to my feet to pinch him or punch him in the ribs for teasing me with my name. Who does that? He didn't even touch me yet. As soon as I land on my feet, the world spins one-hundred-and-eighty degrees. I teeter backwards as my vision blurs with black and white blinding spots.
Giveaway
Meet Krista & Becca Ritchie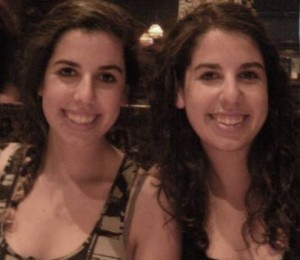 Krista & Becca Ritchie are identical twins. They write New Adult books that make you cringe, gasp, and go ooh-la-la. (If you do that sort of thing.) They are currently working on the spin-offs and final books in the Addicted series. Connect with them on twitter and their website: kbritchie.com
Website: http://kbritchie.com/
Facebook: https://www.facebook.com/kbritchie
Twitter: https://twitter.com/KBRitchie
Tumblr: http://kbmritchie.tumblr.com/
Pinterest: http://www.pinterest.com/kbmritchie/