ALLURING TURMOIL

by SKYE TURNER
(Book One in the Bayou Stix Series)
PICK THIS BOOK UP AT:
Alexia Sloane is the twenty-six year old owner of the highly successful Louisiana coffee shop/bakery, Java and Sweeties. The past couple of years have been all she's dreamed of and her business takes all of her focus, all of her heart. 
Jude Delecroix is the lead singer of one of the most famous rock bands in the country, Bayou Stix, and the man who broke Lexi's heart.
Lexi and Jude have a past.
When Jude comes back to town eight years after leaving to fulfill his lifelong dream of being a famous musician and comes face to face with Lexi, forces collide, old hurts are brought to the surface, and life as these two have been living it will never be the same.
There are two sides to every story, and what happens when the things you believed to be concrete suddenly crumble like ash and fade away?
What happens when two people afraid to face the past, become involved in the present? Can they hope for a future?
Welcome to Louisiana where humidity and passion are high and things are not always what they seem.
***Contains graphic sex and language. Not for young readers.***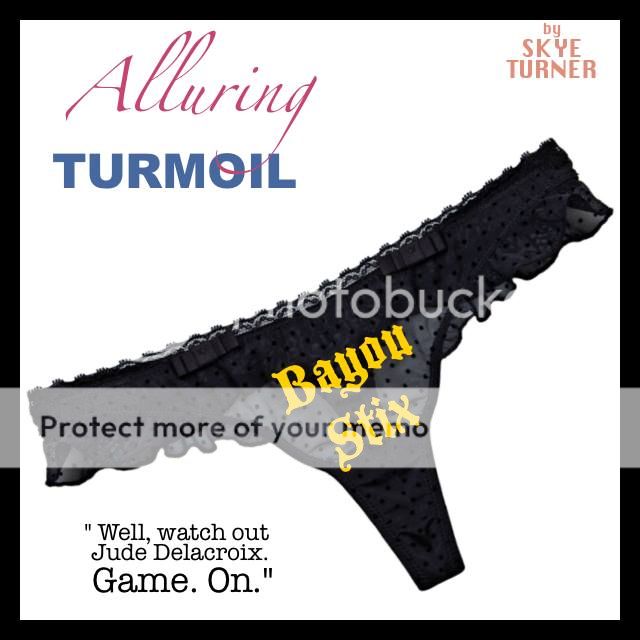 With a soft, tortured groan, his gaze leaves my eyes and moves to my mouth. I lick my lips in anticipation and watch him take a shaky breath. When he breathes, it presses him more deeply against me and it's as if a switch is flipped. We reach for each other at the same time. Grabbing his neck, I pull his head down, knocking his cap and sunglasses to the floor, as he grabs my waist and lifts me up. Our lips find each other and it's as if a bomb goes off.
His tongue sweeps past my lips, and our tongues war with each other as our teeth clash. There is no gentleness here. It's as if we want to consume each other. His hands roam my ass, squeezing my cheeks, and my legs lock around his waist, keeping his rigid length exactly where I want it. He throws his arm back and clears the counter behind me and lays me back, before he settles firmly between my thighs.
Playlist


Some songs the author used while creating Alluring Turmoil:
Dance Me to the End of Love- The Civil Wars
All or Nothing- Theory of a Deadman
Asking Too Much- All That Remains
I Can't Stay Away- The Veronicas
Wanted You More- Lady Antebellum
Blow Me (One Last Kiss)- Pink
If I Didn't Have You- Thompson Square
Home- Michael Bublé
Not Over You- Gavin DeGraw
Why Do You Love Me- Garbage
Photograph- Nickelback
Broken- Seether, Amy Lee
Desperately Wanting- Better Than Ezra
Blame- Cavo
Come & Get It- Selena Gomez
Everybody's Fool- Evanescence
If I Ever Get Around To Living- John Mayer
Fortune and Pain- Kyle Turley
I Could Not Ask For More- Edwin McCain
Thanks To You- All Time Low
Trying Not To Love You- Nickelback
Cruise- Florida Georgia Line
Whe You Were Mine- Lady Antebellum
You Don't Know Her Like I Do- Brantley Gilbert
Lost In You- Three Days Grace
You Lie- The Band Perry
Screwed Up and Beautiful- Better Than Ezra
Who You Are- Jessie J
Something To Talk About- Bonnie Raitt
Someone Else Calling You Baby- Luke Bryan
The Man Who Never Lied- Maroon 5
First Time- Jonas Brothers
After All- Cher and Peter Cetera
Think Twice- Eve 6
About the Author


Skye Turner is an avid reader and an editor turned writer.


She attended Southeastern Louisiana University and Louisiana State University where she majored in Mass Communications, centering her studies in Journalism. Unfortunately life intervened and she made the choice to leave her studies. 


She lives in small town Louisiana with her husband, 2 children, and 4 fur babies.


When she's not chained to her laptop pounding out sexy stories she can usually be found playing Supermom, reading, gardening (playing in the dirt), listening to music and dancing like a fool, or catching up on her family oriented blog.
GIVEAWAY!
a Rafflecopter giveaway