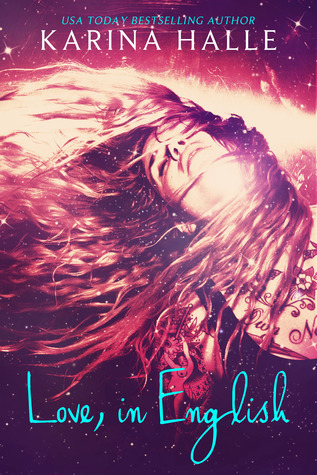 Love, In English
20 April 2014
ARC provided by author to facilitate this review
He's thirty-eight. I'm twenty-three.
He speaks Spanish. I speak English.
He lives in Spain. I live in Canada.
He dresses in thousand-dollar suits. I'm covered in tattoos.
He's married and has a five-year old daughter.
I'm single and can't commit to anyone or anything.
Until now.Because when they say you can't choose who you fall in love with, boy ain't that the fucking truth.
***
To a restless dreamer like Vera Miles, it sounded like the experience of a lifetime. Instead of spending her summer interning for her astronomy major, she would fly to Spain where she'd spend a few weeks teaching conversational English to businessmen and women, all while enjoying free room and board at an isolated resort. But while Vera expected to get a tan, meet new people and stuff herself with wine and paella, she never expected to fall in love.
Mateo Casalles is unlike anyone Vera has ever known, let alone anyone she's usually attracted to. While Vera is a pierced and tatted free spirit with a love for music and freedom, Mateo is a successful businessman from Madrid, all sharp suits and cocky Latino charm. Yet, as the weeks go on, the two grow increasingly close and their relationship changes from purely platonic to something…more.
Something that makes Vera feel alive for the first time.
Something that can never, ever be.
Or so she thinks.
Having read and enjoyed a few Karina Halle books, (The Artists Trilogy, anyone), I feel like I know what I can expect from one of her books.
Strong characters and development? CHECK
An intense, multi-layered story? CHECK
Suberb writing that grabs a reader and won't let go? DOUBLE CHECK
However, when I sat down to read this book, I was clearly unprepared for the journey that I was about to go on. What I got was a profound, emotional story about real, soul-deep love, and the lengths two people will go to when that connection is tested. Do you fight for that love, even when it seems like all of the odds are against it?
We meet Vera and Mateo, two very different people at two very different places in their lives. Vera is a young, free-spirited college student, studying astronomy, and covered in tattoos that represent her passion. She travels to Spain to teach conversational English to Spaniards. She is introduced to Mateo, fifteen years her senior, a successful businessman with a wife and daughter.
And that's where this story begins. What follows is a 5+ star read that was quite unlike anything I've read before. I found myself with LITERAL butterflies in my stomach at certain parts, like I was truly living these scenes with Vera and Mateo. I cried, I laughed, I yelled. Karina Halle truly writes an emotional free-for-all.
While they seem to be total opposites, they form an immediate connection, having more in common that they initially think. They are both lonely souls, not happy in their lives. The story that follows is not your typical romance. It it the story of two unlikely people that are somehow perfectly matched.
What do you do when the love of your life belongs to someone else? I loved the fact that Karina didn't write characters who were attracted and just immediately fell into bed together. They try and resist their growing bond, but when you meet your true soulmate, I don't believe that even the strongest among us would be able to resist.
More than just a love story, this was a life story. Layered and nuanced, this book was about more than just the main characters. This story was about creating a family of your own choosing, about bonds that are formed in unlikely circumstances, about finding yourself and fighting for the life you deserve.
Love, In English is all that is good about romance novels right now. The story was driven by the characters, and flowed perfectly. I don't think there was a word out of place. The love scenes were an enhancer, not the focus. Everything was so descriptive, but no overly so. I truly felt like I was in Spain, drinking cheap wine, and having a laugh with my friends.
I will say that this book is a WHOPPER. At over 500 pages, I was afraid that it would drag, but it was really perfectly paced. From the slow beginnings of their relationship, you'll be drawn in, through the highs and lows of this epic love story. I stayed awake until 5:30 in the morning reading this book, at one point even leaping from my bed to get my highlighter to mark some of Karina Halle's beautiful words.
More than just ink on a page, Love, In English is a meaningful love story that will stay in my heart always.
Preorder Love, In English by Karina Halle
Meet Karina Halle
The daughter of a Norwegian Viking and a Finnish Moomin, Karina Halle grew up in Vancouver, Canada with trolls and eternal
darkness on the brain. This soon turned into a love of all things that go bump in the night and a rather sadistic appreciation for freaking people out. Like many of the flawed characters she writes, Karina never knew where to find herself and has dabbled in acting, make-up artistry, film production, screenwriting, photography, travel writing and music journalism. She eventually found herself in the pages of the very novels she wrote (if only she had looked there to begin with).
Karina holds a screenwriting degree from Vancouver Film School and a Bachelor of Journalism from TRU. Her travel writing, music reviews/interviews and photography have appeared in publications such as Consequence of Sound, Mxdwn and GoNomad Travel Guides. She currently splits her time between her apartment in downtown Vancouver and her sailboat, where a book and a bottle of wine are always at hand. She's hard at work on her next novel.