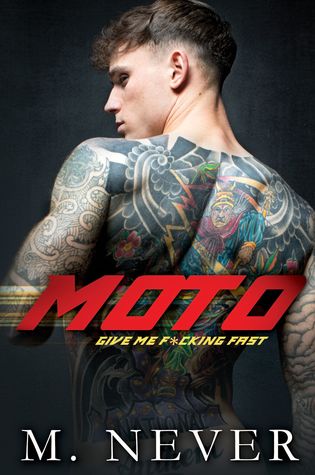 Moto
I purchased this audio book
What's harder than resisting one Dane man? Resisting two.
I don't date bikers. It's my one cardinal rule. No rough, rugged, tattooed, egotistical maniacs on two wheels. Even if they are gorgeous and brilliant and sport the prefix Doctor. Bottom line, bikers are nothing but trouble.
T. R. O. U. B. L. E.
Dr. Devlin Dane has had his sights set on my panties for months. But I've done a stellar job of fending him off. As Mercy Medical's most eligible bachelor, he has no problem in the panty-dropping department. He's tall, dark, and inked all over. I get the appeal; I'm not dead. I'm not stupid either. He's a walking heartbreak waiting to happen.
But when Reese Dane comes crashing into my life - literally- the game suddenly changes. Reese, the dark, brooding, motorcycle racing champion knows exactly how to apply the right pressure on and off the track.
The two have an unstoppable pull like centrifugal force, and both bad boy bikers are determined to take me on a high-powered ride I'll never forget....
Moto is an unconventional (ménage) stand-alone novel. Spare panties and a box of tissues may be required.
I'm not new to Moto by M. Never. I read this story when it released last year, and I LOVED it.  When I found out it was being released on audio, I was excited. When I found out that one of my favorite narrators, Jacob Morgan, would be bringing this story to life, I was damn thrilled.
Moto was so much more than what I expected. I went into this story expecting a hot thrill ride of a story, and while I got that, I also got much, much more. M. Never brings us a story with a hidden depth, emotions, suspense, and excitement peppered within the pages of this story.
Much like the twin racers this story focuses on, Moto was fast paced and exciting. The story is captivating and engaging. The steam factor is off the charts, I and really enjoyed the fact that we get all three main characters' POV.
I was pleasantly surprised that this book also tugged on your heartstrings. There was unexpected romance, and like a bike race, twists and turns that will leave you reeling.
"This love has consumed me and changed me irrevocably. No matter what, I will always belong to both of them."
The narration for this book was ON POINT. Jacob Morgan (swoon) and Brooke Bloomingdale truly brought this story to life. More than mere narration, they gave a performance.  They made me appreciate this story in a way I hadn't before. This story was so much fun to listen to, I found myself sitting in my parked car more than once, just to listen to a few more minutes.
M. Never has written a book that will stick with me forever, and the audio version made me love it all the more.