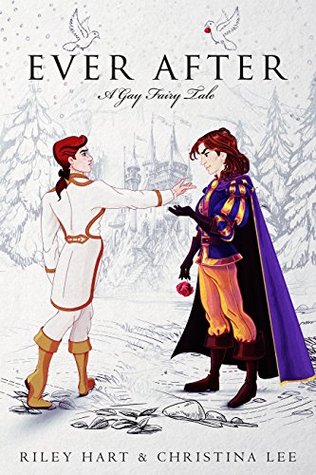 Ever After: A Gay Fairy Tale
Joel Leslie
As next in line for the Evergreen crown, Prince Merrick Davendall's future involves ruling, marriage, and producing an heir of his own. But he's long been tormented by desires that are far from princely. Especially when the beautiful Cassius is promoted to be his new valet, and Merrick is struck by a longing like never before - a longing to know him far beyond royal and servant.
After his father's passing, Cassius Havendale's sole duty is to provide for his family. A promotion to serve a pampered prince is something he endures only for their sake. Surely Prince Merrick has no understanding of the true suffering of the common people, nor could he possibly understand what it's like to desperately desire something he cannot have.
Except the prince is not at all what Cassius imagined. Kind, humorous, and caring to those in need, he also shares Cassius's affinity for the arts. In fact, Merrick understands his deepest vulnerabilities in a most remarkable way.
As their affection deepens, the underlying tension between them becomes unbearable and they're unable to ignore it any longer. But when the queen prepares a lavish ball with all the eligible ladies in the land in attendance, Merrick must fulfill his obligations to his country, and Cassius has the needs of his family to consider. They've long known their stolen moments would have to come to an end, but are they ready to give up one another and the idea of a happily-ever-after?
Please note: Ever After is a romantic fairy tale - minus the magic - that features one compassionate prince, one brooding valet, and plenty of angsty, forbidden love. It's loosely based on a certain treasured fairy tale in a wintery make-believe setting that wouldn't be considered contemporary but also isn't based on any specific time period and doesn't play by any traditional rules.
Riley Hart and Christina Lee have stolen my heart, and I'm not even mad about it. As soon as they announced the release of EVER AFTER, I knew this would be a book that would check all my boxes. My body was ready for a sweet, whimsical, romantic read.
Spoiler Alert: I WAS NOT READY.
This book had so many more layers. Instead of the simple read I was expecting, I got a story of unlikely love, desperate longing, stolen moments coupled with impossible decisions. I got a story of two souls that belonged together, desperate for a way to rise above the societal conventions that would keep them apart. This was a story of many different kinds of love; the love between partners, family, and friends. A story of sacrifice and acceptance, a story of people trying to do what they think is best, even when it hurts.
These characters were beautifully drawn, giving and selfless, their inherent goodness coming across so easily. The secondary characters were fantastic, their wisdom, their humor, their support and love adding so much to this book.
Cassius and Merrick's love story simmered and sparked, the chemistry between the two of the gripping me, while their realizations that they could never live out that love story together pulled at my heart, causing my own emotions to toss and pitch right along with theirs. Along with sizzling attraction and emotions between the two men, there were moments of levity that had me laughing out loud.
"It would forever be one of the most consuming regrets of his life because he longed for the prince in ways he had never longed for anyone or anything else. He was like the most beautiful words Cassius could ever write brought to life. He was the greatest story ever told, and Cassius had denied himself the chance to read him, to study him, to engrain Merrick into his brain and skin and soul"
I listened to this book on audio, knowing that Joel Leslie would breathe life into this story in the way that only he can. His impassioned portrayal of Cas and his prince had me rapt, at times holding my breath in anticipation of what was to come, at other times weeping as this story caused fissures in my heart I could only hope the authors would heal.
This story and this narrator are a match made in audiobook heaven, an inspired pairing that elevated the book to a whole new level, allowing this ethereal world to almost become real in the listener's mind.
EVER AFTER was unlike anything I've read before, a book without roots in any particular time or place, but a story so vividly told and performed, the reader can't help but get lost in this world. The love story of Merrick and Cassius is stitched upon my heart, and I'll go back to Evergreen to visit them again and again.