Kate Roth Week continues! Today we're talking about Best Laid Plans, the followup novella to Last Resort.  By now, I'm sure you've all read and loved Last Resort, right?!?!?  If you haven't, click over to my earlier post, pick up your copy, and GET TO READING!
So if you HAVE read Last Resort, you hit the wall, right? DAMN, did that hurt. I didn't see it coming. I thought my copy was missing some pages! Kate got us GOOD with that one. Thank the lord, she didn't make us wait all that long until she released Best Laid Plans. So come on, come sit by me, and let's discuss the roller coaster that was this novella.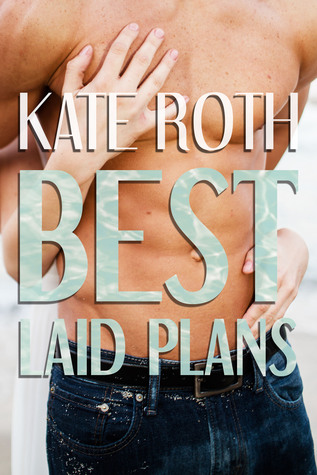 JESUS. Sweet benevolent Jesus. I needed mood levelers after this book (read: a double shot of tequila). What a RIDE Kate took us on in this book. I couldn't believe all of the feelings and emotions that she packed into the pages of this novella.
If you know me, you know that I don't give out 5 stars very easily. Less than 10% of the books I've read this year have earned 5 stars, and that includes books that I've absolutely LOVED.  Last Resort didn't get  5 stars! I didn't give Best Laid Plans 5 stars. This book TOOK 5 stars from me. (To quote my friend Alexis!  🙂 )
My favorite part of this book was peeling apart the layers of Evan Weston. I thought I loved him in the first book. I was so wrong. You'll read an excerpt in a bit, and THAT was when I fell hopelessly, helplessly, in love with Evan Weston. I loved his growth, his inner dialogue, and the depth of his feelings.
Now, when I called this book a roller coaster, I was not hardly joking. There's tension, drama, uncontrollable swooning, and HELLA hotness. I even shed a few tears. At one point, I had to put the Kindle down, and was nervously pacing my room. That's how real this story was to me.  I was compulsively posting status updates and messaging Kate because I really had no idea where the story was headed.
Best Laid Plans was the PERFECT conclusion to Dani & Evan's story. While I'm sad that their story is over, Kate finished everything off so well, I couldn't possibly ask for anything more from them.
About 2 minutes after I finished this book, my Kindle died. I firmly believe it died of heatstroke.
Excerpt
My feet closed the distance between us and I took her hand in mine. I'd been holding back everything. I didn't know how to do this. My marriage had been a complete sham and the handful of relationships I'd had surrounding it were so superficial and self-serving that I didn't know what to do with this, with this something that seemed real. I was at a loss when it came to the feelings I had for Danielle. I'd never wanted a woman to be in my arms so badly. I'd never wanted so much more than the sex. Each and every moment with her, starting with our first kiss, had pried my heart open a little bit more, exposing me to the elements and leaving me vulnerable to fears I'd never had to consider before. Like the fear of losing her. Or hurting her.
"Dani, you're too good for this place. You shouldn't have had to come here. Someone should've already shown you how perfect you are. They should've kissed you and touched you and worshiped you long before I did. I just couldn't believe a girl like you came here." My hand rose to cup her cheek. Her eyes were wide with wonder and her lips were parted. "There's a reason I told you that you were going to be my last girl here. I've been a sorry excuse for a man the last few years and I told myself if I walked away from these sleazy vacations I've come to rely on as my escape that I might have a shot at a better existence. I might even meet the right kind of girl for me…"
Buy Best Laid Plans by Kate Roth