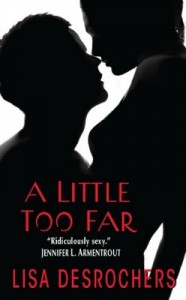 If I have one literary vice, it's books dealing with taboo subjects. I love them! I love all the  angst, the drama, the forbidden heat….YUM! I received an email asking me if I wanted to take part in the blog tour, but I hadn't heard of this book yet. So like a good blogger, I checked out the blurb. Read on, my friends….
Have you ever gone just a little too far?
Lexie Banks has.  (Oooohh…)
Yep. She just had mind-blowing sex with her stepbrother. (HEY NOW!) In her defense, she was on the rebound, and it's more of a my-dad-happened-to-marry-a-woman-with-a-super-hot-son situation. But still, he's been her best friend and confidant for the better part of the last few years … and is so off limits. It's a good thing she's leaving in two days for a year abroad in Rome.
But even thousands of miles away, Lexie can't seem to escape trouble. Raised Catholic, she goes to confession in hopes of alleviating some of her guilt … and maybe not burning in hell. Instead, she stumbles out of the confessional and right into Alessandro Moretti, a young and very easy-on-the-eyes deacon … only eight months away from becoming a priest. (Is anyone else getting a Thornbirds vibe?) Lexie and Alessandro grow closer, and when Alessandro's signals start changing despite his vow of celibacy, she doesn't know what to think. (I'm getting a little hot under the collar! Get it? Collar?) She's torn between falling in love with the man she shouldn't want and the man she can't have. And she isn't sure how she can live with herself either way.
Hooked. Completely and utterly hooked. Sign.me.the.hell.up.
From The Mind of Mo
Like I previously stated, I am all about taboo reads. This book is was a sinfully sexy taboo read. This story was so well told, I had to fan myself several times throughout. Lisa skirts the taboo edge, without making it gratuitous, all the while keeping the reader intrigued. I loved all of these characters, Lexie, Trent, and Alessandro are all believable characters, and I went back and forth pretty much the whole book, guessing who Lexie would end up with, and wrestling with myself as to who I thought she should end up with.
I empathized with Lexie, trying to imagine myself in such a position as she was in. Wrestling with the feelings of guilt and love, shame and lust; how will she make sense of it all? Will she succumb to her feelings for her stepbrother? How would her family react? How would she deal with the guilt if she seduced a man only months away from becoming a priest? As a Catholic, that one really had me squirming!
I very much enjoyed this book, it was my first from Lisa Desrochers. Both steamy and heartfelt, she drew me into the story and kept me there. The ending was a touch bittersweet for me, and I was only too happy to read that there will be a sequel to this book, continuing the story for some of the characters. I let out an audible "YAY!" when I read that! I'll be picking it up for sure!
Do yourself a favor, and get your pre-order in for A Little Too Far by Lisa Desrochers. I give it four sizzling stars!!!
Meet Lisa Desrochers
Lisa Desrochers lives in central California with her husband and two very busy daughters. There is never a time that she can be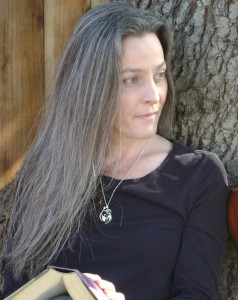 found without a book in her hand, and she adores stories that take her to new places, and then take her by surprise.
Look for her New Adult novel, A LITTLE TOO FAR , courtesy of HarperCollins Sept 17, 2013, and companions, A LITTLE TOO MUCH (Nov 12, 2013), and A LITTLE TOO HOT (Jan 21, 2014). Also in stores is her YA PERSONAL DEMONS trilogy (Macmillan).
Giveaway!