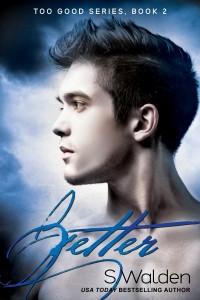 Their relationship has been exposed, and now their lives are changed forever.
For Cadence Miller, the fast track to adulthood proves intimidating and frustrating. She's a little girl lost—abandoned by her family and uncertain of her future. She doesn't think she "fits" anywhere. She's eighteen. She wants to be older. And the result is both comical and heartbreaking.
Mark Connelly will do anything to provide Cadence a stable, loving home—to be her protector. But he's just as broken and lost, and his heart won't let go of his past so easily. He knows he should share his secret with Cadence. He should trust that she'll understand. But what if she doesn't? What if their love doesn't grow stronger?
What if it doesn't get better?
From The Mind of Mo
You all know how much I LOOOOOOVE my taboo reads. And the teacher/student book ranks right up there among my favorite storylines. I ADORED Mark & Cadence's story in Good, the first book in this series, and if possible, Better was….well…better!!
At the end of Good, I was left wondering about some things. Yes, they were in love, but would that love survive now that Cadence was alone in the world? I had a knot in my stomach at the end of Good. To be honest, that knot was still there through much of Better, as well!
I LOVED Mark in this book. He wanted to take care of Cadence so badly, but his secret is tearing him up inside. I was so anxious about this, I didn't know if this would tear them apart, and I desperately wanted a HEA for this couple, they had gone through so much, and I really wanted them to be happy.
And Cadence…her journey isn't an easy one in this story. Stung by her parent's abandonment, she's trying hard to grow up, but she's still an 18 year old girl, after all. She had me pulling my hair out through a good part of this story. Even though I knew what she had been through, sometimes it was hard to give her a pass. I just wanted her to get her shit together!
As a reader, I was really able to feel and appreciate all that this couple is going through. The tension was high, the hot moments were HOT, and the sweet moments were dreamy.
S. Walden did a terrific job of wrapping up their story in this book. Also, the epilogue was one of my favorites, ever! I had such a smile on my face after that!!!
If I could think of one thing this book left me wanting, I'd love to see more of Avery and Dylan's story!!  **hint**hint**nudge**nudge**
To celebrate the release, book one in the series, Good, is on sale for only 99¢! (Amazon only)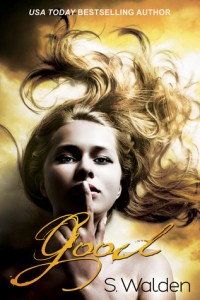 Meet S. Walden
S. Walden used to teach English before making the best decision of her life by becoming a full-time writer. She lives in Georgia with her very supportive husband who prefers physics textbooks over fiction and has a difficult time understanding why her characters must have personality flaws. She is wary of small children, so she has a Westie instead. Her dreams include raising chickens and owning and operating a beachside inn on the Gulf Coast (chickens included). When she's not writing, she's thinking about it.
Giveaway!