Come To Me Quietly
Closer To You #1
ARC provided to facilitate this review
Aleena Moore is content with her life. She has goals and dreams and an easy smile. She also has a secret she holds locked inside.
Jared Holt believes he doesn't deserve to love or be loved. He destroys everything he touches. Haunted by the mistake that shattered his life, he's fled from the memory of that pain.
Jared doesn't know why he's compelled to return, but finds himself drawn back to the place where it all began. The exact place where it ended. When he runs into his childhood best friend, Aleena's older brother Christopher, he agrees to share Christopher and Aleena's apartment while he looks for a place of his own.
Aleena is no longer the little girl Jared remembers from his past and evokes feelings in him he never wanted to feel again. Terrified of destroying her, he fights to keep her away. But her touch is something he can't resist—the touch that sealed his fate.
Their pasts are intertwined and their futures uncertain. The only truths they know are the secrets they whisper in the night.
It's a widely known fact (for serious, you can check my Wikipedia page) that I am a big fan of A.L. Jackson. I've absolutely loved everything of hers that I've read, and Come To Me Quietly only continues the streak.
Come To Me Quietly wrapped me up like my favorite blanket, and A.L. Jackson's words embraced my heart and mind. If I were to try and sum up this book in one word, it would be "soulful". Jared and Aleena's story was a beautiful one, and I couldn't put it down.
Childhood friends, Jared and Aly always had a special connection. When a tragedy tears them apart, Aly is forced to move past her heartbreak and get on with her life. Six years later, she's content with the life she is building for herself…until Jared rides back into town. Gone is the teenage boy she once new, he's been replaced with a man ruled by his demons, who wears the sins of his past as ink on his skin.
It's clear that theirs is a bond not easily broken, and even though Jared tries to fight it, to protect Aly from himself, he can't resist the draw.
Watching this new relationship develop was wonderful. A.L. Jackson has a way of crafting a story so the reader can feel every nuance, every emotion, as if it were their own. However, can the two overcome Jared's demons, and create a new, hopeful future?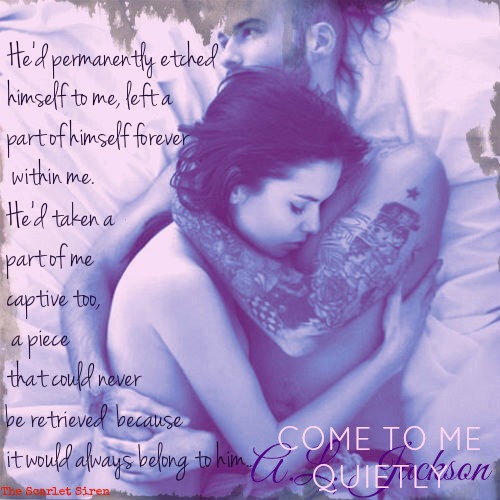 A.L. Jackson's writing remains lavish and graceful, and everything flows so perfectly, there is not a word out of place. I'm so glad that I had the chance to read this book, and I am anxiously awaiting the next chapter of Jared and Aly's story.

Excerpt
I didn't knock, just turned the knob and let myself into the muted light of Aly's room. Tonight, the blinds were shut. Thin lines of moonlight bled through the slats, and a small lamp sent a golden glow crawling up the wall behind her dressing table. It cast the rest of her room in shadows.
With her back to me, Aly stood as a silhouette in front of her bed. Her work clothes had been discarded at her feet, and she'd pulled on those same pink sleep shorts she always wore, giving cover to that glorious ass. She was in the middle of pulling a tank over her head. Waves of chunky hair fell down her back, all mussed and sexy. My fingers twitched, because damn it, I really wanted to touch, but I stayed rooted because I figured I was in no frame of mind to give into it.
Over her shoulder, she peeked at me as she adjusted the hem of her shirt. Discomfort lined her face, the green of her eyes subdued. "I was just coming to find you," she whispered.
Swallowing hard, I stared at her from across the room, not sure what to do with the hostility still boiling in my veins. I felt on edge. Unhinged. But this felt completely different than the sickness that would forever darken my soul. It felt a little too much like the night I'd lost it at the bar at the mention of her name.
Motherfucking trigger.
I reached back to lock her door before I turned to look at her, rushing an agitated hand through my hair, trying to quell the fucking insanity she spurred in me. "What are you trying to do me?" My tongue felt thick as I struggled through the admission. "I don't. . .fuck, I don't even recognize myself around you, Aly. I thought I was going to lose my mind out there, thinking about you in here with him."
Aly slowly turned around and took one step forward. With her head angled low and tipped to the side, she squinted, like maybe I'd just pissed her off.
That was okay because I was a little bit pissed off, too.
Lines deepened between her eyes, disbelief laced in the words that spilled from her mouth. "Do you think for one second I'd choose him over you, Jared? He came here to tell me he missed me. That he wanted to be with me and he'd do anything to fix whatever had gone wrong between us. But the entire time, the only thing I could think about was you in the other room. How the only thing in this world I want is you. Don't you understand that?"
All that fucking aggression snapped, like a band that had been stretched too tight, colliding with the need she had so tightly spun up in me. I crossed the room in two long strides. One second later, I had her in my arms, lifting her feet off the floor as my mouth seized hers. I was kissing her, my tongue demanding as I dragged her to her bed.
Her covers were piled in a heaped mess from where we'd slept curled in them last night, where we'd kissed and tempted and left ourselves panting and still in need. Our scent still lingered in them, thick and strong. Unwilling to break our frenzied kiss, I shoved the covers out of the way with one arm, the other supporting her back as I laid her on the bed.
Aly arched up as if she ached.
I grasped her perfect face between firm hands, my hold just as commanding as my mouth. Consumed, I pressed the length of my body into hers, blanketing her as my forearms fell to the bed to support my weight.
I wanted to possess her. Take her.
Fuck.
I wanted it all.
Giveaway
Meet A.L. Jackson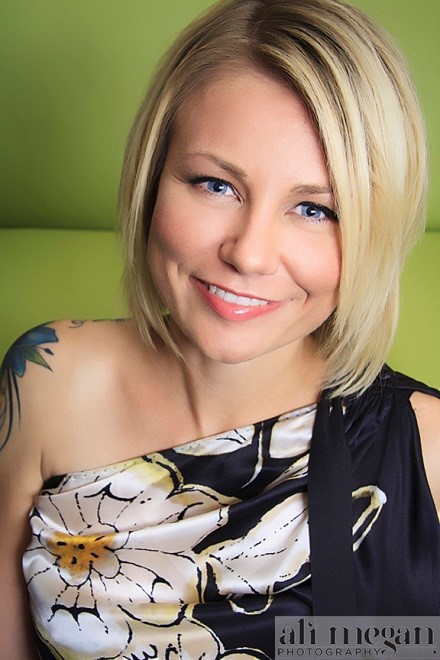 A.L. Jackson is the New York Times bestselling author of Take This Regret and Lost to You, as well as other contemporary romance titles, including Pulled, When We Collide, and If Forever Comes.
She first found a love for writing during her days as a young mother and college student.  She filled the journals she carried with short stories and poems used as an emotional outlet for the difficulties and joys she found in day-to-day life.
Years later, she shared a short story she'd been working on with her two closest friends and, with their encouragement, this story became her first full length novel. A.L. now spends her days writing in Southern Arizona where she lives with her husband and three children.
Look for Come to Me Softly, book two in the Closer To You Series, coming July 1, 2014