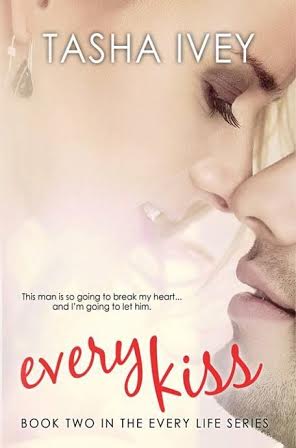 After witnessing Makenna's journey to find herself again, Callie is reminded of her own struggles with love. No, Wes wasn't always the easy going guy that he is today. He was moody and unpredictable in the worst of ways, and she was certain to call him out on it every chance she got. Looking back, she's amazed at how much their lives have changed since they met.
Before tragedy shook them to the very core of their lives. Before her dream career began. And before Wes wasn't a broody jerk with a closet full of personalities.
Yes, just four years ago, everything was different…
Makenna and Shane are just a couple of lovesick college students, and Callie is doing her best to keep up with the demands of her junior year. Life is boring, and she is totally fine with that. But boring flies right out the window the day Makenna cons Callie into helping with Shane's brother's birthday party. She expects a gangly pimple-faced teenager, but Wes is far from it. He is temperamental and opinionated, but he is also incredibly hot and thoroughly enjoys pushing her buttons. And she pushes his right back.
Even though their undeniable attraction draws them to one another, Wes is clear with Callie about one thing. Relationships are off limits. Friendship is all he has to offer, unless of course, Callie is willing to add a few benefits to that. He works hard to keep the reasons for his aversion hidden, but secrets have a way of making themselves known sometimes, no matter how deep you bury them.
Two of those secrets hold the key to unlocking Wes' fears of the ultimate betrayal. And the other secret has Callie falling even deeper than she ever dreamed.
But she's unsure of one thing . . . is she enough to save him from himself?
From The Mind of Mo
Gahhhhhh!  I LOVE Tasha Ivey!!!  I really liked Every Breath, and enjoyed Wes & Callie's characters in that book. But I think I loved Every Kiss even more!
Every Kiss picks up where Every Breath left off. We are then taken four years in the past to the time when Wes & Callie first meet. In the first book, Wes was this nice, easy going, average guy, kinda guy. When we meet him in Every Kiss, we realize that this was not always the case. He's a far more complicated guy than we first thought. I liked him in Every Breath, but truly fell in love with him in this book.
Callie is the same Callie we grew to love in Every Breath, big mouth and all. She knows there's something there with Wes, and even when she thought they couldn't be together, she never stopped caring for him, and trying to help him get past his…well…past! (Even when he didn't want her help!)
Their relationship isn't a simple one. Are they friends? Lovers? Acquaintances? Frenemies? I think they are all of these things at some point or another!
The scenes with Shane were definitely bittersweet, knowing what lies in the future, but I really enjoyed getting to know him a little better as well.
Tasha Ivey's writing is so emotional, you can't help but be drawn in by her stories. Even though I knew that Wes & Callie do end up together, I was SO tense throughout this book, wondering what his secrets where, and how they would overcome all the roadblocks thrown in their way.
I truly love this series, and I'm excited for what's to come in Every Glance!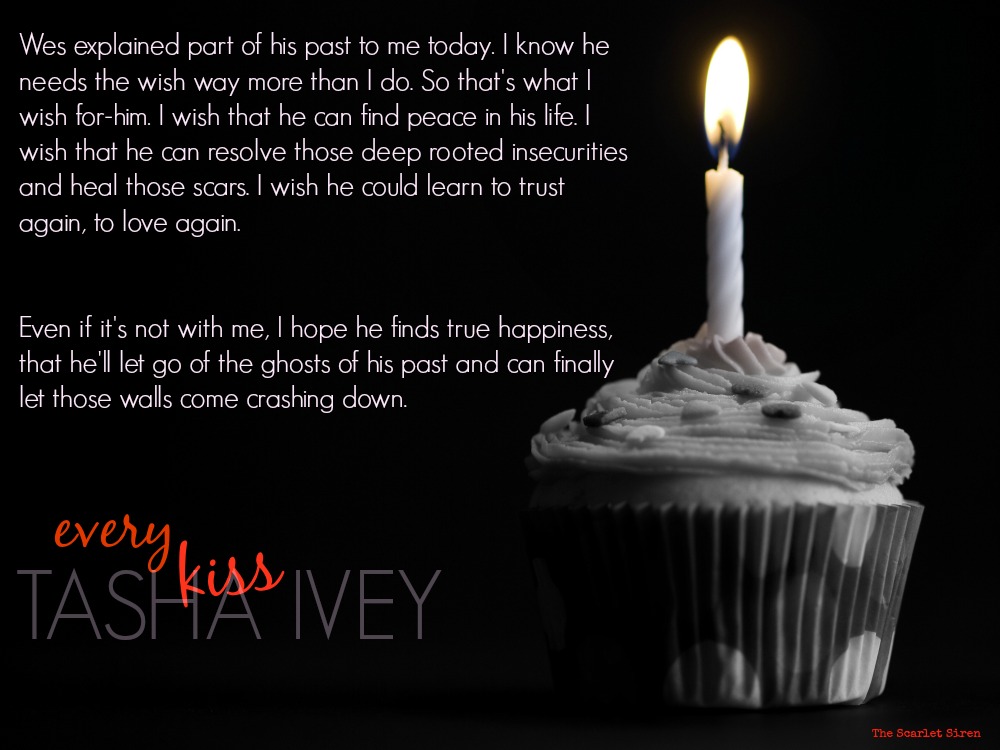 Character Interview!
Callie! Wes! Thanks so much for chatting with me today! I was so excited to read your story in Every Kiss, and I loved learning more about you two! Are you ready to get started?
Callie and Wes: Can't wait!
Wes, when we first met you in Every Breath, you were a sweet, easygoing, teddy bear of a guy. I was surprised to learn that you weren't always this way!  I know we read about what your life was like before you met Callie, but how did you feel about that life? Were you content with it?
Wes: Well, I thought I was. But I didn't really realize how miserable I was until Callie barged into my life. Then, I was only miserable when she wasn't around. And to be honest, for a long time, that just pissed me off. I hated that I liked her. It wasn't until I admitted to her, and myself, that I loved her and wanted to be with her that I knew what being content with my life was.
Callie, I'm dying to know…what was your first impression of Wes? (Not gonna lie, I thought he was a little broody for my liking!  😉 )
Callie: We crossed paths several times on the first day we met, and I think I had a different impression every single time. The moment I laid eyes on him at Shane's dorm, I thought he was a little weird. Hot, but weird. And severely lacking in the pick-up lines department. Then when he showed up at his parents' house later on that day, he was definitely a broody jerk, and I had no problem telling him so. But deep down . . . it was refreshing. Most guys try to show off and be someone they're not, just to impress you. Not with Wes. He is who he is. And even though it was infuriating, I knew he was being real. And let's not forget that he redeemed himself later that night. 
Wes, it seems that Callie has no problem speaking her mind, and she never hesitated to put you in your place. What did you think about her no-holds-barred attitude?
Wes: Are you kidding? I thought it was hot. *waggles his eyebrows at Callie* Still do, actually. No woman has ever been straight with me like Callie has. From the very first moment she called me out on my nonsense, she had me hooked. She keeps me grounded . . . balanced. 
Callie, it seemed to me that you always saw something in Wes that was worth fighting for, even when he tried his best to push you away. Was there ever a time when you thought about just walking away? 
Callie: *eyes Wes with a smirk* I wanted to walk away just about every time I was near him. In case you didn't notice, he wasn't for the faint-of-heart back then. But I had the opportunity to see little glimmers of who he really is, and that's what made me want to fight for him. I knew about his demons – well, most of them – and I knew that if no one ever showed him that they wouldn't walk away, he'd never be free. Because I cared for him, and knew he cared for me, I didn't let him push me away anymore.
The road to the life you have together now surely wasn't an easy one. Knowing what you know now, would you have done anything differently?
Wes: I'm a "no regrets" kind of guy. I think that everything that happens in your life, every mistake you make, shapes you into the person you become. 
Callie: I agree with that. I don't know that, if we hadn't been through so much, if we'd have the relationship we have now. We're stronger because of it.
So…what's next for the two of you? Any future plans? Might we see you in more books?
Wes: Well, you do know I'm about to be a dad, right? I think it's safe to say we're going to be pretty tied up for a while. *sighs* Me . . . a dad.
(AWWWWWW!)
Callie: You're going to be a great dad, Wes. I just can't wait to see you holding our child. That's going to be the best day of my life. And everyone is invited to join us at the hospital when the baby is born. I'm sure Sawyer's friend, Dalton, will tell you all about it in his book, Every Glance.
(I am entirely too excited for this!)
I'm so happy to have had the opportunity to chat with you two! I hope to see more of you in the future!
Callie:  Thanks for having us!
Wes: It's been a pleasure, Maureen! We'll be seeing you again soon!
Buy Every Kiss by Tasha Ivey
Every Kiss Playlist
Giveaway!
Meet Tasha Ivey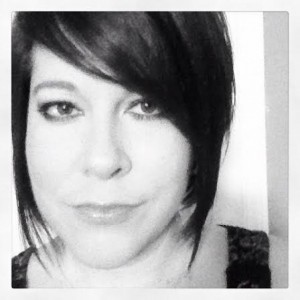 Tasha Ivey is a literature fanatic, whose love for the written word fostered her development into the writer she has become. A lover of an extremely erratic mixture of literature, she has been influenced by authors from Jane Austen and E.M. Forster to Charlaine Harris and Alyson Noel. But her biggest influence and literary hero? Nicholas Sparks. Aside from writing, since she doesn't have anything other than a shriveled up prune on the left side of her brain, she prefers to spend her time being creative in other ways like painting, cake decorating, and various types of crafts. That is, if the constant voices streaming through her head allow her to stop making up stories for a while. Lucky for her, she has a huge supportive family, including her amazing husband and two kids, who doesn't complain too much when she hangs out with her characters more than she does with them. Sophie, the dog, however . . . she does complain. A lot.
Facebook ♥ Twitter ♥ Goodreads