That kiss…that kiss was exceptional, and I'll never forget it. As I stand here and as long as I live, it was the best I've ever had, the best I could ever have.
…and this is where the story begins in Everything I've Never Had by Lynetta Halat. We meet Celeste, a widowed mother of three. A strong, independent woman, she is still somewhat trapped under the thumb of her prominent (and pretty shady) family. A night out with the girls turns into something decidedly different when, fueled by one of the world's most sensual songs (Everlong by Foo Fighters) and more than a little bit of lust, Celeste steps off the ledge and kisses Adrian.
Who is Adrian, you ask? I'm only too happy to school you. I'm a generous person like that.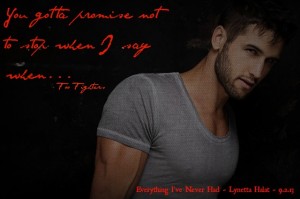 Adrian is the cousin of Celeste's late husband. Punished for the sins of the father, the family is not accepting of Adrian. Nonetheless, when his cousin passed after a battle with cancer, he stepped up and took an active role in the lives of Celeste and her boys. For years, he's been there for them, becoming an integral member of the family, and you get the sense that he needs them just as much as they need him.
Adrian "freakishly amazingly beautiful, broody, black sheep, I could take your clothes off without ever moving a muscle" Hebert
Yeah…that. He's a Marine, he's in a band, rides a motorcycle, has a belly-warming Cajun accent (at least in my head), and takes care of Celeste and her boys without expecting anything in return. He's loving and protective, without being TOO alpha. AND he cuts the grass on the regular! I want, nay, I NEED an Adrian in my life!! (Thank goodness the husband doesn't read my blog!) Can anyone blame Celeste for ambushing him?? If I had an Adrian, it would take an act of God to stop me from humping his leg. I'd probably have to borrow some willpower from my girlfriends, too! Oh, who am I kidding? Those smutty bitches would be all over him, too! But this is SO not the point of this post! (Down, Mo! DOWN!)
**cleansing breath**
Celeste is an exceptional character. Although she is strong-willed, she often caves to the will of her powerful family. Her first marriage was more of a corporate merger than a love story, and her family is trying to marry her off again, making it known that she doesn't have a whole lot of choice in the matter. Those she loves, she loves fiercely; her family, her children, her friends. With this in mind, will she stand her ground with her family, and fight for the one that she loves, or will she let them control this aspect of her life again? You'll have to read and find out!
In my opinion, Lynetta is the queen of the slow build-up. She's setting the stage just right, creating a perfect storm of love, tension, lust, and drama until I can't take it anymore. I'm clutching my Kindle, chanting, "Sweet baby JAYSUS! Will they? Won't they? What in the fresh hell is going to happen?!?!?!?" Then it's like the freefall drop of a rollercoaster. Emotions are rushing past you at a breakneck speed, your belly is quivering, and you're filled with the fearful anticipation of what's to come next. You can't quite be sure what's going to happen, but you know, you just KNOW, that at the end of this ride, you'll be out of breath, your face will be flushed, and your hair will be a MESS. And it will all be totally worth it.
The secondary characters in this novel are fabulous. Celeste's three boys are terrific; whip-smart, entertaining, and protective of their Mama. Her friends Bonnie and Garner are entirely too funny, and I hereby DEMAND that they get a story, because I need more of their heat and wit. While some secondary characters can feel like filler, Lynetta's are a true addition to the story. Some I wanted to hug, some I wanted to punch in the neck, and some I wanted to run over with my car. Twice.
A quick side note: A part of the book that really touched the deepest part of me dealt with Adrian's time in and out of the service. The struggles of being separated from your family, dealing with the horrors of war, and trying to assimilate when you come back home. Touching on PTSD, and it's wide-reaching effects, it was very meaningful to me. Most of my family was in the military, and my husband is a disabled veteran, and those scenes reminded me of how lucky my family is that he made it through his enlistment and his injuries so that we could all be a family one day. Lynetta wrote these scenes with respect and love, and they were poignant, heartbreaking, and inspirational all at once.
In summation (are your eyes tired yet???), I give Everything I've Never Had a good 4.5 stars. (Yes, I'm a star-stingy bitch, almost nobody gets 5 stars!). Lynetta's writing is lush and evocative. I could feel the sultry heat of New Orleans, I could taste the beignets, I could hear the music wafting down Bourbon Street. I got lost in their world, and I didn't want to come back.
Meet Lynetta Halat
Since the dawn of time, Lynetta Halat has lived to read and has written innumerable stories and plays. A lover of good books, bad
boys, and kickass tunes, she'd always dreamt of penning books that people could connect with and remember. She also has a secret penchant for wringing the emotions out of unsuspecting readers. She collects reader's tears in much the same way that wine connoisseurs collect their favorite vintage.
Her first novel, Every Rose, was the perfect catalyst to launch her into the world of publishing, effectively burrowing her way into the hearts and minds of readers throughout the world. She has followed that up with an adult romance in Everything I've Never Had.
Her love of the English language prompted her to pursue a Master's degree in English from Old Dominion University in Virginia, where she also minored in snark and interpretive dance. She lives somewhere on the Mississippi Gulf Coast with her adorable husband, two amazing sons, and two loveable dogs. When she's not writing riveting storylines, she likes to focus on her macramé art and her scouring of eBay, where she buys locks of hair from her favorite rock stars, most especially Bret Michaels and Dave Grohl.
Facebook ♥ Website ♥ Twitter ♥ Goodreads
Giveaway!
a Rafflecopter giveaway
a Rafflecopter giveaway