A Little Too Hot
A Little Too Far #3
New Adult Romance
William Morrow Impulse
1.21.14
ARC provided to facilitate this review
If you play with fire…
Tossed out of college and cut off by her parents, Samantha West is in pretty dire straits. So when her rocker best friend hooks her up with a job dancing at a gentlemen's club, who is she to turn it down? Plus, there are rules to dancing at Benny's: No touching, keep your clothes on at all times, and never get closer than three feet. Unfortunately for Sam, her first private client makes her want to break every single one of them.
Harrison Yates is scorching hot, but he's got a past that involves being left at the altar not too long ago. Sam is determined to make him forget about his ex, but when she makes her move, it flings her life into a spiral of chaos she never saw coming.
Because Harrison Yates isn't who he seems to be. And his secret will probably get her killed.
First things first. Yes, this book is considered #3 in a series, but it DOES read as a standalone. You don't have to read the first two books to follow along with this one. (Even though you totally should, they're really, really good.)
Anyhoo.
Once again, Lisa Desrochers has made me one happy little bookworm. I wasn't quite sure what to expect going into this read. I didn't love Sam in A Little Too Far, and then I have the blurb talking about people getting killed, and I'm all, "Whoa! This is not what I have grown to expect from Lisa!"
I was pleasantly surprised.
Right off, I liked Sam more than I did before. I really felt for her, she's young, struggling, and generally having a hard time. Granted, most of it is through her own doing, but she was like a little lost lamb to me, and even with all of her issues, she started to grow on me.
I LOVED her friend Jonathan. I want to be friends with this guy, even if he is a bit of a pig.
Finally, it seems like Sam might be getting a break. She finds a good paying job (even if it is a bit seedy), and is working to get a place of her own. She even meets a man at her workplace who makes her feel like she's getting over Trent, the love she lost to her best friend. The chemistry between Sam and Harrison practically leaped off the page. Things are starting to feel promising for our Sam. Then…
BOOM.
Lisa Desrochers made my head SPIN. I had no idea what was happening, I was probably only slightly less confused than Sam. What in the blue hell was going on with Harrison? Or is it Blake?
This is where Lisa threw me. She took this amazing heat and chemistry between these characters and added in a crazy suspense twist. And this is where the story got gooooood. These two people were so drawn to each other, yet circumstances demanded they could not be together. I almost couldn't stand it!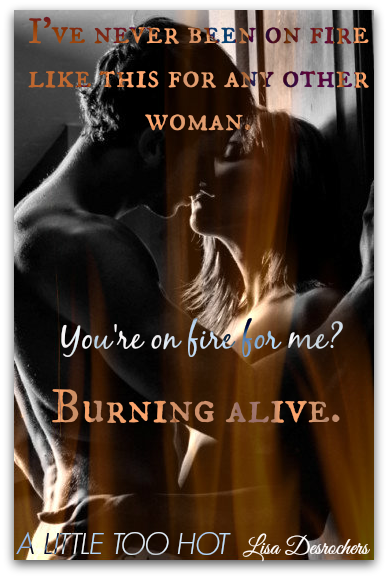 Each page after page is packed with sexual tension, drama, suspense, even some pretty heavy action, The reader literally cannot put this story down, as Lisa makes us desperate to know what is to come. She expertly keeps us on the edge of our seat (oh, who I am kidding, I was totally reading this in bed)
After many breathless moments, Lisa wraps up the story so well, leaving us anticipating a happy and hopeful future for Sam and Harrison. Or is it Blake? What the hell IS his name, anyway???
GIVEAWAY!
Meet Lisa Desrochers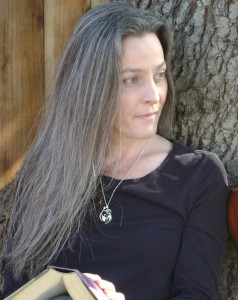 Lisa Desrochers is the USA Today bestselling author of A LITTLE TOO FAR , courtesy of HarperCollins, and companions, A LITTLE TOO MUCH (Nov 12, 2013), and A LITTLE TOO HOT (Jan 21, 2014). Also in stores is her YA PERSONAL DEMONS trilogy (Macmillan).
She lives in central California with her husband and two very busy daughters. There is never a time that she can be found without a book in her hand, and she adores stories that take her to new places, and then take her by surprise.