Natural Harmony
Confession Records #1
Contemporary Romance
ARC provided by author to facilitate this review
Suddenly named the acting president of her uncle's record label, former pop princess Sabrina Walker is finally ready to grow up. While her professional life moves forward, she still clings to the last fragment of her past life in the form of an uncertain relationship with her manager, Beau.
When Sabrina hires handsome, young assistant, Wade Lawson, he awakens in her the hidden confidence she's always desired. What starts as a casual affair quickly intensifies to something much more.
Sabrina must decide—return to the familiar life of an insecure one-hit-wonder, or embrace Wade and the woman his passion has helped reveal.
Natural Harmony is a stand-alone, adult contemporary romance and the first in the Confession Records collection.
I have been a Kate Roth fan since I read her book The Low Notes last year. (Do yourselves a favor and read that one, too! it's not to be missed!) Naturally, I was excited to check out Natural Harmony. This is her first self-published novel, and I was interested to see what kind of ride she was going to take us on. I loved the setting of this book, I don't read a ton of office romances, so it was a nice change of pace.
We get to see our heroine, Sabrina, really blossom in this book, thrown into the fire as president of a major record label, struggling to be taken seriously by some who still see her as just a former pop star. She takes the job by storm, showing people that she's more than just a one-hit wonder, and can be successful, even at a young age.
It's possible she wouldn't have been such a success without her newly hired assistant, Wade. They have an immediate connection, him sensing what she needs almost before she realizes she needs it. They make a great pair, both in and out of the office. Wade really helps her come into her own, and Sabrina realizes that not only does she WANT more out of her love life, she DESERVES more.
I really enjoyed how Kate Roth gave us a strong heroine who was comfortable in her own skin, willing to do what it takes to get what she wants out of life. I also really liked seeing a female boss with the male employee, we don't see that in typical office romances.
Although moving on from her previous (dysfunctional) relationship isn't easy for Sabrina, one thing that I LOVE that Kate Roth did with this book was that she didn't create drama for the sake of drama. Sabrina works things out in an adult manner, and nothing felt forced or artificial.
One issue I did have was that I didn't quite feel that I really "knew" Wade. There isn't a ton of backstory on him, and while I liked his character, I almost felt that he could have just been anybody. However, that didn't take away from this story, I would have just liked to be in his head a little more.
All in all, I think Kate Roth did a great job bringing us a sweet and fun read, and I'll be interested to see what comes next in the Confessions Records series.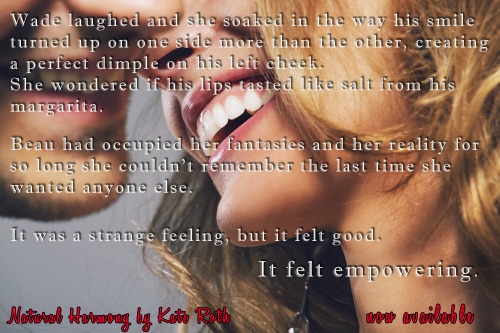 Giveaway!
Meet Kate Roth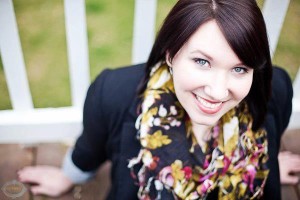 Inspired by music, film, art and the wealth of stories she has heard through her career as a professional hair stylist, Kate Roth has been dreaming up love stories since junior high. 
Kate's first two novels, new adult romance The Low Notes and new adult paranormal romance Reckless Radiance were released by Rebel Ink Press in May of 2012 and September of 2013. Natural Harmony is her third novel and her first venture into independent publishing. She is hard at work on the next two novels in the Confession Records collection, as well as her first erotic romance, Last Resort. She is a small business owner and lives in Indiana with her husband, Adam and their dog, Sampson.
You can find more about Kate and her work on her website www.katerothwrites.com and stay up to date with all her news by following her on Facebook www.facebook.com/authorkateroth