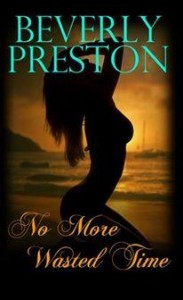 Sometimes books make you happy. Sometimes books make you sad. Sometimes, if you're lucky, books give you a satisfied, squishy feeling inside that reminds you that love is the bestest thing in the whole wide world and fills you with joy. No More Wasted Time was that book for me. Let's take a quick look at what this book's about, shall we?
After losing her husband to a sudden heart attack, Tess Mathews escapes to Bora Bora to lay her husband and sorrow to rest. What she doesn't expect is a new beginning.
Tom Clemmins is an A-list actor whose life revolves around work and an onslaught of women. He travels to Bora Bora for a much-needed break. Tom has a few ideas of how he'll enjoy his vacation, but love isn't one of them. Until he sees Tess.
Reserving a private shark-feeding excursion to scatter her husband's ashes into the lagoon, Tess is furious when Mr. Hollywood bribes his way onto the boat, leaving her no other choice but to share the boat ride.
Tess is torn between tremendous guilt and zealous lust when their boat ride turns into a week full of romance and desire neither thought imaginable. Utterly smitten with a woman for the first time in his life, Tom casts his commitment phobia aside and whisks Tess off to Malibu where he introduces her as his "girlfriend" on the red carpet.
As the paparazzi besiege, can Tess survive the media blitz that ensues in order to find her second chance at love?
From The Mind Of Mo
As soon as I met Tess, I immediately connected with her. She's in mourning, and I really felt for her. While I couldn't relate to her sadness, Beverly wrote her character in such an authentic way that it's not hard to see things from her perspective.  She's been through hell in the past year, and she's come out the other side, finally ready to live life again.
Enter Tom. **sigh** What can we say about Tom? World-famous actor. Renowned playboy. Genuinely good guy? It's true! Here is my Tom.
Even though they meet in a less-than-ideal situation, their connection is pretty much immediate, and before we know it, their romance has begun. "Whirlwind" is definitely the way to describe their relationship, but it feels so natural. I really liked the fact that Tess wasn't all "OMG, you're Tom Clemmins!" with him. To her, he was just Tom, right from the beginning.
I think my favorite part of this story was the depth of Tom's love for Tess. In many novels, when the reformed playboy finds love, it sort of feels forced and unnatural. Not so with Tom. You get the sense that he his genuinely in love with her, and would do just about anything to make her happy. The fact that he didn't want to replace her former husband was amazing. He just wanted Tess to make room in her heart for him as well.
I LOVED that we're dealing with a more mature couple here. And even though they're in their 40's, and Tess has three grown children, their lives were still passionate and sexy. As a married woman who is about to turn 35 (**gasp**sob** WHY, GOD? WHYYYYY? **sniffle**), this gave me hope for the future.
Tess's family was GREAT! Her kids are fiercely protective of their mama, especially after the year they've all had. They don't care if Tom is a famous movie star, they're not gonna stand for any shit with him, and I LOVED them for that.
Beverly's writing is what really made this story. Everything felt so realistic, and  Tom's lifestyle didn't overshadow their relationship, it was simply one facet of it. Overall, this is a story of a second chance at love, but it's not a second-place love. It's a deep, true, all-encompassing love. I can only hope we all experience the kind of love that Tom & Tess share.
Excerpt!
They returned to Tom's as the sun sank into the ocean. He made martinis and they swam. The warm pool felt wonderful, but the drinks were even better. Tess had never drank martinis, and they were making her randy.
Tom rattled on, seemingly having a conversation with himself, because she wasn't paying attention. Tess watched his lips move, but could only focus on the urge to gently suck on them and run her tongue down the muscle on his neck that fluttered when he talked. All she wanted to do was make love to him. Eventually, Tess stepped out of the pool in the middle of his sentence, never turning back to see if he followed. Her bikini hit the ground before she made it inside the house.  She only made it as far as the top of the stairs.
He grabbed her from behind, his hot breath traveled over her shoulder and back. Twisting her neck, she searched for his mouth. He turned her to face him, and she clung to him, kissing him with hunger and desire unlike anything Tess had ever experienced before. He guided her down to the floor, taking her right there on the stairs. She wanted to tell him to make love to her, but feared to say the words out loud.
"Are you okay, Tess?" He watched her face intently.
"Umm hum."
"You're thinking about something else. What can I do to change that?" He placed her hands above her head.
She inhaled deeply, holding her breath before exhaling loudly. She was dying to say the words so badly, but scared he would bolt out the door.
"Tell me, Tess. What do you want?"
That voice! She breathed deeply again.
"I'm listening," he coaxed.
She blurted out. "I don't want to have sex tonight."
"I think you're too late." He smirked, tugging gently on her nipple with his teeth.
"I want this to be more than just sex." She yearned for him to realize what she needed from him. "I'm not asking you for words, Tom. I'm not ready for that, but I want this to be more than just sex."
He stopped mid-thrust, cocking his head to the side, understanding exactly what she meant. He pulled away from her to stand up.
Panic set in and regret filled her eyes as she reached for his hand to pull him back. Shit, I shouldn't have said anything.
He took her hand and led her to his room to start over. Tilting her chin up toward his. "Tess, I'm not sure if I've ever had just sex with you. It's been much more than that for me from the beginning."
"Me, too."
Tom kissed her lips softly, nuzzling her neck, burying his face in the scent of her skin. Their bodies moved slower, more deliberate, connecting as one, touching each other tenderly. Neither felt compelled to impress. They simply took pleasure in one of the most intimate nights either had ever experienced. That night they made love together.
Meet Beverly
For the past twenty-one years, Beverly Preston has been a stay at home mom, although she prefers the title Domestic Engineer,
raising her four amazing kids. Along the way, Beverly worked side by side with her husband Don, the love of her life, designing, building and selling custom homes. As her children begin to venture out on their own, she's left to shed a tear—for a minute—wonder what's next in life, and embrace the feeling of empowerment that surely must've been wrapped in a present she received on her fortieth birthday.
If Beverly isn't at home riding her spin bike, you'll find her spinning richly emotional and sinfully sexy romance stories.
Website ♥ Facebook ♥ Twitter ♥ Goodreads
GIVEAWAY!