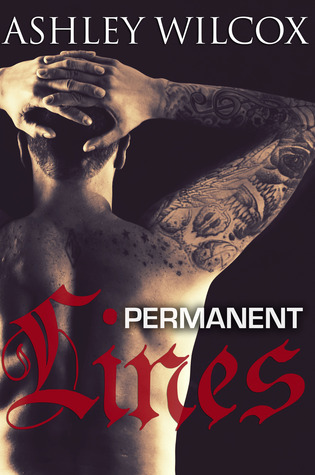 Permanent Lines
Contemporary Romance
12 January 2014
Kindle eBook
The Scarlet Siren received this book from the author in order to facilitate this review.
Merrick Drake.
Bartender, dirt bike racer, and far from settling down…until that one race, and that one girl that changed everything.
Amelia Driscoll.
Amelia took Merrick by surprise, bringing out emotions that he never knew existed. Amelia stole his heart…
Only to break it.
When fate puts Merrick and Amelia back together, it doesn't come without a price- it comes with vengeance, determination, and putting his life on the line for the one he loves.
But, how much is Merrick willing to put on the line to have a future with no reason to hide? In the end, fate will decide...
Who's permanent.
Some words, a disclaimer, from Merrick Drake, himself:
I'm just going to put it out there…I'm sorry I'm a f*cking pussy at the beginning of this book. It isn't any secret, Amelia burned me bad—like motherf*cking, stab me in the heart, leave me lying there by myself bad, but dammit, I wouldn't change anything if I was ever given the chance. You'll see that Amelia is damn near perfect and worth every second of misery she put me through. If you find yourself saying, "Jesus Christ, this guy needs to grow a set!" I don't blame you, but just keep reading. I redeem myself pretty damn well, if I do say so myself, but beware, because holy $hit do things get intense! Enjoy reading, my friends—my life is a whole clusterf*ck of crazy, but somehow it all comes full circle by the end.
Merrick Drake
Permanent Lines is my favorite Ashley Wilcox read yet. We first met Merrick in Running From Forever, where he forged a unique bond with Kayla. This tattooed, motocross racing bartender stole my heart from the beginning, and this book made me love him all the more.
He meets his match on the track in Amelia, and he soon finds himself head over heels for her. After one amazing weekend together, Amelia disappears, leaving Merrick heartbroken. This isn't an emotion he is used to, and he doesn't know how to deal with it. When he finally gets Amelia back into his life, he's thrown headlong into a world he can't possibly understand, and the consequences of their reunion are far-reaching, affecting the people nearest and dearest to both of them.
While I am a huge sucker for male POV books, all too often, these books read like women writing the male POV. It just doesn't quite ring true. However, this is not the case with Permanent Lines. Ashley Wilcox gets Merrick's point of view just right, blending male bravado, bullheadedness, and a dose of humor in the mix. While Merrick himself tells you that he's kind of a pussy in the beginning, when it comes to protecting his woman, Merrick is ALL mad, male, alpha bad ass.
I did have one issue with this book, however. The pace was FAST. The entire book spans just over two months, in while time they meet, fall in love, are separated for an extended time, and some SERIOUS shit goes down. HOWEVER. After reading the book, and thinking about it after, it was actually just right. The frenetic pace of the story matched the chaotic nature of their relationship. While the pacing felt crazy while you're reading it, that's because that's how Merrick and Amelia's bond began, in a crazy, frenzied way. The momentum of the book also ties in with their motocross careers…Ashley Wilcox is a clever one!
Together with a warm and fuzzy epilogue, this story was a witty, dramatic, and action-packed read! I thoroughly enjoyed this read, and I can't wait to read more from Ashley Wilcox!
GIVEAWAY
Meet Ashley Wilcox
Living in Syracuse, New York, Ashley Wilcox is happily married to her husband of over six years, and a mommy to two little boys, and one little girl who is expected to be here in March 2014. Through her addiction for reading, Ashley has discovered her passion for writing. She loves reading and writing about anything romance. Some books that Ashley is most commonly known for are The Forever Series, Summer Rush, and her latest, Permanent Lines.
To find out more about Ashley and what she is currently working on, please visit her website at AshleyWilcoxAuthor.com.
Facebook ♦ Twitter ♦ Goodreads