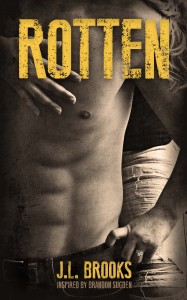 Growing up on the outskirts of Las Vegas as the daughter of notorious strip club owner, Stephen Knox, and a mother who abandoned her at birth, life was less than kind to a young Antoinette.
After a failed teenage suicide attempt, Toni hit the road in search of a life free of undeserved cruelty and any resemblance to her past.
Years later, Toni is lost in a dead end marriage and makes a painful confession that sends her back to the one place she always wanted to escape. But can she really right the wrongs that haunt her? Toni soon finds that the only place where things stay the same is in your mind.
When her path crosses with David Stark, childhood playmate turned one night stand, she cannot deny the spike in temperature she feels every time he's near or the scorching dreams that flood her at night.
Digging through the years of heartache, Toni soon finds herself torn between the man she is committed to and the one who has always held her heart. As each layer unfolds before her, she discovers the root cause of her pain. Always believing the source was external, nothing could prepare her for the truth.
From The Mind Of Mo
Hottie hockey player. That's all you need to know. See you on the next review!!!
No, seriously, though. Rotten was an interesting book for me. I don't think I fully appreciated it when I first read it, I had to let it sit and settle for a moment.
Toni grew up in an unusual manner, no mother figure to speak of, never quite fitting in with the crowd as a kid. After having her heart broken by her best friend, she runs away and never looks back.
She becomes a different person, leading a whole new life, and avoiding her hometown and everyone in it for over a decade.
There were many times while reading the book that I questioned things that Toni did, or said. After thinking back on the book, I realized that the main theme of this book, at least for me, was Toni's journey to finding her true self.. She seemed desperate for acceptance, even as a  young girl, but it never seemed that she quite accepted herself.
So for me, this book was all about her finally accepting herself. Who she is, where she came from, and loving herself no matter what.
David was a great character. He clearly always cared for Toni, even though he didn't express it properly in the past. When she returns to town, their connection made it seem like they'd never been apart. Protective, caring, funny, and obsessed with his manhood, David had me smiling a lot through this book!.
SOME people in this book needed a good kick in the junk. I'll let you figure all that out on your own!!
All in all, I enjoyed this book. It's told in a fresh way that holds the reader until the very end.
Meet J.L. Brooks
JL Brooks is a former columnist turned novelist. What started as a bet changed her entire course in life. With a passion
for adventure, she believes everyone has a story to tell. Chances are she will try to convince you to tell yours.
Giveaway!