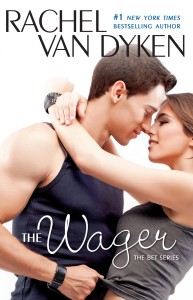 Lose a bet, lose your heart…
What is it about a junior-high crush that can send an otherwise intelligent woman into a tailspin? TV reporter Char Lynn wishes she knew. Jake Titus is too rich, too handsome, too arrogant: a trifecta that once lured Char into the best night-and worst morning-after-of her life. Now they've been thrown together in a wedding party. It's awkward, but survivable . . . until Jake stops acting like a jerk, and starts acting like the man she'd always hoped he could be.
If watching your brother marry your best friend is weird, being attracted to your best friend's other best friend is downright bizarre. Unfortunately for Jake, Char hasn't forgotten how he once tossed her aside. Worse still, Jake's already-nutty grandma is even crazier about Char. Cue meet-cute shenanigans and all manner of meddling, and somehow, Jake's falling. For Char. Now all he has to do is make her believe it . . .
From The Mind of Mo
The Wager by Rachel Van Dyken is Book Two in The Bet Series (The Bet being Book One). While I liked The Bet, I didn't LOVE it. Jake came off as a real ass in The Bet, and he and I were definitely not friends. To me, he was a spoiled rich boy who's never had to work for anything in his life (and I do mean anything). He manipulated people to get his way, and when somebody plays with his toys, he gets all pissy, even though he didn't really want the toys to begin with.
HOWEVER! Jake really came into his own in this book, thanks to being taken down a peg or twelve by the lovable, wacky Grandma Nadine. Let's get sidetracked a minute and discuss Grandma Nadine.
She's got to be my favorite character in this series. 87 year old, leopard jumpsuit wearing, cougar-yoga doing, benadryl-drugging Grandma Nadine. I want a Grandma Nadine in my life. Is there a Rent-A-Grandma service out there somewhere? I need to research this.  She's forever meddling in the affairs of her grandsons, convinced that she knows what's best. Instead of talking things out, she concocts these crazy schemes to get her way. The scariest part of the whole thing is the fact that she's always right!!
Jake runs into his childhood friend turned one-night-stand, who he loved and left in the TACKIEST way. (Seriously Jake, WTF?!?!!?) Char cannot turn off her feelings for Jake, no matter what happened in their past. Lines are blurred when they are thrown together (Thanks, Grandma!) to assist in wedding planning.
Their resulting adventures are funny and moving at the same time. Rachel did a terrific job in blending the funny moments with more poignant ones, especially those dealing with Jake's past. Jake reflecting on his past is what really helped me fall in love with him. He does a complete turnaround from The Bet, and by the end of The Wager, I'm all about Jake Titus.
Rachel, please tell me we'll hear more from the Titus Family!
Meet Rachel Van Dyken
Rachel Van Dyken is the New York Times, Wall Street Journal, and USA Today Bestselling author of regency and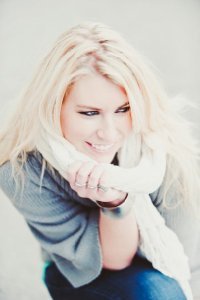 contemporary romances. When she's not writing you can find her drinking coffee at Starbucks and plotting her next book while watching The Bachelor.
She keeps her home in Idaho with her Husband and their snoring Boxer, Sir Winston Churchill. She loves to hear from readers!
Facebook ♥ Twitter ♥ Website ♥ Goodreads
Giveaway!