If you know me, you know that I am not your average girly girl, Far from it. Most of my friends are guys, and I laugh hysterically at things many girls would cringe at. So it stands to reason that even though , as a woman,  I should hate this book, I thought it was a fucking riot.
Let me rewind a bit. A few months back, I heard  buzz about some book  The Wingman Chronicles and I checked it out on Amazon. The blurb hooked me.
 No details are spared in this humorous,
erotic, autobiographical novel depicting all of his hedonistic
debauchery. Full of jaw-dropping moments, gut-busting laughs and
multiple orgasms, "The Wingman Chronicles" will make you laugh and
orgasm at the same time.
      He totally had me at debauchery.  When I got the opportunity to participate in his Blog Tour, I hopped on that train right quick! No, not *that* train, you fucking pervs.  The Wingman Chronicles is an autobiographical novel, depicting James' life as a high-class player, banging his way across the lower 48. As I immersed myself in James' world, I was torn. I didn't know if I should keep reading, or go out and get vaccinated. James gets a lot of play, my friends. Not gonna lie, either, some of it seem a little questionable.
      There were a few moments that had me fanning myself. There were a few moments that had me cringing *cough*Funeral Creepin'*cough*, but throughout all of the aforementioned debauchery, I was laughing. James is a funny guy, his one-liners are priceless! I mean, the guy dedicated a money shot to his MOTHER! I laughed my fucking ass off.
      I was impressed with his control over his faculties. While most men have zero blood flow to the brain while doing the deed, James manages to keep us chuckling with his sarcastic commentary, all the while pleasing the ladies, sometimes more than one at a time. I've got to hand it to the guy!
      The Wingman has some crazy adventures throughout this book. He pretends to be a lawyer to get into a girl's pants, has assorted three ways of various configurations, this motherfucker even uses his sister as bait to reel in a bisexual chick! He's a slut, but he owns it. And he's not just in it for his own satisfaction, he legitimately wants women to enjoy the whole experience as well!
      But as crass and uncouth as James admits to being, he actually gets a pretty decent read on chicks, and towards the end of the book, it seems our favorite manwhore may actually be growing a soul! Could James possibly want to find someone to settle down with? I guess we'll have to hope for a sequel to know for sure!
      I give James and all his adventures 4 salacious stars. Clearly, this book is not for everyone. If you don't have an open mind and a sense of humor, keep on moving. But if you like a raunchy read with a hysterical edge, you need to get yourself a copy. (Pro Tip: Enter to WIN a copy below!) My girls and I are going to check out his live show in Philly next month. Check in with me on Facebook to see how that goes! (Do you think I can convince the husband it was research for the blog if James signs my boobs???)
Meet The Wingman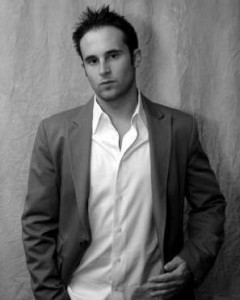 James Holeva, aka "The Wingman" is a filthy comedian/author/actor/lothario who enjoys having sex in bedrooms, backseats & bathroom stalls. His humorous, erotic, autobiographical novel "The Wingman Chronicles" has gained a legion of fans all over the world, and been described as a male version of fifty shades without the fantasy elements. The bad boy's raw and in-your-face way with words extends to his energetic standup comedy shows which have more the atmosphere of a rock concert than a typical comedy show. In addition to his abilities as a writer, his shows are always different as he uses his charm and rapid-fire wit to keep the audience guessing, laughing, and blushing. Holeva sells out shows all over the country, answers sex questions in his #askwingman Q & A portion of the show and has his female fans fighting over being included in his signature on-stage spanking encore. He was voted 2013 reader's choice best comedian by The Weekender readers.
As an actor he starred in "The Wingman" TV Pilot, which he also wrote and produced, and it just won Best Pilot at the Hoboken International Film Festival. Holeva is hard at work touring the United States doing standup, as well as writing and of course researching his next book. He's currently working on putting together a film based on "The Wingman Chronicles," as well as has plans to record a standup comedy DVD, and tour abroad. His meet and greet/book signings are as crazy as his shows as he usually signs as many boobs as he does books, and asses too of course.
Email:wingmanfans@gmail.com
Friend him at Facebook: http://www.facebook.com/jamesholeva
Like "The Wingman" on Facebook:  https://www.facebook.com/LetsGetCreepin?fref=ts
Twitter:  www.twitter.com/wingmanbiz