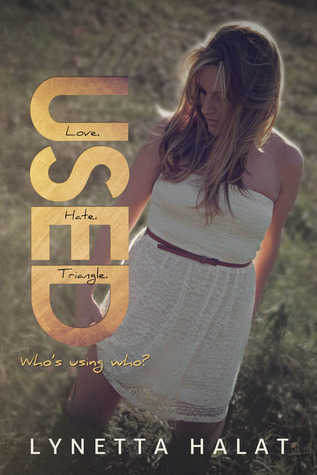 Used
Unloveable #1
New Adult Romance
1.19.2014
ARC provided by author to facilitate this review
I am a slut. No worries. I've come to terms with it, and you will too. I'm not one of those girls who thinks she's too plain, too fat, too skinny, too shy … no, I don't have that kind of luck. I'm the girl who knows she's just right for everyone. — Denver
A reputation as a manwhore–with–a–heart–of–gold tends to precede me. But, I don't do girls with issues, that is until this girl. It's this girl I want to fix. This girl I want to protect. And maybe … more. — Ransom
Being in love with the same girl your entire life isn't all it's cracked up to be. She uses me in every way imaginable. How does she see me? I am her perpetual one-night stand. No strings, no attachments. Just mind-numbing sex ... for her anyway. — Greer
Feeling like the life is being choked out of her in the small town of Anaconda, Montana, Denver Dempsey craves the escape that college offers … even if that means leaving her "best friend with benefits" and looking for a new way to forget. Thinking she's found the perfect hookup in Ransom, Denver's outlook on college is bright. That is, until Greer shows up looking for a second chance, and Ransom's interest turns to hatred.
Love. Hate. Triangle.
Who's using who?
I tried so damn hard to review this book. I really tried. For two damn days I tried. Nothing I came up with could do it justice. This book's tagline is SO apt. Love.Hate. I love and hate this book. I love and hate the characters. I love and hate the struggles and situations they are put through.
But mostly, I fucking loved it. I tried so hard to be eloquent and complimentary about this, but words failed me. Lynetta Halat truly threw me for a loop with this one. I thought I knew what I was getting, but in reality, this book was so much more.
I love Denver. I love how she was strong, and didn't take shit off of anyone. I hated how she felt about herself, and I HATED the horrible shit she had to deal with in her life.
I love Greer. I love how much he loves Denver, and how much he wants to take care of her. I hate how he let himself be used, and I HATE how he Greer'ed everything up. (Yeah, I made a verb out of his name. Jealous?)
I love Ransom. I love how confident he was in what he wanted. I loved that more than anything, he seemed to admire and respect Denver (she needs that). I hate that I didn't get to know him better, and that he doesn't exist in real life.
I couldn't just review this book, I needed to have a conversation about it. So here is 15 minutes of my (mostly) rambling along about the amazing story and characters Lynetta built for us. Seriously, it makes no sense. Don't feel obligated to watch it, but I needed somebody to talk to, dammit!!
Seriously, don't watch this.
This story was wondrous. I loved how the characters were so much more than they appeared on the surface. I simultaneously loved and hated (there we go AGAIN!) the bombshells that were dropped, I did NOT see that shit coming!
I summation…this book was a whirlwind. A beautiful, emotional, frustrating, sexy, loving whirlwind. I can't wait to get swept up again.
Excerpt (The one in which I fell in love with Greer.)
Shut Up, and Kiss Me
After a few minutes, Greer stretches out beside me and searches for my hand. Only his hand touches mine, but my whole being tingles. He threads his fingers through mine and runs his thumb over my palm. Something in me twists and splinters, shooting chills all through my body. My breath hitches in my throat because I can't breathe around the knot that has formed there.
"You feel it too," he says simply.
I close my eyes tighter, suddenly embarrassed by the fact that I'm not slick. "Yes," I admit in a whisper.
"Look at me, Denver."
Turning my head to the side, I open my eyes to find his blue-eyed gaze roaming over me. His eyes find mine, and we just take each other in. I want to say something, but I can't think of one darn thing that sounds intelligent or even … sexy. Do I even want to be sexy for him? Yes. Yes, I do. I see stupid girls flirt with him all the time. I don't want to be that girl, but I do want him to see me as a girl and not just his friend. Ironic, since I've spent my whole life telling him not to treat me like a girl.
"I want to kiss you so bad … but if I kiss you, it will change everything," he says in that gravelly voice.
"Change is good," I whisper.
Rolling to his side, his mouth is centimeters from mine. I can't make myself move although I'm aching with want. But I haven't been kissed—ever. And I haven't kissed anyone since that time on the monkey bars in seventh grade when I stuck my tongue in Brian Thomas's mouth on a bet. I shocked the shit out of him, and he didn't even kiss me back. When the bell rang, he jerked back and hit his head hard, sending him to the nurse for the rest of the afternoon. Not my finest moment.
"I don't want to lose my best friend," he tells me.
I bring up my other hand and run it over his jaw. "You're not going to lose me. No matter what. We'll still be friends."
"Relationships ruin friendships. We've seen enough of that."
I shiver with that truth. "True. But we're different. We've been together since before we were born. I can't live without you, so I won't hurt our friendship."
Bringing our entwined hands up, he kisses my knuckles. "Me either. We'll take it slow, all right?"
"All right, my golden boy," I whisper.
The effect of my words is instantaneous; the blue in his eyes intensifies to boiling. He leans in, his lips brushing mine softly. "Denver," he whispers against me. "I've always wanted to make you mine. Ever since I understood what that meant. I've never seen anyone but you." And even though his eyes burn with passion, I hear a little tremor in his voice. Now, him always putting off those girls makes a whole lot more sense.
"I thought we were taking it slow," I chastise, but I delight in knowing that he feels something more for me.
"I just want you to know that I don't take this lightly. You're the most important person in my universe. And I'll do anything to protect us." His declaration unleashes a torrent of need in me, and I no longer want him to kiss me—I need him to kiss me. "Greer, will you shut up and kiss me, please?"
GIVEAWAY!
Meet Lynetta Halat
Since the dawn of time, Lynetta Halat has lived to read and has written innumerable stories and plays. A lover of good books, bad boys, and kickass tunes, she'd always dreamt of penning books that people could connect with and remember. She also has a secret penchant for wringing the emotions out of unsuspecting readers, and she collects reader's tears in much the same way that wine connoisseurs collect their favorite vintage.
Her first novel, Every Rose, was the perfect catalyst to launch her into the world of publishing, effectively burrowing her way into the hearts and minds of readers throughout the world. Everything I've Never Had was her follow-up adult romance novel. Now, she has penned Used, a New Adult Romance that she hopes sinks its teeth into you and doesn't let go.
Her love of the English language prompted her to pursue a Master's degree in English from Old Dominion University in Virginia, where she also minored in snark and interpretive dance. She lives somewhere along the Mississippi Gulf Coast with her adorable husband, two amazing sons, and two loveable dogs. When she's not writing riveting stories, she likes to focus on her macramé art and her scouring of eBay, where she buys locks of hair from her favorite rock stars, most especially Bret Michaels and Dave Grohl.
Facebook Page | Website | Twitter: @LynettaHalat | Goodreads | Amazon