Wrecked
Mature New Adult (18+)
16 December 2013
350
ARC received from author to faciliate this review.
"There would be no happy ending for us. He was too damaged. I was too broken."
Two years ago, Lorrie's mother was murdered. But that wasn't the end of it. Reeling from the tragedy, Lorrie's father spiraled into alcohol, depression, and finally suicide.
The two most important people in Lorrie's life are both gone but she's still alive.
Trying to recover from the tragedy, Lorrie returns to campus, ready to pick up the pieces of her life. All Lorrie wants is to get back to "normal."
Then she meets Hunter. The man, the legend, "the Hammer."
Hunter is a cage fighter who takes on every fight like he's got nothing to lose. His life is a tangled mess of girls, booze, and fist fights. And while it may seem like he's got a devil-may-care attitude, he's fighting a private cage-match with a monster he can't defeat.
Lorrie knows that Hunter is the exact type of guy she should stay away from, especially in her fragile state, but Hunter has other ideas.
As Hunter and Lorrie grow closer together, will they be able to overcome their pain and heal each other? Or will they both end up wrecked?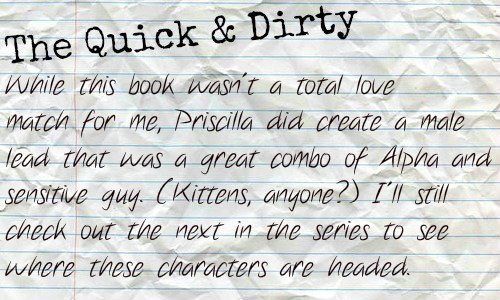 The first line in the blurb for this book says so much.  "There would be no happy ending for us. He was too damaged. I was too broken.".  And there it is. At first, (well, all throughout the book, actually), I REALLY didn't like Lorrie. Her constant back-and-forth, playing the jealous girlfriend routine when she refused to be in a relationship with Hunter, the constant overreactions, I kinda wanted to kick her in the shins.
HOWEVER. We're told RIGHT.UP.FRONT. She's BROKEN! She's been through some horrific shit, and she seems to be in some sort of arrested development. She comes off as kind of immature, but I eventually had to cut her some slack.
Then there's Hunter. Bad ass, but sweet! He knows right away that he feels something for Lorrie, but settles for being her friend, just so he's able to have some sort of relationship with her. I knew he was hiding something, but for the life of me, I couldn't figure out what it was.
Then…AND THEN! Lorrie cannot deny her feelings any longer, and they finally get together. And OOOOO BOY, do they get together! I think MY lady bits got chafed from all the action they were getting!!
So WHY wasn't this book a love match for me? Well, sometimes it seemed that there was just drama for the sake of drama. Also, I wanted to learn more about Hunter, and wished that we got more on his "secret" earlier in the book. I would have liked to be in his head a little bit while he dealt with tha
That said, Priscilla wrote a compelling story that left the reader wanting more. The book ended in a way that leaves me needing to know what happens next! I'll be picking up Book Two, Rescued, when it's released!
Meet Priscilla West
Priscilla West is the author of the popular Surrender series. Her next release titled: Wrecked will be available on December 16th. She likes to write stories with sassy heroines and strong but flawed heroes.
She enjoys: cuddles, men in suits, eskimo kisses, life-sized teddy bears, and eggs over medium.

Author Social Media Links:

Website: http://www.priscillawest.com