SYNOPSIS
I love two men. I screw two men. I am in a relationship with them both, and they are both aware there is another. That is all they need to know, that is all I let them know. They don't need to know a name; they don't need to know anything but that they are not alone in my heart.
They have accepted the situation. Stewart, because his life is too busy for the sort of obligations that are required in a relationship. Paul, because he loves me too much to tell me no. And because my sexual appetite is such that one man has trouble keeping up.
So we exist, two parallel relationships, each running their own course, with no need for intersection or conflict. It works for us, for them, and for me. I don't expect it to be a long-term situation. I know there is an expiration date on the easy perfection of our lives.
I should have paid more attention, should have looked around and noticed the woman who watched it all. She sat in the background and waited, tried to figure me out. Saw my two relationships, the love between us, and the moment that it all fell apart.
She hates me.
I don't even know she exists.
She loves them. I love them.
And they love me.
EVERYTHING else hangs in the balance.
EXCERPT
I step from the bedroom a half hour later, jeans and a tank top on, my wet hair twisted into a bun. I swing by the kitchen on my way out, waving a goodbye to Estelle and snagging a red apple and bottled water from the fridge.
I hop on Santa Monica Boulevard, moving through lanes of traffic with ease, my car knowing the route as well as my soul, my thoughts wandering as I drive. My Audi was a gift from Stewart, my twenty-ninth birthday present, probably picked out by his assistant. Regardless of who chose the vehicle, I love it. White exterior, blood red leather inside, it is sleek, sexy, and just begs every degenerate in my neighborhood to steal it. I am shocked it has survived for the last five months.
It's fourteen miles between Stewart's home and mine, but it might as well be different countries. Stewart lives in the fast-paced world of downtown Hollywood, rarely leaving the blocks of the city unless jetting off for work. He doesn't own a plane, he doesn't spend his money on much other than his home, his clothes, and me. He doesn't have time to spend money, and doesn't believe in purchasing things just because he can. He works a hundred hours a week, sleeps six hours a night, and fucks the hell out of me the rest of the time. His needs are minimum: food, sleep, and sex. I take care of one of those. Estelle and his bed take care of the rest.
I get off on Lincoln Boulevard, the road traffic lessening, frustrated drivers continuing their zip along the freeway, anxious to continue their painful life . I wish, for a brief moment, that I had put down the car's top, needing the wind in my hair and the sound of the surf. Leaving Stewart's, I sometimes need the wash of fresh air. A strong breeze to release the intensity he carries with him.
I pull off the road, turning down our street and press the garage release button, entering the dark space that is my spot and killing the ignition. I step out in dim light, the overhead burnt out, Paul promising for the last five months to get around to it.
The steps are worn concrete, this townhome complex built before developers knew what they had, before they realized that this close to the beach they shouldn't build shit housing. Back before property values hit ridiculous figures, and a six-figure income still puts you in the projects, dodging street beggars and used needles. We don't make six-figures. Paul brings in anywhere from fifty to sixty thousand surfing. And I bring in far less than that, running a bookstore that operates out of a bar on Venice beach. For California standards, it's practically poverty, but we don't need much. For Paul and I, we never did. We're lucky to have this place, my stepfather blessing us with a rent payment low enough to both piss our neighbors off and ensure that we still can cover food and utilities.
We met at the Santa Monica pier, when we were side by side in the singles line for the rollercoaster. We had all of six minutes in line, the shuffle moving quickly, singles getting split up among the empty seats in a bored and orderly fashion.
He flashed a smile at me, and that was really all it took. Broad shoulders, tan skin that peeled a bit on his nose, blue eyes that looked like a fucking turquoise magic marker. He was in board shorts, a tee-shirt, and flip flops with muscular, track-free arms and no hint of tattoos. It was like God plucked an Abercrombie & Fitch model from the sky and injected him with testosterone and sexuality. I smiled back.
We spent those six minutes talking, our words spilling out between laughs and chemistry. I instantly liked him, had one of those at-peace realizations that 'this is a good guy'. The type so good that women run over him, the type so good that he is often best-friended. But this guy? With his gorgeous looks and the I-will-fuck-you-in-this-line-right-now vibe? No woman was stupid enough to best-friend this man. I wanted him, right there in that line, my panties sticking to me in the best way possible beneath my short cotton skirt.
We reached the front, our moment of separation, but were seated together, two of us in one bench, a ridiculous, never-should-happen moment, and I took the minute before liftoff to reach over, tugging the back of his head, his wide smile and soft lips telling me that I wasn't crazy, that he wanted this every bit as much as I did. And I knew, in that kiss, in that brief moment of hotness in which our mouths instantly knew every part of the other's soul, that I would fuck him. The minute, the second, the ride finished. I needed him inside me, needed his hands to grip my waist, his shirt to move off that beautiful chest and my bare breasts to replace it. I needed every inch of him against and inside of me. Then the bar jerked down, and we separated with a laugh.
"Ready?" he asked.
"Just prepare for screams." I grinned.
I was, and still am, a dramatic rider. I believe that there's no point in doing something if you aren't going to do it with all of your heart. I raised my arms, I screamed bloody murder, and he loved every minute of it. We swept through the loading bay after one cycle, the operator amping the riders up before pushing the button and letting us ride again.
The vibration of the seat underneath me, the closeness of pure sex beside me, the anticipation of what was to come… I attacked him the moment the ride ended, grabbing his hand and tugging him out, the pounding between my legs reaching a fever pitch. I ran, pulling him along with me, our bodies weaving around families, couples, giant stuffed snakes and dollar games of chance.
We broke from the crowd and moved faster, our flip flops slapping against the wood boardwalk, the tinny laugh of children vaguely registering in my head. I broke right when I saw the opening and jogged down sandy steps, glancing behind me to make sure he was there. He was, his eyes bright and curious, his steps right behind mine, keeping easy pace with my frantic steps. "What are we-where are we going?" he called out. I ditched my sandals when I hit the sea of white and ran through hot sand, gripping his hand and pulling him along, under the boardwalk, past a few homeless tents and down towards the water, where the posts are thicker, the cover more enclosed, privacy at a barely-there standard. I waded into calf-high water, pulling and then pushing him against a square post, my hands frantic on his shirt, my mouth fighting the movement of clothes for another chance at that gorgeous mouth.
His hands pushed my thin tee up, over the curves of my bikini top, his firm fingers sliding the triangles of my bikini over, my breasts spilling free, his hands cupping them and squeezing, his breath catching in my mouth. He pulled away, looking down, staring at my breasts in his hands, his head leaning down, his hands lifting me into the heat of his mouth. His mouth was incredible, soft yet firm, pliable against my delicate skin, his fingers' brush against my nipples soft and sweet. I could feel him, hard against my thigh, and I reached back, digging into my pocket for what I always keep there – just in case. Just in case I meet a man who I can't resist.
He started at the touch of my fingers, dipping under the nylon of his shorts, his mouth coming off of my breasts and looking at me, surprised. "Here?" This close, I could see tints of green in his blue eyes, the color of ocean water, glittering brilliantly against the brown sand of his skin.
"Yes, here. I need you." I met his eyes confidently as I said the words, my hands already sealing the deal, pulling him out *oh my god HARD* and sliding protection over him with one smooth motion. His eyes darkened, intensity stealing over them, and he turned us, trading places, pushing my back against the hard wet span of wood, his hands lowering, gripping the back of my legs and sliding up, pushing my skirt higher, his hands gripping the meat of my ass and lifting.
Then I was in the air, his pelvis underneath me, supporting me against the post, and his fingers were skimming the line of my bikini bottoms, traveling up the curve of my hip until he reached the tie, yanking quickly, his hand moving back down once the material of my suit is gone. His mouth left mine, a gasp in his tone as his fingers pushed inside, one digit and then two. "Jesus. Are you sure?"
A stupid question as I hung before him, my breasts exposed, legs wrapped around his waist, my need dripping a path for his cock. "Give it to me," I breathed. "Hard."
He didn't ask again, didn't do anything but prop me hard against the post, used his fingers to position himself at my entrance, and then he fucked. Quick fast strokes, his breath hard against my neck, his hands digging into the flesh of my ass, pulling and gripping the skin as he made his mark on my body. His fucks were wild, out of control, and I moaned against his neck, loving the fervor of his movements.
When I came, I cried out, his mouth quickly moving to mine, muffling the sound, as my body shook around his, my legs squeezing as intensity shook my body. It was too much, too great, the heat of my orgasm and clench of my sex, and I felt him as he came, the twitch and raw emotion that flowed through him, his breath gasping as he grunted, slowing his fucks and giving me a few last, final, pushes.
"Oh my god," he whispered against my neck, his cock softening inside of me. "Oh my god. I think I'm in love with you."
He wasn't. He was just surprised, that a girl with perfect teeth, and a bred-in-the-Valley smile, would fuck a stranger under the pier in Santa Monica. And I really thought, as I dropped to my knees in the water and peeled off the condom, taking him into my mouth and sucking his cock dry, that I would never see him again. That it would be that one, fuckable moment, and nothing else. But here we are, two years later and incredibly in love.
That's right. In LOVE. Yes, I am still the hoochie who just got my brains fucked out on the weight bench. The one who has dated Stewart Brand, one of the most eligible bachelors in downtown Hollywood for the last two years. I know what you're thinking. That dropped jaw and disgusted look on your face? I've seen it before. But wait. Please. Don't judge me quite yet.
Meet Alessandra Torre
Can you tell our readers about yourself and your background/career before you published your first book?
Hmmm….let's see.  I'm 29, married for seven years and live in a small beach town in Florida.  I read as much as I can – I have a young stepson, and spend a lot of time building Legos, playing laser tag, and trying to improve my skills at Modern Warfare.  My husband and I spend a lot of time working on our house, which is in the last stages of renovation.
What inspired you to begin writing? Were you hesitant to take that leap?
Stephen King's book "On Writing" was the catalyst to get me to actually put pen to paper.  When I sat down to write, the characters and plot of Blindfolded Innocence just poured out.  Six weeks later, I self-pubbed it. I had very low expectations for Blindfolded.  I loved the story, and was attached to the characters, but I had no idea of whether the book was any good.  Given the erotic nature of the story, I didn't send it out to any friends or family to get feedback, so I really 'put it out there' in hopes of getting some kind of feedback. That's one of the great things about self-publishing, you can publish something, get feedback, and then make changes and fix issues.
Who are some of your favorite authors and why?
I have been a bookworm since age eight.  I read a little bit of everything.  My favorite authors include John Grisham, Kristin Hannah, Jennifer Cruisie, Gillian Flynn, and J.D. Robb.  But that list is constantly changing and expanding.  I like any author who steps outside the norm and surprises me.
Sex Love Repeat has a love triangle, a type of story you personally hate. Was it strange writing that type of story?
It was frustrating, because I had no idea where I wanted the book to end. This is not a normal love triangle, where the girl goes back and forth trying to decide which guy to choose. There is not that aspect to the book. I don't know how to explain it without giving anything away, but it has a different vibe. I DID like writing a love triangle, because it was like writing two love stories at one time. Plus, it allowed me to include LOTS of sex.
Where do you see yourself in terms of your career in the next five to ten years?
I hope to publish three to four books a year and develop a regular reader base.  My ten-year goal is to have a movie made from one of my books. And make the New York Times list, but I'm hoping it doesn't take ten years to get there!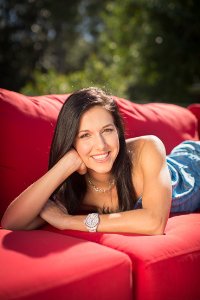 Alessandra Torre is a author who focuses on contemporary erotica. Her first book, Blindfolded Innocence, was published in July 2012, and was an Erotica #1 Bestseller for two weeks.
Alessandra lives on the beach in Florida and is married, with one young child. She enjoys reading, spending time with her family, and playing with her dogs. Her favorite authors include Lisa Gardner, Gillian Flynn, and Jennifer Cruise.
Learn more about Alessandra on her website at AlessandraTorre.com.
Facebook ♥ Twitter ♥ Pinterest ♥ Goodreads
Buy Sex Love Repeat
GIVEAWAY