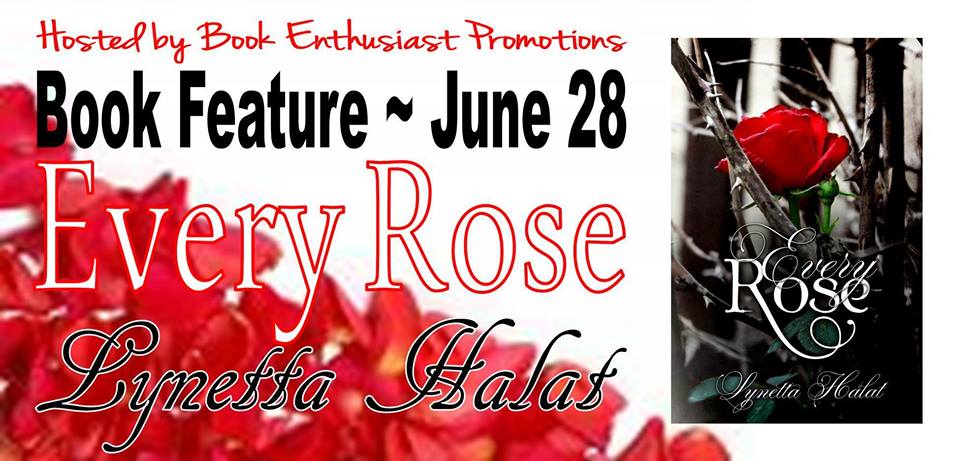 If it's not glaringly obvious by now, I'm a fangirl. When I love something (or someone), I love it HARD. And I love Every Rose. HARD. You've seen me go on about it here on the site, as well as on Facebook, Twitter, Goodreads, Amazon, and just about everywhere else adorable word nerds like myself hang out.
Naturally, I'm honored to be able to be a part of the Book Feature for this book, hosted by Book Enthusiast Promotions, and share some SUPER EXCITING NEWS with you! (Yes, this is totally a caps-worthy announcement.)  First, however, let's learn more about Every Rose, shall we? (Please, get comfortable, I have a lot to say and share. Make sure to hang out until the end of the post, where you may or may not be able to win your very own copy of the book!)
So What's This Book About, Anyway?

What do you do when you realize you were foolish enough to throw away true, unconditional love?
Lorraina Dabney turns her back on her creativity and tumultuous upbringing to embark on a college career that will lead her to law school and to becoming what she values most in life—a controlled, powerful, respected woman. When she stumbles upon her childhood friend's artwork, she feels inspired to reconnect with him and her former self.  This onslaught of emotion will send Lorraina into a tailspin to figure out exactly why she abandoned all that she was, all that she could've been.
Coming from his own chaotic upbringing, Michael falls quickly and deeply in love with Lorraina at a tender age. Even her rejection can't stand in the way of his obsession. When she starts to date other boys, however, Michael finally relents, causing him to spiral further into a world filled with violence, drugs, alcohol, and women. Realizing his lifestyle will only lead to his further estrangement from Lorraina, Michael sets about to turn himself around before going to get his girl.
Michael Bang will have Lorraina questioning everything.
Mo's Musings
Of course, you've all read my original 5-hankie review already. Wait, you HAVE read it, haven't you? (Yes, I have a desperate need for validation. Clearly, I missed something in my formative years)  However, I was still in the middle of having my world rocked when I wrote that review, so I left out some thoughts on my first pass.
An aspect of this book that I found to be pretty uncommon was the focus on religion. Michael is trying to become a better man for Lorraina, and one thing that helps him stay on that path is his Catholic faith. When he wants to take Lorraina to Mass he says to her, "It helps me build my faith, stay strong, stay sober".  Right now you may be saying, "So? What's the big deal? he goes to Church." For Michael, it's more than that. His faith is a vein that runs through this story, shaping both his and Lorraina's futures.
These days, being religious isn't exactly looked upon as being "cool", especially among younger people. Think about all the backlash against religion, specifically the Catholic Church. Writing religious characters in a contemporary romance novel isn't just unusual, it's fucking BRAVE. I have to applaud Lynetta for being courageous enough to write characters who are strong in their faith and not ashamed of it. Bravo, girl!
I Want More!
 Book Trailers:
Every Rose Playlist on Spotify:
https://play.spotify.com/user/1225518460/playlist/0SNTMW83ZLIuQ4NKChBWNT
STOP THE PRESSES!!!!
So remember about 100 years ago, when you started reading this post, I promised you some SUPER EXCITING NEWS???  Well, Lynetta has given us an amazing gift! She has written an epilogue to Michael & Lorraina's story, as well as a BONUS SCENE from Michael's point of view! They're amazing! You can update your copy of the book at either Amazon or Smashwords to get the bonus material. If you're not able to do that, you will soon be able to read it on Lynetta's website.

I was so blown away by the bonus material, I told Lynetta that I felt a haiku coming on. I won't yet share my original Haiku, as it's spoiler-y, but I am gracing you with a follow-up Haiku that Lynetta also inspired.
I Love This Book More
Than I Even Love Cheesecake
That's A Lot Of Love
Who Is Lynetta Halat?
For as long as she can remember, Lynetta Halat has lived to read and has written countless stories and plays since she was a young girl. A teacher by day and an avid reader and closet writer by night, she has always dreamt of penning books that people could connect with and remember; and her first novel, Every Rose, is the perfect catalyst to launch her into the world of publishing. Her love of the English language prompted her to pursue a master's degree in English from Old Dominion University in Virginia. A self-proclaimed "Coast Girl," she lives in Mississippi with her adorable husband, two amazing sons, and two loveable dogs. She is currently at work on her second book.
GIVEAWAY!!