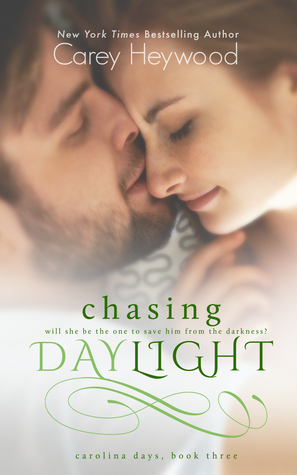 Chasing Daylight
Carolina Days #3
ARC provided by author to facilitate this review
Mitch Brooks exists day to day by keeping the world around him at arms length. There is no going back to the man he once was. That man was broken in a way there's no fixing. Any hope outside of that is nothing but wishful thinking, until he meets her.
McKenzie Williams needed an escape. The last thing she needed was a scary beautiful man beating down her door in the middle of the night. Now, if only their paths would stop crossing, she could convince herself she didn't feel a connection to him. Life has shown her the dreams she once held dear will never come true for her.
Mitch struggles to get past the walls he's built around himself while McKenzie works to build hers brick by brick. When the outside world exposes the vulnerabilities in his façade she abandons her own fears to stand by him. Will she be the one to save him from the darkness within him, or will he forever be chasing daylight?
In case you weren't aware, Carey Heywood books are something special. She writes real stories about real people and their real-life struggles, but somehow, the result is extraordinary. She continues this tradition with Chasing Daylight, the third book in her Carolina Days series.
In this book, we meet Mitch, a wounded veteran who suffers from PTSD, who has carved out a solitary life, getting through each day with the help of his therapy dog, Zeus.  When circumstances lead to him meeting McKenzie, I could almost hear the pieces of Mitch's shattered life clicking into place.
The true beauty of this book was it's real-ness. (That's a word, right? I don't care, I'm making it a word.) While there were dramatic moments, there was never drama for the sake of drama, and the two worked through their hurdles as a team.
Then…AND THEN!  Carey threw in an element of suspense to this book, which I hadn't seen from her before. I really enjoyed that added twist, and I had a big "WHOA" moment that nearly knocked me out of bed, and had me running to my phone to message about it.
And can we PLEASE take a few minutes to talk about Zeus? He may have been my favorite part of the whole book! I LOVED the bond he had with his human, and reading about the two of them was so much fun. Hell, I'd read a prequel book about Mitch & Zeus!
Chasing Daylight is a story of flawed people, brought together by chance, exploring their undeniable connection. As with all of the Carey Heywood books I've read, I just feel GOOD when I read her books. Her books are a beautiful journey, and I'm just happy to be along for the ride.