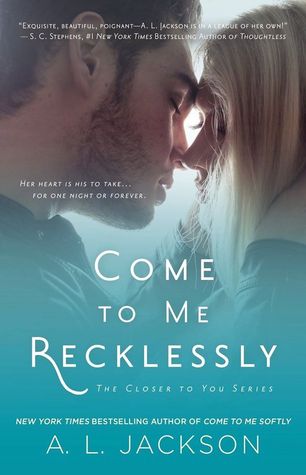 Come To Me Recklessly
Closer To You #3
ARC provided to facilitate this review
His heart was turned off…
Until she turned him on…
Christopher Moore gave up on the idea of love years ago. Now, his life is an endless string of parties and an even longer string of girls. Enjoying the physical perks with none of the emotional mess, hes convinced everyone that hes satisfied—everyone but himself.
Samantha Schultz has moved on with her life. Finishing her student teaching and living with her boyfriend, shes deluded herself into believing shes content. But there is one boy she never forgot—her first love—and she keeps the memory of him locked up tight. She will never allow any man to break her the way Christopher did.
When Christopher's sister and her family move into a new neighborhood, Christopher is completely unprepared to find Samantha living at the end of the street. Memories and unspent desires send them on collision course of sex, lies, and lust. But when guilt and fear send Samantha running, Christopher will have to fight for what has always been his.
How does she do it? I mean, seriously…how does she do it? A.L. Jackson doesn't just sit down at her computer and write a book. Instead, with each press of a key she etches her words right onto my heart. Of course, that tradition continues with Come To Me Recklessly.
Christopher Moore really piqued my interest when I first started reading this series, and I loved his character in Come To Me Quietly and Come To Me Softly. Naturally I was excited to read his story. I thought after the hurricane of feels that was the other books in this series, that Christopher wouldn't, just couldn't, deliver the same level of emotional intensity.
Spoiler alert: I'm an idiot.
Told in dual POV (my absolute FAVE), Come To Me Recklessly is a fantastic story of two people getting a second chance with their first love. Even though Christopher and Samantha have been separated by many years and an ocean of hurt, their connection remains soul-deep and undeniable. You don't read this book and think, "Oh, look how in love they are. It's so nice." NO. This story burrows itself into your soul, turning you inside out, until the only reaction you're capable of is hitting your husband upside the head with a rolled-up magazine (and not US Weekly, we're talking about Italian Vogue here) because he's NOT Christopher Moore.
A.L. Jackson tells their story slowly, carefully, blending the present and the past to draw us into their world. The pacing of this book is both brilliant and maddening. From the very beginning, you know there is something THERE between Christopher and Samantha, but you don't know what. Caressing your mind like a skilled lover, she draws out the anticipation until you're sure that you can't wait for one more paragraph, not one more word, and then she lowers the boom, and it all makes sense.
As usual, Jackson also manages to fog up my Kindle a time or twelve in this book. Together, Christopher and Samantha are electric, and their passion leaps from the page (or screen, as it were).
If you're a fan of love, angst, deliverance, and passion, you need to cancel your day, grab some wine, 1-click this book, and settle in. You're in for a hell of a ride.
Excerpt
Then I turned and rushed to the sliding glass door. I went to duck inside, when my path was obstructed by an imposing figure at the doorway, the man a full foot taller than my five foot four. I didn't want to look up, but I couldn't stop myself from being drawn, and his warm breath washed over my face.
Chills cascaded in a dizzying wave down my spine, before the venom in his voice lifted the hairs at the nape of my neck, the words cold and deathly quiet. "What the fuck do you think you're doing here?"
Lost in the searing anger blazing in his green eyes, I stammered for an answer. "I…I…"
I swallowed hard and he leaned in closer, his nose brushing mine, and I was suddenly drowning in everything Christopher Moore—the way he smelled, clean, like a breath of the morning's freshest air, but still something else entirely intoxicating, like sex and lust and everything I'd ever wanted but knew I shouldn't have.
My thoughts went fuzzy as I got lost in it, before that wicked voice snapped me back. "Stay away from my family." Like a caress, he trailed his finger along the line of my jaw, lifting a line of goose bumps in its wake; before he hooked it under my chin, bringing his mouth a centimeter from mine.
There was no stopping the way my lips parted on instinct, as if they'd forever been waiting for his. His heat spread across my face, and I felt myself leaning forward.
"And stay the fuck away from me."
Stunned, I stared, my mouth gaping open with offended shock and my body reeling from the need he'd spun up in me.
Giveaway
Meet A.L. Jackson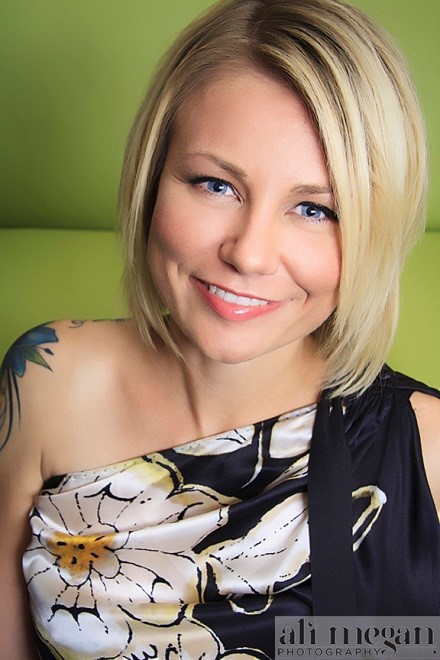 A.L. Jackson is the New York Times bestselling author of Take This Regret and Lost to You, as well as other contemporary romance titles, including Pulled, When We Collide, If Forever Comes, Come to Me Quietly, and Come to Me Softly.
She first found a love for writing during her days as a young mother and college student. She filled the journals she carried with short stories and poems used as an emotional outlet for the difficulties and joys she found in day-to-day life.
Years later, she shared a short story she'd been working on with her two closest friends and, with their encouragement; this story became her first full length novel. A.L. now spends her days writing in Southern Arizona where she lives with her husband and three children.
To stay up to date with important news on A.L. Jackson, including new releases, sales, and exclusive specials and excerpts, text "jackson" to 96000 to subscribe!
Newsletter http://bit.ly/ALJacksonNewsletter
Website www.aljacksonauthor.com
Facebook www.facebook.com/aljacksonauthor
Twitter www.twitter.com/aljacksonauthor
Pinterest www.pinterest.com/aljacksonauthor
Instagram @aljacksonauthor
Tsu https://www.tsu.co/ALJacksonAuthor