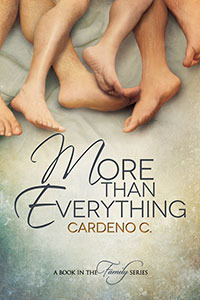 More Than Everything
The Family Series #3
M/M Romance
ARC provided to facilitate this review
As a teenager, Charlie "Chase" Rhodes meets Scott Boone and falls head over heels in love with the popular, athletic boy next door. Charlie thinks he's living the dream when Scott says he feels the same way. But his dreams are dashed when Scott moves unexpectedly and doesn't return.
Years later, Chase meets brash and confident Adan Navarro, who claims all he wants is a round between the sheets. When they're still together after eight months, Chase is convinced Adan returns his love. But then the time comes to be open about their relationship, and Adan walks away instead.
Time heals all wounds, but when Charlie runs into Scott and Adan and realizes the only two men he's ever loved are now in love with each other, his heart breaks all over again. Scott and Adan tell Charlie they want him back, but Charlie doesn't know if he can trust two people who have hurt him so deeply. And even if he can, why would Scott and Adan want Charlie when they already have everything with each other?
Let me start by letting you all know that this was my first Cardeno C novel. And it damn sure won't be the last.  This book really was one great big ol' roller coaster of emotions, and I loved the ride.
This story spanned two decades, and Cardeno C did an amazing job blending large stretches of time as well as alternating POV. The story was simultaneously light and weighty, with CC bringing us fun and humorous moments, but balancing that with serious relationship issues, and even a little bit of heartache.
For me, the strongest part of this book was the narration. The way Charlie/Chase tells his story, while engaging the reader at the same time, was a joy to read. I really fell in love with Charlie's character, and admired the way he was comfortable with who he was, and how he gave his whole heart to those that he loved. He's spunky, charming, and caring, and I have no doubt that anyone who reads this book will want to be his best friend.
Being a fly on the wall during the time Charlie is with the two great loves of his life, I definitely was all Judgey McJudgerson on Scott & Adan. Mistakes were made, hearts were hurt, and readers (at least this one, anyway) got pissed.  But when the three men finally found each other, I was ridiculously happy for them.
That's not to say I didn't have my issues with this book. I almost felt as if the story was too easily tied up in a perfect little bow. I wanted a little "more" from their grand reunion, but I don't think that it took away from my enjoyment of their story.
Sassy, steamy, and even a little silly, More Than Everything really was a joy to read.
Meet Cardeno C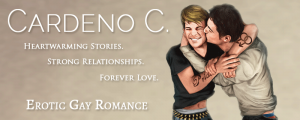 Cardeno C. – CC to friends – is a hopeless romantic who wants to add a lot of happiness and a few "awwws" into a reader's day. Writing is a nice break from real life as a corporate type and volunteer work with gay rights organizations. Cardeno's stories range from sweet to intense, contemporary to paranormal, long to short, but they always include strong relationships and walks into the happily-ever-after sunset.
Cardeno's Home, Family, and Mates series have received awards from Love Romances and More Golden Roses, Rainbow Awards, the Goodreads M/Romance Group, and various reviewers. But even more special to CC are heartfelt reactions from readers, like, "You bring joy and love and make it part of the every day."
Website: http://www.cardenoc.com/index.php#.U-Js0Tg-671
Facebook: https://www.facebook.com/CardenoCWrites?ref=br_tf
Twitter: https://twitter.com/CardenoC
Pinterest: http://www.pinterest.com/cardenoC/
Goodreads: https://www.goodreads.com/author/show/4620386.Cardeno_C_