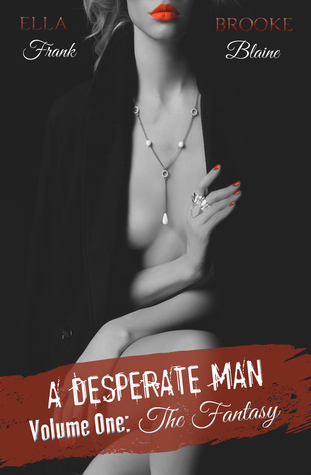 The Fantasy
A Desperate Man #1
ARC provided to facilitate this review
Fantasies - we all have them.
For some it's their dream job; others want the wedding, the 2.5 kids, the white picket fence.
My fantasies are a bit more...depraved.
Dark and sinful, they have destroyed relationships and my livelihood, yet I still submit to them like a slave.
Sex.
For most, it's a natural expression of love, caring, or lust.
But there are those of us who can't stop once we've had a taste.
Those of us who don't want to.
And the shame of that never-ending cycle will eat us alive...
My name is Evan James, and I am a sex addict.
THIS. Now THIS is the way you hook readers into you new serial. Evan James is a character that has been on my mind since I read this story. From the synopsis, you'll see that we're dealing with a sex addict here. I thought I knew what I was in for when I started this book. I thought I would be reading about a cocky asshole, full of swagger, screwing his way through life. And I wasn't exactly wrong, but I wasn't quite right, either.
Ella and Brooke bring us a story that is true to the title. Evan James is desperate. Desperate for so many things. He's a slave to himself. Throughout this book, we watch Evan succumb to himself over and over again. Honestly, some parts were a little hard for me to read. That's what impressed me so much about this story, the way that Ella & Brooke managed to make him a sympathetic character, all the while maintaining his outer demeanor as well.
More than a laundry list of Evan's exploits, we're reading about a man who truly is a sex addict. His pain, his inner thoughts, his compulsions, all spilled out on the page. Gritty and unapologetic, Evan is telling his true story through these authors, and we're all just along for the ride.
Naturally, the steam factor in this one is off the charts. I was reading this book while on the bus, and I won't even lie, I thought about closing the book, because it was making me squirm a little bit!  But the heat aside, this story was so much more.   This isn't all about Evan and his sex life. In this first installment, we get a little peek into the man that Evan James is, but I feel like we've only scratched the surface with him. There's a real story here, a journey we've yet to take.
I'm really excited to see where this story takes us, and if this installment is any indication, we'll be going places we never thought we would.
EXCERPT
"Come here."
Evan James crooked his finger at the blonde currently shimmying back into her minuscule, tight, black dress. The same one she'd worn last night that had called like a siren's song to his cock in the middle of the dimly lit club.
She looked over at him with heavy-lidded eyes and held the barely there fabric still around her waist. His eyes zoomed in on the impressive breasts overflowing out of her sheer, black bra. Covered, but not enough.
His mouth watered, and he wanted to drag her back to the bed and take hold of her ripe nipple before pulling the fabric down and out of his way to take her fully into his mouth again.
After having had her so many times in the last few hours, she'd no doubt taste of him on every inch of her soft skin. He liked that. Before, she'd tasted faintly of vanilla musk—a fragrance he wasn't overly fond of. He'd made quick, dirty work of her though, marking and leaving his scent on her with his lips, his sex, his come, and he figured one last go-round before sending her on her way would suppress his craving for at least a couple of days.
He hoped. His appetite was voracious.
"Can't get enough, can you?" She leaned down over the edge of the bed and placed her hands there, giving him an ample view of what he wanted. Now.
He narrowed his eyes. "Don't play with me."
Blondie tsked and put her knees on the mattress, crawling on all fours toward him. "Oh, baby, I told you you'd never want me to leave once you got inside."
She was right about that much. If he could live in pussy, he would. It was his weakness, his addiction, the one thing he'd give up anything and everything for. And he nearly had.
FAST TALK WITH ELLA AND BROOKE
1. 3 things you never leave home without?
Ella: Phone, wallet, keys