The Forbidden
ARC was provided by the publisher to facilitate this review.
What do you do when you can't control your feelings for someone? When you know you shouldn't go there? Not even in your head.
Annie has never experienced the 'spark' with a guy-the kind of instant chemistry that steals your breath and blindsides you completely. Until a night out with friends brings her face to face with the wickedly sexy and mysterious Jack. It's not just a spark that ignites between them. It's an explosion. Jack promises to consume Annie, and he fully delivers on that promise.
Overwhelmed by the intensity of their one night together, Annie slips out of their hotel room. She is certain that a man who's had such a powerful impact on her and who could bend her to his will so easily, must be dangerous. But she's already in too deep. And Jack isn't only dangerous. He is forbidden.
I live for forbidden love. The angst, the taboo feelings, the love that's wrong but feels so right, I love it all. I will admit that I had some reservations going into this book. Malpas' This Man series is a top favorite for me, but I had very mixed feelings about The Protector, so I wasn't quite sure what to expect with this story.
The Forbidden is a new side of Jodi Ellen Malpas, and this story drew me in from the very beginning. I loved this cast of characters; they were so vibrant and engaging, Annie and her crew gave me Helen Fielding vibes, they were just so much fun.
Annie was such a great lead. Strong, focused, and independent, I loved that she knew what she wanted, and what she didn't want. She wasn't a pushover, but she couldn't ignore her heart's desire, either.
Then there's Jack. Irresistibly sexy in his own subdued, brooding way, he's completely different than Jesse Ward, but captivating nonetheless.
The story was perfectly paced and kept the reader engaged from beginning to end. Sex, drama, love, and heartbreak all melded together to tell a tale of the right love found at the wrong time.
You might not be a fan of "that kind of book," but if you're a fan of true love above all else, give The Forbidden a chance. You might find yourself surprised.
Q & A With Jodi Ellen Malpas
What are some things you must have while you are writing? My journal. It's the only thing I must have. Oh, and a pen. Preferably a pink pen.
You made such an impact on the romance community with Jesse, but which is your favorite among your other leading men? A have a super special spot for Miller. He's just so incredibly broken, and of all my men his walls are the heighest and most difficult to break down.
Did you have an particular inspiration for this book? There's always something that inspires my stories, sometimes tiny, quite inconsequential thing, sometimes really significant things. With The Forbidden, I was inspired by my time as a single woman trying to navigate the dating world. It's tough out there!
Which books have you read and loved lately? I haven't read anything for too long! I'm planning on changing that in August when I dump my arse on a sun longer by the pool in Cyprus for two whole weeks.
Get to know Jodi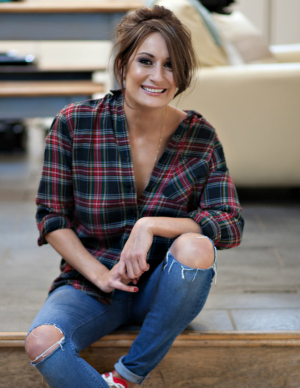 Jodi Ellen Malpas was born and raised in the Midlands' town of Northampton, England, where she lives with her two boys. Working for her father's construction business full-time, she tried to ignore the lingering idea of writing until it became impossible. She wrote in secret for a long time before finally finding the courage to unleash her creative streak, and in October 2012 she released This Man. She took a chance on a story with some intense characters and sparked incredible reactions from women all over the world. Writing powerful love stories and creating addictive characters have become her passion, a passion she now shares with her devoted readers.