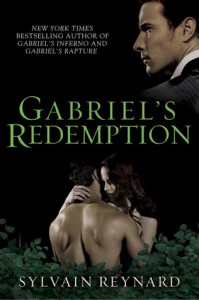 From the author of the New York Times bestsellers Gabriel's Rapture and Gabriel's Inferno comes the epic conclusion to the captivating romantic trilogy.
Professor Gabriel Emerson has left his position at the University of Toronto to embark on a new life with his beloved Julianne. Together, he's confident that they can face any challenge. And he's eager to become a father.
But Julianne's graduate program threatens Gabriel's plans, as the pressures of being a student become all consuming. When she is given the honor of presenting an academic lecture at Oxford, Gabriel is forced to confront Julianne about the subject of her presentation—research that conflicts with his own. And in Oxford, several individuals from their past appear, including an old nemesis intent on humiliating Julia and exposing one of Gabriel's darkest secrets.
In an effort to confront his remaining demons, Gabriel begins a quest to discover more about his biological parents, beginning a chain of events that has startling repercussions for himself, Julianne, and his hope of having a family.
From The Mind Of Mo
Wow…wow wow wow wow WOW. Gabriel's Redemption was one of my most anticipated reads of 2013. However, since I recently came down with a case of DSS (Disappointing Sequel Syndrome), I must admit to being just a little afraid to read this one! I was afraid to taint the perfection that was this series for me! However, I am so happy to say that Gabriel's Redemption does NOT disappoint…sorta…kinda…
When I first started reading this book, I had some creeping disappointment setting in. I thought the story was dragging…but in reality, it wasn't. It's just SR's particular style. His books aren't action packed, where you can't wait to turn the page, they're more of a slow burn. SR truly makes love to your mind with his words.
Gabriel's Redemption picks up about 6 months into Gabriel and Julia's marriage and gives us a great insight into their married life. They really have changed and grown since the first book. Julia is not the same shrinking violet, and finally secure in herself, her career, and her relationship, she's not afraid to hold her own against Gabriel, even if they disagree on something.
Gabriel is a different man, a better man.  He's even a little less pretentious, if you can believe that! Spurred by his desires to start a family (how's THAT for a change?), he's motivated to learn more about his birth family. But how does Julia feel about this? Will dredging up old hurts have Gabriel resorting to old vices? Their marriage is not without strife, but SR doesn't write drama for the sake of drama. Their issues are real, and you can feel the stress and pain they cause.
Once again, the writing is superb in this novel.  Reynard is a master storyteller. Nothing is forced, the emotions are subtle, but powerful.  The writing is so expressive, so rich, I just can't get enough. He gives us real people with real issues. As is his style, the love scenes are steamy and incredibly sensual, all the while remaining completely tasteful.
(Side note: How many of us would buy Gabriel's Guide to Bedding a Woman for our significant others? Seriously, this needs to be a thing. I smell a best-seller!)
Have I mentioned how much I still enjoy all the parentheticals in this book? A little bit of whimsy in The Professor's world!
Gabriel's Rapture was a beautiful ending to one of my very favorite love stories. Gabriel and Julianne show us that even with trials and tribulation, true love will shine through. I'll miss these two, and I know that I'll go back and visit them often.
Meet Sylvain Reynard
I'm interested in the way literature can help us explore aspects of the human condition – particularly suffering, sex, love, faith, and redemption. My favourite stories are those in which a character takes a journey, either a physical journey to a new and exciting place, or a personal journey in which he or she learns something about himself/herself.
I'm also interested in how aesthetic elements such as art, architecture, and music can be used to tell a story or to illuminate the traits of a particular character. In my writing, I combine all of these elements with the themes of redemption, forgiveness, and the transformative power of goodness.
I try to use my platform as an author to raise awareness about the following charities: Now I Lay Me Down to Sleep Foundation, WorldVision, Alex's Lemonade Stand, and Covenant House. For more information, see my Twitter account.
Website ♦ Facebook ♦ Twitter ♦ Goodreads
Giveaway