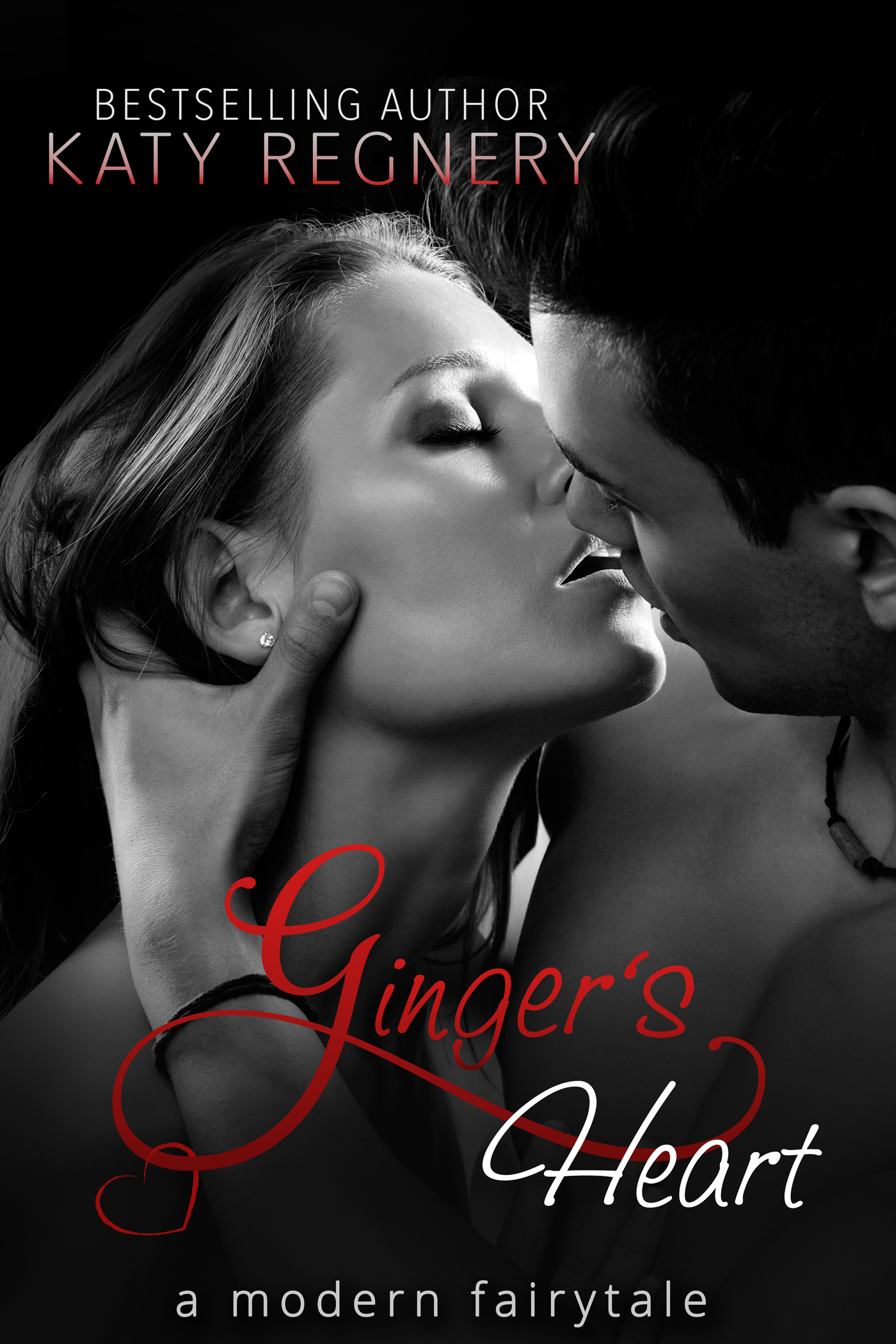 Ginger's Heart
Once upon a time there were two cousins:
one golden like the sun,
one dark like midnight,
one a protector,
one a predator,
one a Woodsman
and
one a Wolf…
both owning equal,
but different,
parts of a little girl's heart.
In this modern retelling of "Little Red Riding Hood," the woodsman and the wolf are cousins, and Little Red is the girl with whom they both fall in love.
Beautiful Ginger McHuid, daughter of Kentucky's premiere horse breeder, grows up on her family farm, best friends with Cain Wolfram, the son of her father's Stallion Manager, and Cain's cousin, Josiah Woodman, son of a local banker. Throughout their happy childhood, the three are inseparable friends, but as they mature into adults, complicated feelings threaten to destroy their long history of friendship and love.
Available From
---
Meet Katy Regnery
Katy Regnery, award-winning and Amazon bestselling author, started her writing career by enrolling in a short story class in January 2012. One year later, she signed her first contract for a winter romance entitled By Proxy.
Now a hybrid author who publishes both independently and traditionally, Katy claims authorship of the six-book Heart of Montana series, the six-book English Brothers series, and a Kindle Worlds novella entitled "Four Weddings and a Fiasco: The Wedding Date," in addition to the standalone novels, Playing for Love at Deep Haven and Amazon bestseller, The Vixen and the Vet.
The Vixen and the Vet is included in the charity anthology Hometown Heroes: Hotter Ever After, and Katy's novella "Frosted" appeared in the Jan '15 anthology, Snowy Days Steamy Nights. Additionally, Katy's short story, "The Long Way Home" appeared in the first RWA anthology (Feb '15), Premiere.
Katy lives in the relative wilds of northern Fairfield County, Connecticut, where her writing room looks out at the woods, and her husband, two young children, and two dogs create just enough cheerful chaos to remind her that the very best love stories begin at home.
Find Katy Regnery Online
Excerpt
Excerpt from Chapter 12 of Ginger's Heart, a modern fairytale, by Katy Regnery. All rights reserved. Used with permission.

An hour later they stopped by the Glenn River, eight miles downriver from Ginger's house and two from the distillery where Cain had partied last night.

"We should water them," he said, reining in Thunder and dismounting with the ease of a lifelong horseman.

She reined in Heath, who nickered in protest, and grinned down at Cain who reached up for her. His hands lingered for an extra moment on her hips as she slid down the front of his body. Leaning her head back, she stared up at him, daring him to pull her closer, to kiss her, to admit that this whole "friends" thing was bullshit on fire. But, he clenched his jaw, cleared his throat and dropped his hands.

"Thanks," she murmured, her voice husky in her ears as he stared down at her, his eyes flinty and dark.

Taking Heath's reins with a grunt, he turned away from her, leading the horses to the river's edge and leaving her to follow behind. She leaned down to pick up a flat stone and skipped it across the slow moving water.

"Not bad," said Cain.

"You were always the best."

"Nah," he said. "Woodman was better."

"Nope," she countered, picking up another stone. "Woodman was good, but you were better. Remember that Fourth of July that you skipped eleven times? Eleven times. It was a record."

Satisfied that the horses were calm and drinking their fill, Cain leaned down and grabbed a rock of his own, skipping it over the dark water.

One-two-three-four-five-six-seven…

"Wow!" she said, clapping lightly. "You've still got the touch!"

He turned to her, grinning. "You always get excited about the littlest things. What's it like gettin' a kick out of everythin', Gin?"

"What's it like gettin' a kick out of nothin', Cain?" she asked, her voice full of sass.

"I'm gettin' a kick out of you right now, princess."

A charge zapped between them as the words left his mouth, and her breath hitched and held for just a moment, but she looked down and picked up another rock. She was enjoying today too much to go back to Awkwardland.

She skipped her rock, which sunk after three measly hops.

"Remember when you saved my Cabbage Patch doll from certain doom in this river?" she asked him.

He screwed up his face as her. "Wasn't me. Must have been Woodman."

"It was you!" she insisted. "Not Woodman!"

"Savin' a dolly? Please. That has Woodman written all over it. I couldn't have cared less if it drowned."

"But I cared," she said softly. "Which is why you saved it."

"Fine. Have it your way," he said, sitting down on a large rock near the water's edge.

She sighed, squatting down to wash her hands in the clear water before looking back at him. "Why do you do that?"

"Do what?"

"Let Woodman take credit for all the good things?"

He shrugged, looking away from her, out at the water. "I don't."

"You just did. Twice."

He sighed, giving her a long-suffering look. "If somethin' good happened, chances were, it was Woodman's doin'."

"How do you figure?"

"He's the better man, Gin," said Cain, his eyes severe, his words deliberate.

She stood up slowly, turning her body completely to face him. "Do you really believe that?"

He looked away. "It's the truth."

"Cain. Cain, look at me." Her words didn't feel like enough so she beseeched him with her eyes too. "You're just as good a man as he is."

"Ha!" scoffed Cain, standing up and moving away from her. "Not in this life, princess."
Hosted by: