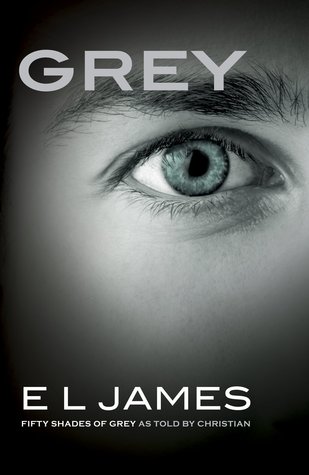 Grey
Fifty Shades #4
I purchased this book on my own.
Christian Grey exercises control in all things; his world is neat, disciplined, and utterly empty—until the day that Anastasia Steele falls into his office, in a tangle of shapely limbs and tumbling brown hair. He tries to forget her, but instead is swept up in a storm of emotion he cannot comprehend and cannot resist. Unlike any woman he has known before, shy, unworldly Ana seems to see right through him—past the business prodigy and the penthouse lifestyle to Christian's cold, wounded heart.
Will being with Ana dispel the horrors of his childhood that haunt Christian every night? Or will his dark sexual desires, his compulsion to control, and the self-loathing that fills his soul drive this girl away and destroy the fragile hope she offers him?
Arguably, one of the biggest mic drops in the book world this year was the surprise announcement of the release of Grey by E.L. James.
50 fangirls the world over flooded social media with their collective cries of joy and excitement. Goodreads ground to a halt under the force of all the "excited" gifs posted on everyone's feed. But this project was as mysterious at the titular character himself.
Would we be getting Christian's POV of the whole trilogy? Will we see more of the much-maligned "Mrs. Robinson"? Will E.L. James delve into Christian's troubled past?
Unfortunately for me, all of the potential and promise that this book represented didn't quite come to fruition. Instead, it seems that we are to take the whole "Fifty Shades of Grey as told by Christian" tagline quite literally. The book that we received was nearly a scene-by-scene retelling of the first 50 novel.
We're offered very little in the way of new material, or any real insight into the man that is Christian Grey.
Now I know what you're thinking; "But Mo, the story has already been written! OF COURSE there's no new material!"  This is where the aforementioned potential comes into play. James had the opportunity to do something really amazing with this book. We could have learned so much more about Christian, and fallen even more in love with our beautiful broken billionaire.  Instead, we are given his (sometimes repetitive) thoughts during the scenes we're all used to, a few dream sequences, and some scenes of him working. And running. Lawd hammercy, this man likes to run. The only fictional character who runs more than Christian Grey was Forrest Gump. For realzies.
In my opinion, James could have painted a much richer picture of Christian. She could have had him examining his past with the expensive charlatan, Dr. Flynn.  We could have learned more about his adolescence, and his time as Mrs. Lincoln's submissive. We would have had so much more insight as to why he is who he is.
We have to remember that the initial book follows a pretty tight timeline, and Christian and Ana were separated a good bit of that time. This was the perfect chance to get to know the man a little better. But I don't feel like I know anything more than I did when I originally read the series. This was disappointing to me.
Another issue I had was with Christian's "voice", It definitely wasn't the commanding, confident Dom that was I expecting. Instead, he seemed insecure, jealous, and apprehensive at times. I felt like James was still writing from Ana's POV, and just switching the pronouns around. Maybe that's who Christian was all along? It did make him seem more "normal", but it still didn't come off as genuine. That's just me, though.
Did we need EVERY email? No. Did we need the ENTIRETY of the damn contract again? Lord, no.  But it's all there. Every twitchy palm, every pelvic thrust, every orgasm command is there, in almost identical tone and description as it was in the first 50 novel. And I'm not gonna lie, that made me feel cheated.
However, after thinking about it, I am still glad I read it. I am a die-hard 50 fan, and the very small peeks we got into Christian's mind are priceless to me. The last 10% of the book really saved my Kindle (who is named for Christian Grey) from a certain death. I have recommended to several friends who were going to DNF the book, or skip it altogether, to at least go in and read the last few chapters.
There were a few bright and shining bits, though. The reactions of the people in Christian's circle to his obvious changes after meeting Ana are great. Especially because Christian is clueless. It's really quite adorable. We do see where he is really falling for her, and it's an unusual sensation for him, he doesn't even recognize it as love. That did endear him to me even further. I did appreciate getting to know the man behind the man, but I just wish we could have gotten to know him on a deeper level.
Will I read more if E.L James continues the series from Christian's perspective? I honestly don't know. I will probably be a sucker and at least read Darker from his POV, since all of my very favorite scenes from the trilogy are in that book. I would just hope and pray that James takes feedback from this first book to heart and give Christian the time and attention he deserves to develop his character even more.
All in all, I give this one a "3 alarm" on the Siren Scale.  And I'll be totally honest with you here, one of those alarms is pretty much a fangirl point, and dedicated to the last few chapters of the book. James stated that this book was for the readers who asked and asked and asked for it.  It really is meant for the die-hard fans of the series, instead of just a casual reader. I still love the series, and I always will, but much like Ana, I wanted "more".