Mistletoe & Hollywood
My Star, My Love by Natasha Boyd is an Eversea Series novella featuring Jack Eversea, the Hollywood superstar whose heart was stolen by innocent small town girl, Keri Ann Butler. It's their first Christmas and Jack has brought Keri Ann home to England, land of crazy paparazzi, to meet his mother. Full of funny, sexy and stolen moments, it's a Christmas treat sure to delight fans who have been pining for Jack!
Many Times, Many Ways by Kate Roth is a Desire Resort Series novella featuring Evan Weston. A Hollywood hottie himself, he escaped for a few weeks of sun, sand and sex only to find himself head over heels with sassy Danielle Ward. Vacation is over and now this couple are spending their first Christmas together. Can Evan convince Dani that the rest of their lives can be as sexy, beautiful and filled with even more love that they've experienced so far?
LIMITED TIME OFFERING FOR 2014 HOLIDAY SEASON ONLY. Availability ends January 2015.
This time of year, when the days are shorter, the air is colder, and the bells are jingly-er, there's nothing that warms my black little heart quite like a holiday romance. This year, I got a double shot of Hollywood love with Mistletoe & Hollywood, a holiday novella compilation from Natasha Boyd and Kate Roth.
Sweet, sassy, sexy, and soulful, this book encompasses all that is right in the romance genre.
We start with My Star, My Love, an Eversea novella by Natasha Boyd. Now, my love for Jack Eversea is widely known, and this book only serves to grow that love. The story gives us Jack and Keri Ann's first Christmas together, and it couldn't have been done any better. It was the perfect continuation of their story.
The couple still faces issues surrounding their relationship, and I kind of love that there are still hurdles to go through. The story remains authentic to the couple we met in Eversea and Forever Jack, and I really appreciate that.
Travelling back to Jack's childhood home in England isn't easy for either of them, but through everything, the bond between them is tangible, and unshakeable. I love the two of them together, and if I wasn't so in love with Keri Ann, I would totally steal Jack from her. TRUST.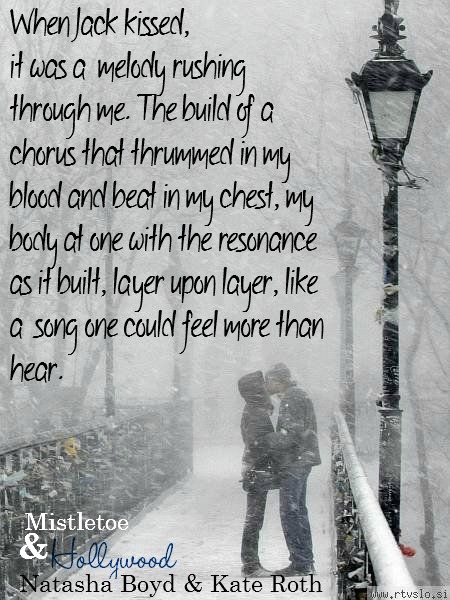 At the end of this novella, there was nothing left for me to do but sigh happily and hug my Kindle. I was so happy and satisfied at where the pair were at in their relationship. That's not to say I wouldn't love to read more about them. Hell, I'd read about these two grocery shopping, going to the dog groomer, even re-grouting the bathtub. Such is my love for all things Eversea.
AND THEN.
We have Many Times, Many Ways, a Desire Resort novella by Kate Roth.
Evan Weston.
Evan FREAKIN' Weston!
You know that I adore him. I love him so much, I dedicated an entire week on the blog to his series and the author.
Evan and Dani have grown in their relationship, despite the difficulties of Evan's crazy schedule. Through all of that, the couple's love leaps off the page. To the point where I may or may not have shaken my husband awake, asking him why he couldn't be more like Evan Weston…but I digress…
Much like with Jack Eversea, I fell more in love with Evan Weston in this book. His words, his actions, his innate Evan-ness…it's all amazing. His and Dani's first Christmas together warmed my heart (and some other areas!)
And the last chapter. Lemme tell ya, it was like a Christmas gift in and of itself.
Kate Roth brings us a fictional couple that all other fictional couples are measured against.
All in all, this is the ideal holiday romance for me. Some of my favorite couples in a fun, festive, romantic setting. All of the signature heat and passion is still there, melting snow and fogging up eReaders the world over.
Mistletoe & Hollywood is perfectly crafted, giving the reader everything they could want from a romance novel.