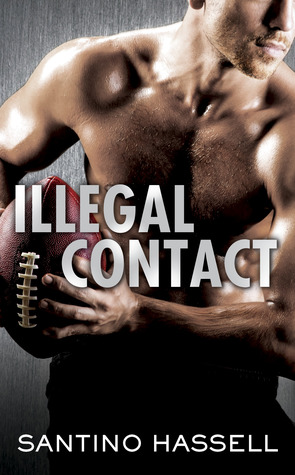 Illegal Contact
The Barons #1
ARC was provided by the publisher to facilitate this review.
The rules of the game don't apply off the field in this first Barons novel. 
New York Barons tight end Gavin Brawley is suspended from the team and on house arrest after a video of him brawling goes viral. Gavin already has a reputation as a jerk with a temper on and off the field—which doesn't help him once he finds himself on the wrong side of the law. And while he's been successful professionally, he's never been lucky when it comes to love.
Noah Monroe is a recent college grad looking for a job—any job—to pay off his mounting student debt. Working as Gavin's personal assistant/babysitter seems like easy money. But Noah isn't prepared for the electrifying tension between him and the football player. He's not sure if he'd rather argue with Gavin or tackle him to the floor. But both men know the score, and neither is sure what will happen once Gavin's timeout is over…
Illegal Contact was my first Santino Hassell book, and this delicious m/m sports romance will not be my last from him. This book hit so many high notes for me; I just couldn't get enough.
This story was a slow burn, a simmering romance, and in my opinion, it was done so, so well. The characters were perfect; the conflict was believable, nothing was over the top, no drama just for the sake of drama.
Gavin and Noah are wonderfully drawn characters. I adored the push and pull between the two men, their banter is fantastic, and when they finally give into their attraction, they are combustible! Their passion jumps right off the page.
I love the secondary characters as well. Gavin's friends are hilarious and entertaining, and I found myself wanting to join their circle. Their bromance has me counting the days until the release of Down By Contact so that I can hang out with the boys of The Barons again.
For me, the real strength of this novel was how REAL it all felt. These are real men, everyday men (even if one happens to be famous) and the reader can truly relate to them. These guys are smart, realistic, and honestly trying to make the best choices they can given their unusual situation.
Hassell's writing is magnetic, and I found myself trying to sneak in a few pages, even just a few paragraphs, wherever I could because I was THAT invested in this story. I couldn't stay away from these boys, even if I tried.
Santino Hassell has won me over with is intense, passionate, and sexy m/m romance, and I can't wait to fill my Kindle with more of his work. I love Illegal Contact. Every word, every paragraph, every page; I love it all.
Meet Santino Hassell
Santino Hassell was raised by a conservative family but grew up to be a smart-mouthed, school cutting grunge kid, a transient twenty-something, and eventually transformed into a grumpy introvert and unlikely romance author with an affinity for baseball caps. His novels are heavily influenced by the gritty, urban landscape of New York City, and his desire to write relationships fueled by intensity and passion.
He's been a finalist in both the Bisexual Book Awards and the EPIC Awards, and was nominated for a prestigious RITA award in 2017. His work has been featured in BuzzFeed, Huffington Post, Washington Post, RT Magazine, and Cosmopolitan Magazine
Website / Newsletter / Facebook / Twitter / Instagram / Amazon / Goodreads