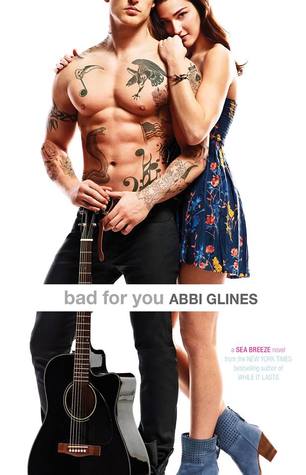 Bad For You
Sea Breeze #7
New Adult Romance
Purchased from Amazon.com
Innocence was never meant for the addictive…
Addiction was something Krit Corbin accepted as part of his nature a long time ago. He decided to embrace it and flip his finger at the rules. Women had always been the number one thing on his list of addictions. He couldn't get enough. Being the lead singer in a rock band had only made access to his favorite addiction that much easier.
Being alone was the only thing Blythe Denton understood. The small town minister's family that raised her hadn't accepted her as their own. The minister's wife had always made sure Blythe understood just how unworthy she was of love. When Blythe is sent away to college and given a chance to finally be free of living as an unwanted burden, she looks forward to having peace in her life. Being alone isn't something that bothers her. She escapes reality in the stories she writes.
However, the ridiculously sexy tattooed guy who keeps throwing parties in the apartment above hers is driving her crazy. For starters, he doesn't treat her like she would expect a guy with a different woman always hanging on his arm to treat someone as uninteresting as her. She looks nothing like the gorgeous women she sees parading in and out of his apartment, but for some strange reason he keeps showing up at her door.
During a party at his apartment, Krit's new neighbor comes to the door with her long brown hair pulled up in a messy knot and a pair of glasses perched on her cute little nose. She wants him to turn down the music, but he convinces her to stay.
Krit Corbin may have just found his biggest addiction yet. And Blythe Denton realizes too late that she's finally been claimed.
So. Abbi Glines has inspired a whole new series here on the old blog. I present to you, a QUICKIE! Just what is a quickie, you ask?
WELL.
(Get your mind out of the gutter, you animal.) (Totally kidding. I like that shit)
Basically, over here in this little corner of the internet, a quickie is a off-the-cuff, quick & dirty review of something that sparked a lot of excitement/emotion/other naughty feeling. I wouldn't even call it a "review", per se, more like me just running at the mouth (fingers) about a book that I loved.
And today, that something is Bad For you by Abbi Glines. Now be aware, this is all raw emotion, stream-of-consciousness type stuff. This will not be a fancy, eloquent review, or something that you'd see printed on the front of a book.
Holy shit.
I actually had no plans to read this book at the time that I did. I picked it up on release, since I ADORE Abbi, and she told me (and by me, I mean everyone who stalks follows her on Facebook) that even though Bad For You is number SEVEN in the Sea Breeze series, it could be read as a standalone. So I grabbed it, not knowing exactly when I was actually going to get around to reading it. You know, as you do.
SO. I was actually in the middle of reading another book (whose review will be posted here this week), and made the grave, grave mistake of leaving home without my Kindle. Tragic, right? Allow me to set this scene for you. I'm at the supermarket. It's Senior Citizen Day. It was also a special Mega Coupon Day. This place looked like Thunderdome. JAYSUS. Clearly, Imma be in this line a while. So I'm trying to get this ARC to download to the Kindle app on my phone, and having no luck. (Technology is kind of an asshole) On my little app's carousel is Bad for You by Abbi Glines. So I'm all, "Why not? A girl's gotta read, right?
Cue Mo getting HOOKED on that shit. No lie, from page one, I was ALL IN. I loved Krit!!  I loved Blythe! I wanted to shake her, but I loved her! I really wasn't prepared for how much I enjoyed this book. But the funny part is, I'm not entirely sure WHY I loved it so much!!
First off, the names. Our leading man is named Krit Corbin. He should have just come up to me, shook my hand, and said, "Hi. I'm Kurt Cobain." because that's what I called him the whole damn book. And Green? And Legend? And Jedrick? Was Abbi just throwing darts at a dictionary, and using whatever she landed on? I dunno, but it totally worked.
Was this Abbi Glines' best story ever? NO. (I probably couldn't pick one, anyways)
Was there some background information missing that I wish I was privy to? YES. (Although, some of this might be in one of the previous 6 books)
Were there a few holes I wish were filled in in this story? YES.
Was this a completely original storyline that blew me away? NO. This was your "bad-boy manwhore meets meek virgin story".  But again, it totally worked. The connection between Blythe and Krit is PALPABLE. I mean, it leapt off the page, man. Immediately. I LOVED who Krit was when he was with her. I loved his possessiveness. I loved his inner dialogue.
So I guess I do know why I loved this book so much. It's all about Krit. I literally got butterflies in nearly every scene with him. BUTTERFLIES. I'm a grown-ass woman. I don't get butterflies, especially over fictional characters. I mean, I have children. I have a mortgage. I have….**looks around suspiciously**
**whispers**
I have a retirement plan…
I don't do butterflies!  Well, except for Krit Corbin, apparently. He made me giddy! GIDDY, I SAY! Inked, pierced (in ALL the right places) and the boy can sing? I want one. You can even buy some of the songs that Krit sings with Jackdown!!  Listen to a sample on Abbi Gline's Facebook page.
In summation. I am now 132% in love with Krit Corbin. Wildly.  The logical person in me would give this book 3.5 stars.
BUT.
Abbi has worked some sort of juju on me, and I am fangirling all over the place on this one, and the fangirl effect deserves at least another star.
I don't know how Abbi Glines did it, but I want her to do it again.