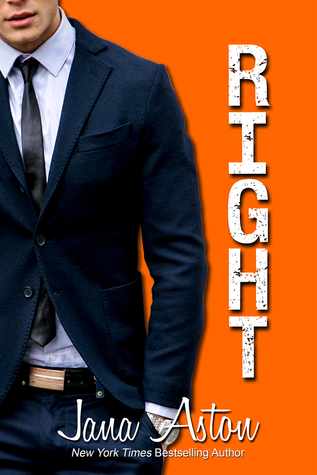 RIght
ARC provided by author to facilitate this review
My childhood was perfect.
I've led a charmed life, and I'm not going to blow it now
by picking the wrong guy.
I've got my sights set on my brother's best friend.
He's known my family for years. He's reliable and kind and handsome.
Sure, he's been avoiding me since I was six.
I'm a bit aggressive for him, maybe.
But he's the one… right?
Right by Jana Aston was some of the most fun I've had while reading a book in quite some time. It was a hilarious, heartwarming, and sexy read that I couldn't get enough of!
I didn't read the first book in this series, Wrong, and I wasn't lost at all, so this can be read as a standalone.
At first, I was concerned for Everly's mental state. I was pretty sure she was unstable, but I enjoyed her exploits immensely. However, a few chapters in, I became convinced that I needed an Everly in my life. She's definitely one of my all-time favorite female leads. I've never had a fictional BFF before, but I've claimed Everly as mine.
Everly is spontaneous, unpredictable, and inappropriate in the very best of ways. I know we're always talking about our fictional heroes, but in Right, Everly really steals the show, and the reader can't help but fall in love with her.
Even though she's carefully planned out her life, a huge monkey wrench is thrown into her grand plan, and it couldn't have been more perfect. The banter, the passion, the connection made for an incredibly entertaining read. Everly truly met her match in Sawyer, and the fact that he embraces her crazy endeared him to me all the more.
Jana Aston gives us a lighthearted read that will have you sighing, swooning, and laughing out loud. She's definitely one to look out for in this community, and I can't wait to see what she brings us next.
GIVEAWAY