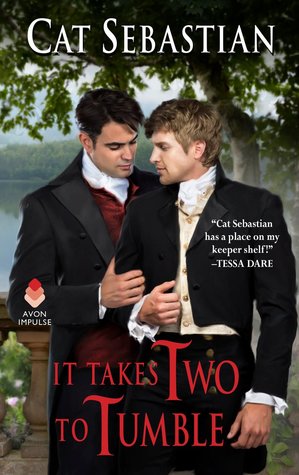 It Takes Two to Tumble
Seducing the Sedgwicks #1
Purchased from Audible
Joel Leslie
Some of Ben Sedgwick's favorite things:
Helping his poor parishioners 
Baby animals 
Shamelessly flirting with the handsome Captain Phillip Dacre 
After an unconventional upbringing, Ben is perfectly content with the quiet, predictable life of a country vicar, free of strife or turmoil. When he's asked to look after an absent naval captain's three wild children, he reluctantly agrees, but instantly falls for the hellions. And when their stern but gloriously handsome father arrives, Ben is tempted in ways that make him doubt everything. 
Some of Phillip Dacre's favorite things:
His ship 
People doing precisely as they're told 
Touching the irresistible vicar at every opportunity 
Phillip can't wait to leave England's shores and be back on his ship, away from the grief that haunts him. But his children have driven off a succession of governesses and tutors and he must set things right. The unexpected presence of the cheerful, adorable vicar sets his world on its head and now he can't seem to live without Ben's winning smiles or devastating kisses. 
In the midst of runaway children, a plot to blackmail Ben's family, and torturous nights of pleasure, Ben and Phillip must decide if a safe life is worth losing the one thing that makes them come alive.
Once upon a time, I was a Cat Sebastian fan. Then she went ahead and wrote a book that was more charming and lovely than any one book has a right to be, and I was upgraded to superfan.

It Takes Two to Tumble is a bright and beautiful story overflowing with characters that the reader can't help but fall in love with. From the gruff and grieving sea captain to the local vicar with a bit of a radical streak, even the children and their canine companion, each character makes an impression that you won't soon forget. There are no secondary characters in this book; each one has a vital role to play.
Phillip hadn't planned on lusting after the vicar. 
Cat Sebastian's writing is some of the best, every word, every scene perfectly placed to keep the story moving while allowing the reader to be fully immersed.  She has an amazing capacity for storytelling, and her fictional worlds are some of my favorite to get lost in. Attraction, longing, grief, despair, love, and hope are all mixed with unexpected bits of levity and it's truly a joy to read.

When I heard that Joel Leslie would be narrating this series, my soul left my body and I'm pretty sure I cried a little bit. (Yes, this blog is basically turning into a Joel Leslie fanpage. I'M AWARE.) All the dreams I dared not dream came true with this pairing, and this was one of his best performances I've heard to date.

He took an already amazing story and amplified it, giving it a new dimension that words on a page just cannot achieve.  With distinct characterizations and impressive emotional range, he tells this story like it was written specifically for him to perform.
When their lips met they both went still, and Ben had the fleeting impression that Dacre was more startled than Ben was himself. Ben wasn't startled at all, come to think. Dacre's mouth felt right on his, as if Ben had been waiting all his life to taste the stern line of this man's lips, as if this was what Ben's mouth was for and he was only now realizing it.
It Takes Two to Tumble has earned a place on my favorites shelf and has cemented Cat Sebastian as one of my auto-buy authors.