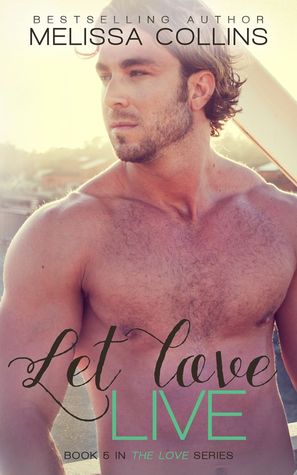 Let Love Live
Love #5
ARC provided by author to facilitate this review
Who would you become if you lost the only person who ever mattered?
For twenty-six year old Dylan Hopkins, the answer is easy. He's become no one. Memories of the happier times are all he has left as he finds himself meandering numbly through his now dull life. Though he cares about his work and family dearly, he's yet to let himself find love again. Afraid of letting go of what he once had, Dylan chooses to keep his heart buried, where it belongs, having died a long time ago.
Conner Michelson is about to change everything Dylan knows. He's every bit the bad boy persona - tatted up, ex-MMA fighter, but after an injury leaves him unable to fight, he has to rethink his goals. Having just opened his own gym, Conner can cross his first major life accomplishment off his very short list. Next up: find a man he can settle down with and build a family. Seems simple enough - a dream most people have, but when he meets Dylan, his carefree, easy-going life is thrown into a tailspin.
Determined to keep Dylan in his life, Conner vows to resurrect Dylan's long ago buried heart and let love live once more.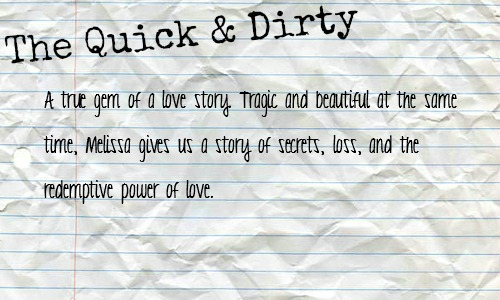 Wow. A book hangover isn't something that happens to me very often, even from my very favorite reads. But Melissa Collins gave me one hell of a hangover. When we first meet Dylan, he's bound to his tragic past, not able to let his heart live again.
What follows is a stunning example of dual POV, and we learn the story of Dylan and his best friend and first love, Shane. My mind knew that I was reading the story of gay teenagers, navigating a new life, and that they would have many challenges facing them. My heart, however, was definitely not prepared for the struggles  that these loving, wonderful men had to deal with.  I truly loved these two together, and could feel the depth of their love. I wanted nothing more than to read the story of their long and happy life together.  These were two good men, who had been through a lot in their young lives, and they deserved their happily-ever-after.
When it became clear that was not to be. I was sad. Then I was devastated. Then…I.WAS.PISSED. They were robbed, man! ROBBED.
Somehow, Melissa managed to heal my mangled heart. Meeting Connor gives Dylan a chance to finally make a life out of the ashes of his past. The beauty of their relationship was it's pacing and believability. Connor and Dylan didn't just meet & fall in love. They were cautious, and there were pitfalls, but in the end, each realized that the other was their mate. My heart warmed at the fact that Dylan was able to find another great love in his life.
Melissa Collins' true strength in this book was the relationships she created between the characters. I wasn't just reading about what happened to them from afar, I was invested in their story, to the point where I was literally unable to put the book down. I propped the book up at the sink while I brushed my teeth, and balanced it on the dryer while I was doing laundry. NOTHING could tear me away from this story.
Collins tackled some difficult subjects, and handled them with care and respect.The writing was real, raw, and intense. Sometimes heartbreaking, sometimes uplifting, this story impressed me from the first page to the last.
I'm so glad I got a chance to read this book. I wasn't just entertained for a few hours. I was engrossed, I was moved. For me, it was all that is right in a romance novel.