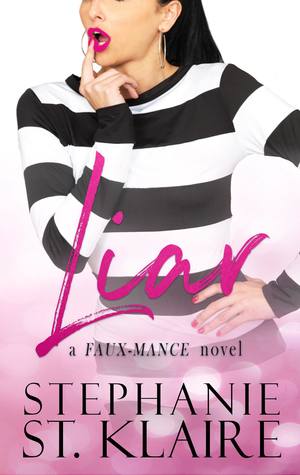 Liar
Faux-Mance #1
ARC provided by author to facilitate this review.
Fake it until you make it. That was the mantra Cori Dash chanted as she chased a big city dream. The more you tell people you're on top of the world, the more they believe it – just like they believed the embellished image she sold them with her knock off designer facade. It wasn't lying if the truth stood somewhere in the middle – and she didn't get caught.
Dominic Blackthorne owned half of that big city…and a reputation. Rather than dispel rumors or show the world the real Nick, he let his own fake image run free. Until Cori Dash – the only person who told him exactly how it was, even if it stung.
When Cori is faced with her ex-fiance, now engaged to her ex-best friend, it's game on. In her boldest move yet, she concocts her biggest lie to date by introducing the first handsome stranger that walks by as her new fiancé. Happy to play the part, Nick is already planning the fake wedding of her dreams.
You know what they say about lying – the truth always comes out – and it hurts. Especially when Cori finds out she isn't the biggest Liar in this game, and she's been out played.
This review is a challenging one for me to write. After reading the synopsis for Liar by Stephanie St. Klaire, I expected to get a fun, light-hearted romance with a trope that I enjoy. While that is what I got with the book, I didn't enjoy it as much as I was anticipating, even though it was still a fun read for me.
I enjoyed the premise of this book and really loved the cast of characters. Nick was a dream, of course, and I enjoyed Cori's friends a lot. I loved Cori's grit and determination, that drive to succeed and make something of herself. She was so admirable, and I want all the good things for her. I loved the chemistry between Nick & Cori.
But on the other side of the coin, some aspects of this story didn't work for me quite so much. There were several parts of the book that just felt over the top and really contrived, and I feel like the story as a whole would have benefitted from another round of editing. While it was in keeping with the theme of the story, some of the antagonism in the book came across as forced and not really authentic.
Novellas are a challenge to me as I'm often left wanting something more, and perhaps that was the case here. Overall, this was a middle of the road read for me. While I had fun reading it, it didn't quite make magic for me.