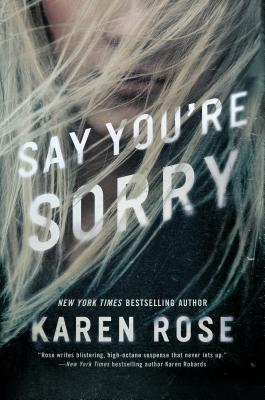 Say You're Sorry
Sacramento #1, Romantic Suspense #22
Audible purchase
Joel Froomkin
Introducing the first novel in the pulse-pounding Sacramento series from New York Times bestselling author Karen Rose.
There is a serial killer on the loose, preying on vulnerable women. The only identifiable mark the killer leaves are letters—sometimes one, sometimes two—all carved into the torsos of his victims. Together they spell "Sydney."
When he grabs Daisy Dawson, he believes he has found his next victim. But despite her small stature, she fights back with an expertise that quickly frees her. Before fleeing the scene, Daisy also manages to grab what proves to be crucial evidence: a necklace from around the killer's neck.
The necklace is more than a trivial item—it is a link to a cold case that Special Agent Gideon Reynolds has been tracking for seventeen years. With Daisy's help, Gideon finally has the opportunity to get closer to the truth than ever before.
But they might not get the chance, as the serial killer has a new target: Gideon and Daisy.
With a compelling plot, fascinating backstories, complex yet accessible characters as well as one of the most interesting villains I've read in quite some time, Say You're Sorry by Karen Rose was everything the romantic suspense fan in me could have wanted. Coupled with a brilliant audio performance, this book owned me for the better part of a week and I'm not even sorry. (See what I did there?)
From the initial intense scene from the POV of a serial killer, I was all in with this book. Say You're Sorry unfolded and came together in the very best way. The story is very smartly told, the threads expertly woven together to keep the reader on edge from start to finish.
Over and above the storyline, the characters in this book truly shine. Gideon with his gripping and heartbreaking history, Daisy with her unwavering strength and badassery, even the villain of this story all combine to create something special..
Daisy Dawson was one of the most admirable characters I've read lately, and I have no doubt she could carry a story all on her own. Tough as nails, but still maintaining a softness about her, sign me up for the Daisy Fan Club. She has so much to give and I'm all too excited to see her in future installments of his series.
One of the most surprising things about this book was how much I sympathized with the villain. Yes, I had soft feelings for a serial killer. That's what this book did to me. I questioned my sanity more than once throughout the story, wondering how and why I wanted to take this sadistic killer under my wing and fix him. I'm not sure if that says more about my mental state or Karen's writing…I'm choosing to blame it on Karen.
I also loved the story-within-a-story quality of this book, and the larger story arc that began in this book already has me lying in wait for the next one in the series.
Joel Froomkin's narration was stellar. He elevates the source material to more than just words on a page; his performance becomes a living, breathing story that leaves a lasting impact on the listener. His portrayal of the villain was especially powerful and he showcased the duality of his personality perfectly. He gave the frenzied psychopath a sympathetic edge, and I am making an offering to the casting gods to get him to play more creepy psychos in the future.
Say You're Sorry was one wild ride and I'm clutching my ticket, waiting for my turn on the next one.