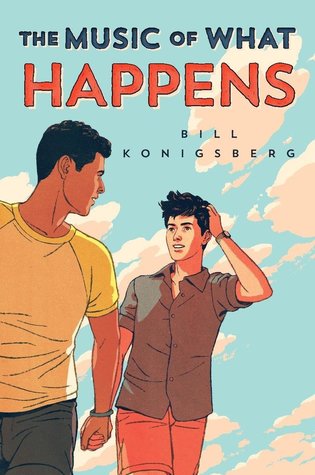 The Music of What Happens
Audible purchase
Joel Froomkin & Anthony Rey Perez
Max: Chill. Sports. Video games. Gay and not a big deal, not to him, not to his mom, not to his buddies. And a secret: An encounter with an older kid that makes it hard to breathe, one that he doesn't want to think about, ever.
Jordan: The opposite of chill. Poetry. His "wives" and the Chandler Mall. Never been kissed and searching for Mr. Right, who probably won't like him anyway. And a secret: A spiraling out of control mother, and the knowledge that he's the only one who can keep the family from falling apart.
Throw in a rickety, 1980s-era food truck called Coq Au Vinny. Add in prickly pears, cloud eggs, and a murky idea of what's considered locally sourced and organic. Place it all in Mesa, Arizona, in June, where the temp regularly hits 114. And top it off with a touch of undeniable chemistry between utter opposites.
Over the course of one summer, two boys will have to face their biggest fears and decide what they're willing to risk — to get the thing they want the most.
If I could, I would give all the stars in the night sky to Bill Konigsberg and The Music of What Happens. This YA LGBT novel worked its way into my heart and refuses to let go. With a unique and refreshing cast of characters who aren't afraid to recognize their shortcomings or tackle the problems life throws at them, this book is probably my top read of the year so far.

One of the real assets of this story was how REAL it was. It wasn't a stereotypical "summer love" young adult novel. This book showed that sometimes, shit sucks. Life is hard, lousy things happen to good people, and not everyone can deal in a constructive and healthy way.

But Max and Jordan forged an unlikely friendship which morphed into a fledgling love and learned to lean on each other, which I found heartwarming and beautiful. I loved that they were able to open up to each other and become a source of strength for one another. My momma bear instincts kicked into overdrive for these two and I have adopted Jordan as my fictional son and want to take care of him forever.

The Music of What Happens deals with some heavy topics and honestly, certain parts were difficult to read. My heart hurt for these boys, especially as I could draw some parallels between their experiences to my own youth (back when the dinosaurs still roamed the earth). But I felt they were handled respectfully and thoughtfully.

I listened to the audiobook (of course), and the narration was outstanding. Anthony Rey Perez was a new narrator for me, and he embodied Max perfectly. Joel Froomkin is, well…Joel. Need I say more? If you've known me more than a minute, you know my feelings there. Of course, he nails the main characters, but even beyond that, his portrayal of Jordan's "wives" had me snort-laughing so many times throughout the story. He made even those "secondary" characters so vivid and entertaining, I loved them and couldn't help but become attached to them.

Konigsberg wrote a story that was heartwarming and silly and serious and authentic and wonderful. I don't have enough superlatives to describe how I felt about this book. I honestly loved it and feel it truly is a book that so many people, young, old, gay, straight, and anything in between could benefit from reading.