Hothouse Flower
Calloway Sisters #2
March 28, 2014
Copy provided by author to facilitate this review
Ryke Meadows, meet Daisy Calloway ... she's all grown up. 
Twenty-five-year-old Ryke Meadows knows he's hard to love. With a billion-dollar inheritance, a track-star resume, and an alpha-male personality—he redefines the term likable asshole. But he's not living to make friends. Or enemies. He just wants to free climb three of the toughest mountains in Yosemite without drama or interruption.
And then he receives a distressed call from a girl in Paris—a girl that he has never been allowed to have.
Daisy Calloway is eighteen. Finally. With her newfound independence, she can say goodbye to her overbearing mother and continue her modeling career. Next stop, Paris. Fashion Week begins with a bang, and Daisy uncovers the ugly reality of the industry. She wants to prove to her family that she can live on her own, but when everything spirals out of control, she turns to Ryke to keep her secrets.
As Daisy struggles to make sense of this new world and her freedom, she pushes the limits and fearlessly rides the edge. Ryke knows there's deep hurt beneath every impulsive action. He must keep up with Daisy, and if he lets her go, her favorite motto—"live as if you'll die today"—may just come true.
***Authors' Note***
Hothouse Flower is a spin-off of the Addicted series. Kiss the Sky is required before reading, and we strongly recommend reading the Addicted series before this spin-off.
 My life is full of unconventionalities, abnormalities and awkward fucking situations.

If you're easily offended by crude language and inappropriate talks, you've taken a wrong fucking turn somewhere. You won't understand me if you can't handle me, and I'm not going to try to explain myself.

I'm raw.

I'm hard.

I'm the thing you shy away from.

So I'm warning you now. Back away.

Because once you enter my life, I won't ever let you leave." – Ryke Meadows
BOOM. There's Ryke in a nutshell. And I'm dizzy with excitement over this story from page 1.
From The Mind of Mo
I met and fell in love with Ryke Meadows back when I read Addicted To You. I love his character because he is fierce, loyal, yet completely hardheaded, and kind of a dick. But he owns who he is, and he makes no apologies for it. His wit, charm, UTTER sex appeal, and liberal use of my favorite sentence enhancer, FUCK, are just a few of the reasons I love him.
Then we have Daisy. An adventurous, wild, free spirit, it's sometimes hard for her to figure out where she fits in with their little group.
YES. Ryke seven years older than Daisy. YES. They meet when she's only 15. YES. They have a special, intense connection right off the bat. At first, I was kinda squicked out, I'm not gonna lie. Then I thought about it. My husband is seven years older than me. We got together when I was 16….ummmm….yeah….
ANYWAYS.
Ryke and Daisy's connection is so magnetic, so strong, that from the beginning, I wanted to hop into my DeLorean and fast-forward time to a point where they could be together. And in Hothouse Flower, we are FINALLY at that point! *cue angels singing*
HOWEVER.
They're still not together! What the what? I know, right? Daisy is going through some heavy emotional shit resulting from all of the media attention surrounding her family, and there's Ryke, by her side. Score ANOTHER point for Ryke. He's wildly protective of those he loves. And man, do I love that about him.
And while they're skirting the line, Ryke is determined to keep their relationship platonic, even though we know that's the furthest thing from what he wants. He goes to far as to tell her that they need to start dating again when she goes off to Paris Fashion Week alone.
But not even an ocean can break their connection. When Ryke receives a call that Daisy needs him, he can't help but go to her in Paris. Then, IT.IS.ON.
**Hallelujah chorus**
And when it happens, it's EXPLOSIVE. And it's everything I hoped and dreamed it would be. Their "encounters" are SMOKIN', and they're SO Ryke & Daisy. Stairwells? Cornfields? Motorcycles? YES.YES.YES.
My favorite thing about Ryke and Daisy is that even though they are a new couple, they've spent years developing a deep friendship, so when they finally are together, it's REAL love. There's no back & forth new-couple drama, they know that each other is their other half. They're not without challenges and drama however, but they are able to face these things together, and are determined to be together, no matter the circumstances.
Even though Hothouse Flower focuses on Ryke & Daisy, we still get plenty of Lily & Lo, as well as Rose & Connor. We're left with a complete story, but with an opening for much more to come from this series. And I can't wait.
Let me just state this plainly, the Addicted Series, and it's spinoff series, The Calloway Sisters, are one (two?) of my favorite series EVER. The characters are so real, so flawed, yet so full of love for their little group, these books are a joy to read. Equal parts funny, steamy, thought-provoking, and heartfelt, this series is on my auto-recommend list. Please, do yourselves a favor and read this series!

Giveaway!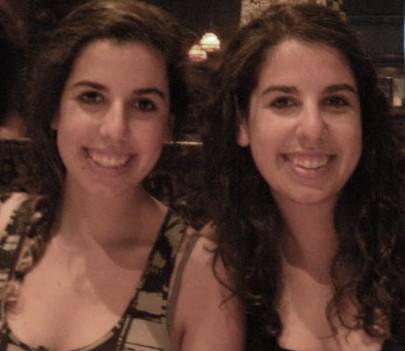 Krista Ritchie has a clone…or someone who looks exactly like her. If she's not writing books with her twin sister, she's pouring over entertainment news and ingesting copious amounts of pop culture. She likes tennis, that thing called the TV, and beating Becca (her clone) on Sega Genesis. She created YA Book Exchange to combat her book buying addiction and started Nawanda Files, a YA Book Blog that features books into movies news, to share her love for all things bookish. Oh, and she does something called science. Whatever that is.
Krista & Becca Ritchie write New Adult books that make you cringe, gasp, and go ooh-la-la. (If you do that sort of thing.) They are currently working on the spin-offs and final books in the Addicted series.

Connect with the Authors

Facebook: https://www.facebook.com/KBRitchie
Twitter: https://twitter.com/KBRitchie
Pinterest: http://www.pinterest.com/kbmritchie/the-addicted-series/
Website: http://kbritchie.com/
Krista Goodreads: https://www.goodreads.com/author/show/7056935.Krista_Ritchie
Beca Goodreads: https://www.goodreads.com/author/show/2754148.Becca_Ritchie