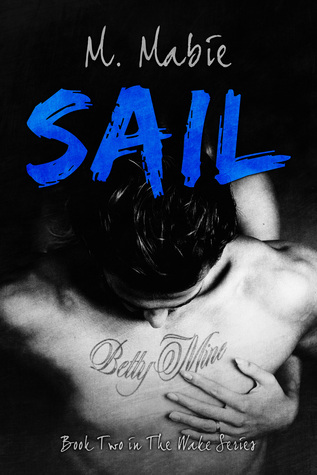 Sail
Wake Series #2
ARC provided by author to facilitate this review
This isn't just a two-year long one-night stand. It's my life.
[This is my life. Our life. It isn't just some careless affair.]
I've made the worst decisions a woman could, but I'll earn my second chance.
[She can try keeping all the guilt for herself, but I'm just as much to blame. ]
Loving Casey wasn't my biggest mistake. Fighting it for so long was.
[I'll show her how fearless our love makes me. I'll protect her torn heart.]
He still has magic in his eyes. He's the man who makes me happy.
[Her voice still brings me to my knees. She says my name like it's sacred.]
I live for the day when I'm his. To take care of him. To love him the way he deserves.
[I can't wait to be all she needs. I can give her a happy life, security and so much love.]
Sometimes two ships never meet in the night, but ours did.
[Sometimes the water is rough. It beats you all to hell until you have no choice but get stronger.]
Our love story reads more like a tragedy, but to me it's clean and pure.
[Let them point their fingers. Without a love like ours, they haven't really lived. I pity them.]
I'm a cheating wife and a villain. I am his honeybee.
[I'm a snake in the grass and I sleep best when I'm lying next to his wife.]
I want to be his everything.
[I'm nothing without her anyway.]
This isn't even close to over.
[It'll never be over.]
IT'S HERE!  IT'S FINALLY HERE!!
You guys know how I have been for the release of this book, which is the second book in the Wake series by M. Mabie. After the emotional hurricane that was Bait, I NEEDED this book in my life. It was easily one of my most anticipated books of the year!
Even though we didn't have to wait THAT long for the book, it seemed like forever. After reading Sail, every minute of the wait was totally worth it.
For me, Sail had a different feel than Bait. Gone was the overwhelming angst, it's replaced with overwhelming love.  The emotions were just as strong, but now there is a different vibe. Of course, we knew that Blake & Casey were IT for each other even before they did, and it's beautiful to now see them finally committed to being together.
Sail was something of a journey for Casey & Blake, and these two become a team to deal with the aftermath of everything that happened in Bait. M. Mabie gave us a well-paced followup that didn't necessarily take the easy way out, and I really appreciated that.   I thought this story was going to go a certain way. I thought I was clever. I was not.  (Take that how you will…  😉 )
M. Mabie will definitely turn you on your head throughout this story, and take our characters places we never expected them to go. But above everything, this is a story of LOVE. Real, true, soul-deep love. The kind of love that even after all of the pain and heartache, makes you say, "Totally worth it."
I was so torn reading this book. I wanted to read it slowly, savor every word, every emotion, every declaration of love. Turns out, I am entirely too greedy for that, and pretty much canceled my life while I read this story.
Totally worth it.
Giveaway
Connect with M. Mabie
M. Mabie lives in Illinois with her husband. She is the author of the steamy comedy Fade In. Her sophomore release, Bait, is the first book in the angst-filled erotic Wake Series. She writes unconventional love stories and tries to embody "real-life romance."
She cares about politics, but will not discuss them in public. She uses the same fork at every meal, watches Wayne's World while cleaning, and lets her dog sleep on her head. She has always been a writer. In fact, she was born with a pen in her hand, which almost never happens. Almost.
M. Mabie usually doesn't speak in third-person either. She promises.
Goodreads http://bit.ly/1hzmhkk
Amazon http://amzn.to/1ovAayx
Newsletter http://bit.ly/1kMbfmo
Facebook http://on.fb.me/1pRBigO
Twitter http://bit.ly/1hznYOO
Website http://bit.ly/1nP9q04
For Other books by M. Mabie click the titles below
Fade in – Romantic Contemporary Romance
What If: The Anthology *100% of Proceeds Donated to Autism Speaks