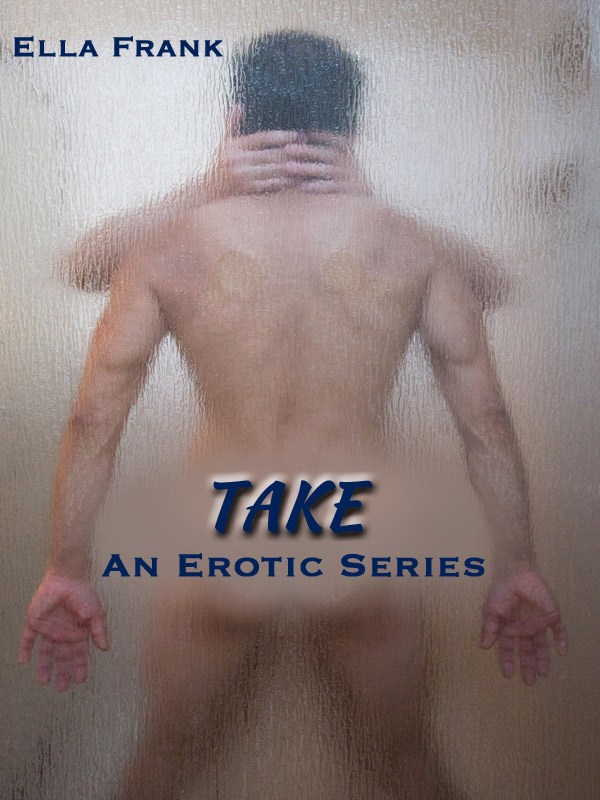 Take
Tempation #2
ARC provided by author to facilitate this review
TAKE – verb: to reach for and hold in one's hands or get into one's possession, power or control.
Logan Mitchell is a man who's always been more than happy to take what he wants. It's a philosophy that's proven lucrative in both his business and personal life, and never was it more apparent than the night he laid eyes on Tate Morrison. After pulling out all the stops and convincing the sexy bartender to give him a try—he's hooked.
Now, Logan finds himself in a predicament that demands more from him than a smart-ass answer and his innate ability to walk away when things get too deep.
He has a choice to make, and it'll force him to do something he's never done before—take a chance.
Tate Morrison knows all about taking a chance. He took the biggest one of his life the night he showed up at Logan's apartment to explore his unexpected reaction to the man.
Ever since then, he's thought about little else.
At first he was convinced his attraction was based solely on his body's curiosity. But the more time he spends with the silver-tongued lawyer, the more Tate realizes that their physical chemistry is only the beginning.
He's starting to catch a glimpse of what life with Logan would be like, and it's one full of excitement and satisfaction—a far cry from what he had in the past with his soon to be ex-wife.
Each man will face their fears as they begin to understand the true meaning of give and take. Their feelings for one another will be tested, as will their very beliefs. But now that they've found love where they least expected it, will they be brave enough to reach out and take it?
In Take by Ella Frank, we are continuing the story of Logan & Tate. Take picks up right where Try left off, and Ella Frank shines again in this latest installment of their story. A true gem in the m/m genre, this book takes Logan & Tate to a whole new level. No longer a story of simply claiming the person your body craves, we are brought deeper into the relationship of these two men. This book is everything that I could have asked for in the next installment of their story.
Ella tells their story in such a way that it transcends the category you would put it in. More than just a "gay" romance, this book is a LOVE STORY. The people in love just happen to be two men. Take is the story of two people realizing what their hearts want, and fighting for their HEA. And fight they do. Logan doesn't do relationships, until his heart finds Tate. Tate doesn't do guys, well….until he does.
This tremendous shift in their lives isn't easy to deal with. Logan has been hurt in the past, and isn't willing to trust easily and fully giving his heart isn't something he quite knows how to do. Tate has always been "straight", so entering into a relationship with a man is new territory for him, and those around him aren't as willing to accept Logan into their lives as Tate is.
This story is HOT. The attraction between the two men leaps from the page (screen?), and when they're together, the heat is palpable. The story is also heartwarming, and at times, heartbreaking. You'll want to yell at these guys to get their head out of their ass and realize what's right in front of them!  I'm not only enjoying their story, I'm invested in it. I'm fighting for them almost as hard as they're fighting for each other.
I'm so proud of the boys in this book, but I have a real feeling that their fight is not over! At the end of the story, you're left with an "Oh, SNAP" moments, and I am giddy with excitement to see how it's all going to play out in the next installment.
Ella Frank  gets everything right in this book. It's authentic, emotional, and sensual, and I cannot WAIT to see that the next book holds!
Excerpt
"That's your truck?"
"Yes."
"It's so…"
"So what?" Logan challenged as he pulled his keys from his pocket.
"Old?"
"Excuse me. I'll have you know I was driving this baby all through college and she still runs like a dream."
Tate watched as Logan walked over to run his hand over the scratched-up tailgate, and he was amazed that he even made that look sexy. Like he was stroking a lover.
"And it's a she, huh?"
Now around at the passenger's side, Logan opened the door and looked at him over the bed of the truck. "Yeah. Jealous?"
Laughing, Tate walked over to where Logan stood with a hand on the door and kissed him slowly on the mouth.
"I'm jealous of anything you stroke like that."
"Get in the truck, Tate."
"Or else?"
Logan stepped forward, crowding him back against the inside frame of the vehicle. "You're not ready for the or else…"
Trailer
Meet Ella Frank
Ella Frank is a #1 Amazon Bestselling Author. She writes both contemporary and erotic fiction and is best known for her Exquisite Series, Try and her most recent novel Veiled Innocence.
The minute she began her love affair with reading, she became and avid supporter of the romance genre and has never looked back.
Ella is Australian born and bred but currently resides in Houston, Texas with her husband.
Buy Try by Ella Frank
Giveaway
HOSTED BY: