The Summer Remains
ARC provided to facilitate this review
Twenty-four-year-old Summer Johnson knows two things. The first is that due to a quickly worsening medical condition, she faces a risky surgery in three months' time that may or may not end in her death. The second is that she would like to fall in love before then.
As spring sinks into her namesake season on the Florida coastline, Summer plays the odds and downloads a new dating app - and after one intriguing message from a beautiful surfer named Cooper Nichols, it becomes clear that the story of what may be her last few months under the sun is about to be completely revised. All she has to do now is write something worth reading.
Tender, honest, devastating and triumphant, The Summer Remains explores a very human battle being waged in a very digital age: the search for a love that will outlast this temporary borrowing of bones. In an era when many feel compelled to share and re-share anything about everything, prepare to feel a love so special, you will want to hug it close and make it yours forever.
…..sniffle….
…..sob……
You guys, I can't. I've tried writing this review like three times, and I can't get through it without crying. My writing is smudged in my notebook, and my vision is blurry.
Before I say anything about this book, I need to say thank you to Seth King. Thank for you for the gift of your words, thank you for this exceptional story, thank you for opening your heart so that we could meet Summer and Cooper.
My meager words won't be able to do this book justice. If you've never taken one of my recommendations, let this be the one.
The Summer Remains rises above genre boundaries and stereotypes and brings us a story so special, it demands to be read. It doesn't just fit into one box. More than just a simple love story, this is a LIFE story.
Summer and Cooper are two amazing characters that throw caution to the wind and dare to love, fearlessly and endlessly, even as they realize that their time together could be limited. Two young people, giving of themselves so selflessly to help others, even when they have their own issues and demons to deal with. They really are something special, and it was a privilege to get to know them in this book.
Being written by a man, I was impressed with Summer's voice in this book. I loved her sarcastic wit, even in the face of her circumstances, and I felt she sounded very authentic, in both the dialogue and the narration.
The journey of Summer and Cooper is one of the purest love stories I've ever read.  Their love transcends. Their story is a reminder to live every day, every minute, to the fullest, for a tomorrow is never guaranteed. Truly, this book is soul-shattering, but manages to be life-affirming at the same time. Seth King teaches us not to simply let loved ones we've lost fade away. We need to mourn out loud, shout our grief from the rooftops. The love we have for them doesn't leave us when they do. It remains.
While I couldn't control my tears, by the time I finished this book, and Seth's touching letter after, my heart was so full. We learn that this book was inspired in part by the loss of Seth's own brother. Because of this book, we know that his brother lived, was loved, and loved in return. Through him, we've been blessed with the story of Summer and her Cooper, and their summer of love.
In short, The Summer Remains is truly an unforgettable book. This story will live on in my heart, and I'll always be grateful that I got to experience it.
Meet Seth King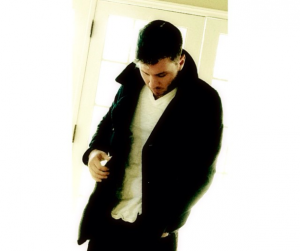 Seth King is a twenty-five-year-old author and artist.
Facebook | Twitter | Website | Goodreads