Waiting On Wednesday is a weekly feature hosted by Breaking The Spine, in which we spotlight books whose release we are excited about! Here are a few of mine. Click the book covers for Amazon/Goodreads info!
Sail by M. Mabie
Sequel to the emotionally exhausting and completely wonderful Bait, we're finally getting more of Blake and Casey's story. I am      COMPLETELY on-edge wondering what is in store for these two, and will be ignoring the entire world the SECOND this baby hits my Kindle.
Deep by Kylie Scott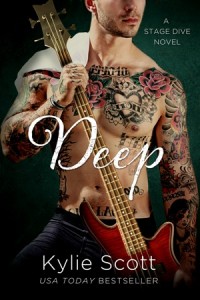 The fourth and finally installment of the Stage Dive series, Deep is the story of sexy bass player Ben. I've been dying for his story, as well as more from my boys David, Mal, and Jimmy. Stage Dive is one of my favorite series, and while I'm super excited for Deep, I'm also sad to see this series come to an end.
The Shadows by JR Ward
In this THIRTEENTH installment of the Black Dagger Brotherhood series, we're diving into the story of mysterious brothers Trez and  iAm.  The series remains one of the most epic I've ever read, and will always be one of my all-time favorites. Ward's world building is beyond compare, and this series maintains an amazing story while being hot as hell.
So these are my most anticipated books this week…which ones are you looking forward to?