What a week this has been, bookies! This weekend was the Christmas in July celebration at my favorite pub. Suffice it to say, I got a little too merry, so forgive me if this post is a little fuzzy!!  I'm seeing three of your right now, but that's cool, it just makes me feel more popular! So let's see…what happened in Literary LaLa Land this week?
What's That? I can't hear you over the sound of my squees!
Abbi Glines has given us a treat! To celebrate Rush's win in his round of the NA Crush Tourney, she wrote the peanut butter sandwich scene from Fallen Too Far (one of my favorite scenes in the book) from Rush's POV! Now you know I have a SEVERE Rush Crush (and I don't need no cure), so this made me ridiculously happy.  Read the scene here!
In other squee-worthy news, Gail McHugh has announced that she will be hitting publish on her MUCH anticipated novel Pulse, much sooner than expected! CONFESSION: I still haven't read Collide. I bought it forever ago, but heard so much about a cliffhanger, I decided to wait until Pulse was release. Hence, I am also ridiculously happy about this news! Follow Gail McHugh on Facebook for updates!
Let's Make a Deal!
You all know that my purse strings are tighter than a blushing virgin in one of our books, so free and cheap books make me happier than a vampire in a blood bank. Some great books are available for a steal right now, so make sure you all click it like you stole it!!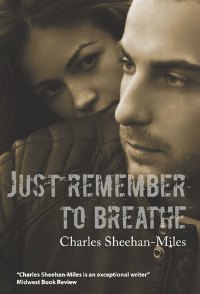 Just Remember to Breathe by Charles Sheehan-Miles is currently FREE! This is part of an interconnected series, but can be read as a standalone. This book is getting great reviews for being a beautiful, evocative story. I read the sample and loved it, so you know I clicked this one!
Let's just all take a minute and talk about Remington Tate, shall we? Intense, broody, sexy MMA fighter? Where do I sign? AND he's on sale for only $1.99?!?!?  Get on this one, girls! Seriously. If you don't read this book, we simply cannot be friends! Download Real by Katy Evans before the sale is over!
      My reigning queen of smut, Olivia Cunning, has given us the fuck-hot boys from Sole Regret in a 3-part anthology volume. For ONE WEEK ONLY, you can get the first three books in her One Night With Sole Regret series, Try Me, Tempt Me, and Take Me, for only $2.99. Olivia can write hottie rockers like no other, and the Sole Regret boys will get you plucking those guitar strings for sure!!!
Finally, Justine Elvira has released The Road to Forgiveness, the second book in the Price series, this week, and to celebrate, the first book in the series, The Road to Price will be on sale for 99¢, but only for a few more hours, so get on this one right away!
This is going to be a fun week here on the bliggity blog, so make sure to come by and hang out! I'll be talking about some new books that I'm loving, and I will be a stop on the Blog Tour for The Wingman Chronicles by James Holeva. You'll be able to win your own copy of his hilariously filthy book! Don't forget to come and talk to me on Facebook and Twitter! Peace out, girl scouts!